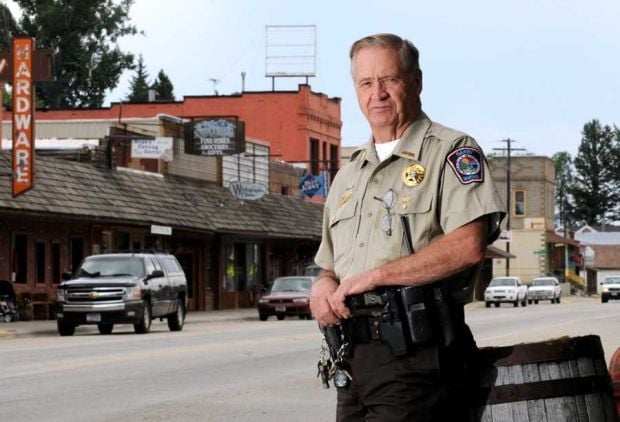 DARBY – This little town full of big characters has made more than its share of news since Lewis and Clark met the Salish Indians nearby in 1805.
Charlie Russell's "Lewis and Clark Meeting the Flatheads in Ross Hole" painting dominates the wall above the speaker of the House in the Montana Capitol. Equally vibrant memories of three Darby characters, now all in their 70s, illustrate how Darby has risen, fallen and risen again.
Start with Cal Greenup. For a few years in the 1990s, he was one of the most notorious people in America, a figurehead in the militia movement enflamed by the Oklahoma City bombing and armed standoffs in Waco, Texas, and Ruby Ridge, Idaho. But his heritage also goes back to Darby's 19th century origins, when his great-grandparents came to raise dairy cows along Chaffin Creek.
Then consider Larry Rose, Darby's town marshal for 30 years who once punched the town judge during a city council meeting before handcuffing him. In a town that celebrates Old West individualism, Rose has more law enforcement surveillance cameras monitoring his citizens than any other city in Montana.
And then there's Gene Huckstadt, who left a thriving kitchen cabinet business in San Diego just as Darby's timber mills were collapsing, and has overseen the town's transformation into a rider of the recreation economy.
A plaque over the Creekside Homestead barn just south of Darby dates its construction to 1886. A little farther up McCoy Creek Road stands a small cabin with a sign reading "Come back with a warrant." Turn left and up the hill sits the home of Cal Greenup. He didn't put up the sign, but he appreciates the sentiment.
"I tried to tell them what was going to happen," the 72-year-old rancher says in his doorway, deciding whether to let a reporter over the threshold. "Larry (Rose) said this is my town and I'm going to fix it. I said this is not your town and you're not going to fix it."
What did happen is a matter of legend, newspaper archives and bitter memory. Greenup declined to recount his version. Now he's a Denver Broncos fan, just returned from a 50th wedding anniversary trip to Hawaii with wife Linda. The days of 1995 when he and Rose traded armed threats and federal agents raided his place to confiscate 10 domesticated elk are done.
Greenup would rather talk about his great-grandfather starting a dairy in the Chaffin Creek area around 1880. He remembers when apples were a major part of the southern Bitterroot Valley economy, and a sorting plant bought and processed much of the crop near Darby. He has childhood memories of seeing the sugarbeet carts lined up in Hamilton, waiting for a train to haul them to Missoula. And of the fluorspar mine up Rye Creek that dug purple crystals useful in steel-making and ceramics. And the sawmills.
Timber has driven Darby's fortune up and down for nearly all its existence. When Marcus Daly was jousting for Copper King power with William Clark, Darby was one of his power bases. He started buying small lumber mills in the valley in 1886, consolidating them into the Anaconda Copper Mining Co. mill.
That Hamilton plant produced an estimated 200 million board feet of lumber by 1899, according to "Dalys of the Bitter Root" author Ada Powell. But by 1915, it closed after running out of accessible timber.
Bitterroot National Forest historian Mary Williams said some other market forces were involved. In addition to providing tunnel timbers and smelter fuel, Daly's logging provided ties for the Northern Pacific Railroad. It finished building most of its spur lines around 1910, removing a major customer from the mill.
Much of the cut-over timberland was replanted with apple trees, Williams said. The Anaconda Co. marketed them as orchard homesteads to new settlers.
"There was a lot of land fraud involved," Williams said. "A lot of that stuff went on in the teens (1910-20) – lands put into apple orchards that were never viable as orchards."
However, period pictures also show hillsides of apple trees in blossom above Darby, especially along Charlos Heights north of town.
"My mom and dad didn't say much about Darby," Greenup said. "They were country folks. My dad's mother taught my mother to cook at the mill. She was making three meals a day on one leg."
Greenup did a hitch in the Navy after high school. Then he learned the aircraft maintenance trade in Missouri and Colorado, before returning to the Bitterroot in 1978.
"It was still booming in '78," he said. "There wasn't a lot of loggers or miners were rich, but they were happy. They all seemed part of a business marriage that made it go. You could go work wherever you wanted. But it started deteriorating not long after that."
"All the old people have sold their ranches," Linda Greenup added. "The kids don't want to run them."
"The timber industry was put out of business by the government," Cal Greenup said. "The west side is still full of wood. They could keep one shift a day at the mills for 30 years right now. When the government is not allowing people to go to work, to harvest that, God is going to punish us for that waste."
Around the turn of the last century, Bitterroot National Forest Supervisor E.A. Sherman wrote that Darby was "conceived in iniquity and born in crime." Darby Chief of Police and Marshal Larry Rose aimed to change that.
Rose's station house looks like a memorial to the town's Old West heyday. It features an iron-barred jail cell in the corner, a gun rack full of lever-action Winchester rifles and mountain lion skins on the wall. Then 71-year-old Rose flicks a button on his desktop computer. A checkerboard of 16 little screens pops up.
They're the surveillance cameras Rose has strategically positioned around town, on light poles and balconies, and even in flower planter barrels. The software spots vehicle license plates and automatically records the numbers.
When Rose started installing the camera system in 2002, a petition went around town protesting the effort. Rose said at the same time, he got $3,000 in donations to support his effort. He put the first cameras on his own taxidermy shop.
"Right after we put them in, we had a $230 door broken in," Rose said. "We ended up catching the guy. The owner was one of the ones who signed the petition (protesting the cameras). She came up to me afterward and said, 'I guess I've got egg on my face.'"
To people who say the cameras are an invasion of privacy, Rose points to a newspaper photo tacked to his wall.
"It's a picture of a guy at a baseball game," Rose said. "What if he'd called in sick, and then went to the game? That's a worse invasion of privacy than this ever was."
Rose started getting involved with electronic surveillance when Internal Revenue Service agents helped him alarm his home during the tense times with Greenup and his supporters. Rose claimed to deal with five separate threats to himself, his family and city buildings in a single day shortly before federal law enforcement personnel raided Greenup's ranch.
Rose says he's solved everything from gas runoffs to bridge burnings to an interstate vending machine burglary ring using his cameras. The flower barrel on the sidewalk in front of his office has a couple that kids like to block by putting pebbles in the knotholes. He catches them, too, Rose said.
In 1985, Rose got in a fight with Darby town judge David Lowery during a city council meeting over Lowery's erratic seven-month judicial career.
"I had to punch him out and handcuff him," Rose said. "That one was on Paul Harvey (the late radio storyteller)."
Lowery was jailed after fighting or threatening Rose in two separate city council meetings, and convicted of two misdemeanor disorderly conduct charges in 1987.
Rose has had his own clashes with city leaders. The most recent was last December, when he wrote a four-page letter to the community protesting a proposal to reduce the Darby police force from two officers to one.
"Going by my past experience and talk from town citizens, I believe my thoughts should be disclosed, that the not too well hidden agenda is all about my enforcement of the existing alcohol laws, and is initiated by the lack of revenue from alcohol sales," Rose wrote. He went on to recount 14 incidents: "Some of the past serious out of control crimes Darby and the surrounding area had to put up with." They included shootings of snowmobilers, drunken murders, rapes in the city park, library windows being shot out, loud music from bars, motorcycle riders terrorizing residents, and biker gangs who got dogs from the animal shelter for target practice.
"In those days, Darby's single cop was so intimidated by some of the out of control criminals, that one night he was subdued; they took his duty weapon, pointed it at his head while another snapped a photo," Rose wrote. "And to imagine anyone would believe Darby should have only one cop, without backup."
Rose's uniform has six stars over the right pocket, below his "Darby Chief of Police" badge. The other side has his marshal's gold star. He also has a bar-form American flag, a pin that reads "chief" and DCP (Darby Chief of Police) pins on both lapels. He clips an audio recorder in his shirt.
"I keep this thing on all the time," Rose said. "I've got an extra one here in case the other one runs down."
Rose grew up in Corvallis. His father bought a ranch there in 1948 – 40 acres with a house and barn for $4,200. He later went to work for the U.S. Forest Service during Darby's timber boomtime.
Rose became town marshal on March 8, 1984. Back then, 80 logging trucks a day drove through town. It was the height of the "Timber Wars," when Champion International and Plum Creek Timber Co. raced to cut the last of the old-growth trees from their private lands while putting enormous pressure on the Forest Service to open more federal acreage. Environmentalist movements like Earth First! rallied activists to chain themselves to U.S. Senate office desks and spike trees.
But on May 13, 1988, the truck count into Darby was 303. Organizers expected about 220 logging trucks would take part in the Great Northwest Log Haul when it started rolling out of Libby headed for the wood-strapped Darby Lumber Co. The convoy stretched for 15 miles. It provided enough logs to keep the mill running about three weeks.
Nevertheless, Darby Lumber closed on one day's notice in 1998, putting 98 employees out of work. A court fight that went all the way to the U.S. 9th Circuit Court of Appeals found Darby Lumber's owners violated federal law requiring at least 60 days' warning.
Then came the summer of 2000.
On July 31, 2000, a dry lightning storm sparked more than 70 fires in the Bitterroot and Sapphire mountains. Six days later, Black Sunday arrived when both the East Fork and West Fork of the Bitterroot River unleashed a firestorm that nearly overran Darby. By September, 70 homes and 170 outbuildings were burned down, including 51 on that first day.
"In 2000, we were headed for a record year," said Gene Huckstadt, 76. "Then the news media came out for the fires, and the AAA was saying don't go down Highway 93. It changed the direction of the Bitterroot Valley. Ever since 2000, sales have been going downhill. Everybody's in survival mode. They're just keeping their heads above water. This year is just a little bit better."
Huckstadt should know. He owns the Old West Gallery – a two-block line of cowboy-themed storefronts along the east side of U.S. Highway 93 in the middle of Darby. He also owns the buildings under renovation across the street, where he expects to add more business.
"This used to be an eyesore across the street," said LaNeta Zito, who's worked at the Old West Gallery for three years. "Gene tore down some of the old homes and brought in two old houses. They're getting painted and restored now."
Zito said while the tourist traffic has been steady, local residents have been slow to respond. She occasionally meets a neighbor who's never been in the Old West Gallery, or a tourist from Germany who arranged his United States visit to include a stop in Darby.
Huckstadt moved to the area in 1973 and spent the next five years buying property. It was a time of no money down and few regulations.
"I could see the handwriting on the wall," Huckstadt said. "Timber was going downhill. There wasn't much on Main Street. What was the community going to do?
"I was saying to myself, I don't know why somebody doesn't build this town up. It could be a little Bigfork. And my wife said, 'Maybe it's you, Gene.' She's a real encourager."
He started putting the Old West Gallery together in the early 1980s. It has 13 rooms with everything from this morning's fresh fudge to last century's antiques. The candy counters used to be part of a former restaurant. Another portion was a church. One section was part of the Darby school.
"The timber industry did get a bad reputation back when they were doing all the clear-cutting," Huckstadt said. "We made a mistake. They sharpened up. But that time is still hurting the image of loggers."
Today, it's hard to hear any logging-related sound in Darby. One of the last places is Master Log Homes, on the south end of town. That's where Victor Lagerquist continues to crank out cabins in a family business.
"We're a log home company that survived," Lagerquist said. "Some of these lathes are 40 and 50 years old. "We were kind of the Napa Valley of the log home industry. But now it's almost embarrassing. We're not using our natural resources."
Lagerquist remembers a time when two sawmills and 24 log home companies were in constant motion: "It was like casinos on the Las Vegas strip." He used to produce about 50 homes a year. Now he does 10 to 15. The homes used to range between 2,000 and 4,000 interior square feet. Now the usual request is for 1,000 to 2,000 square feet, with a 500-foot loft.
Part of that is because it's hard to find big logs anymore. Neither are there many people in the market for new big-log homes. After the 2008 economic collapse, log mansion prices tumbled to the point where you can buy a standing one for half the price it costs to build a new one.
"Everything's on discount," Lagerquist said. "The bigger it gets, the more you save."
He uses computer-guided lathes to produce logs to order. It's less expensive and faster than hand-crafting, which Lagerquist hopes gives him a competitive pricing advantage."
"I love what I'm doing. I wish we were doing more and more like we used to. We've been able to do it right and make people happy."
Lagerquist was born and raised in Hamilton. He worked construction in California until he decided to return and help the family business.
"It's been a lot like a prison sentence," he said. "I know how to do everything, so I'm stuck here filling in for everyone on vacation."
And that's where Darby's natural resources now contribute to its survival – attracting vacationers. Fly-fishing and hunting, downhill and cross-country skiing, rodeoing and camping, boating on Lake Como and cycling the Bikecentennial trail, Darby draws outsiders who have little knowledge of the town's industrial past.
"Somewhere along the line, maybe I had something to do with this changing image," Huckstadt said while sweeping the boardwalk of his Old West Gallery. "The town didn't have a good reputation. It had good, hardworking people, but it had a bad reputation. I saw the potential in the tourist industry. We're on the highway between Glacier and Yellowstone national parks. I saw the potential in cleaning Main Street up."