BASIN — Joseph Robertson moved into an old camper down by his ponds about a month and a half ago.
His wife, Carri, is staying up at their cabin. Robertson can't be in their home because he can't be around the firearms there, a condition of his release following a conviction in April on federal charges he polluted waters of the United States. His sentencing is July 20.
"I'm facing 15 years and three-quarters of a million in fines," the 77-year-old said recently on his property, supporting himself with a hand on one of the plentiful aspen that canopy the land and a work boot resting on a downed fir. "What they're doing to me, the feds, they shouldn't have the ability to."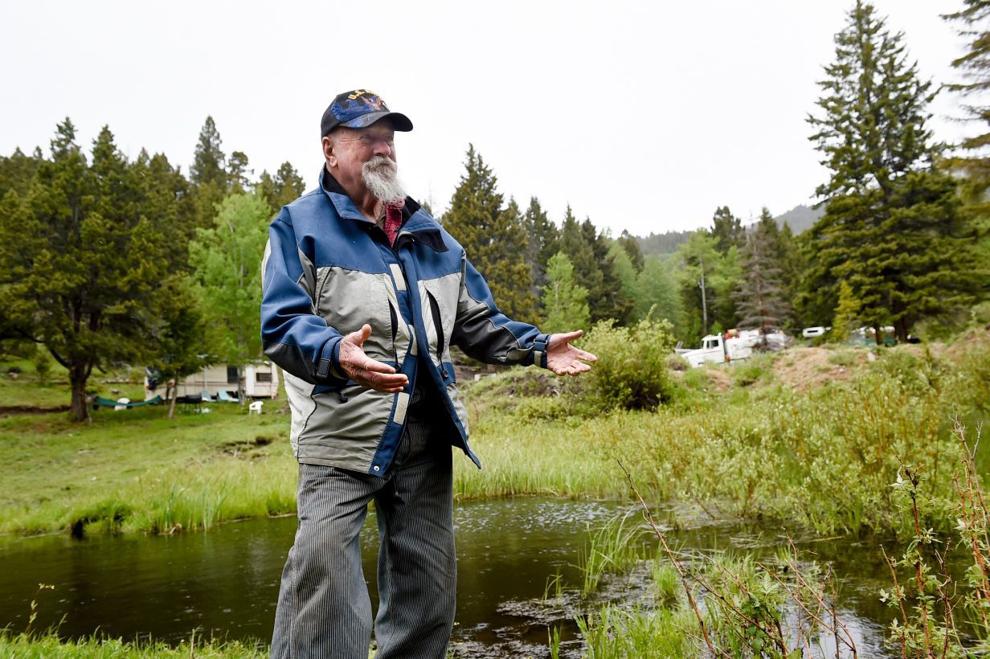 The Environmental Protection Agency and the U.S. Army Corps of Engineers, said Robertson discharged dredged and fill material as a result of a series of ponds he built on land above the small town of Basin, just off Interstate 15 between Butte and Boulder.
Robertson doesn't deny building the ponds; he freely admits using an excavator and rubber-tired backhoe to do the work. Last week he talked about improvements he still wants to make, even after his conviction and before that a series of letters and visits from federal officials over several years telling him he was breaking the law.
"They stopped me before I finished," Robertson said. "I have a lot of work to do. I need to put a proper drain in here one of these days."
What he doesn't understand is how someone could claim his ponds could pollute anything, let alone the nearest navigable river — the Jefferson about 60 miles away. But the EPA has said, and a jury agreed, Robertson's actions dirtied waters that are critically important to the Jefferson and restoration would cost hundreds of thousands of dollars.
"I don't know how they say what happens up here can mean something all the way down there," he said, pointing through timber that obscured Cataract Creek, which eventually flows into the Boulder River and then the Jefferson.
The tale of Joe Robertson has all the characters of a new storyline playing out across the West: a landowner who doesn't think what he calls an "overreaching" EPA and Corps of Engineers should have a say about what he does on his property, two federal agencies that are tasked with protecting the country's water resources and interested parties and likeminded groups watching from the audience, deciding if, when and how to take action.
Lack of legal clarity
The crux of Robertson's case is what qualifies as a "waters of the United States," as defined by the Clean Water Act. The EPA only has jurisdiction over those waters, but definition of the term is as unclear as a muddy stream. 
The inclusion of waters that have a "significant nexus" to navigable waterways comes out of a split U.S. Supreme Court decision in 2006 in which Justice Anthony Kennedy said a continuous surface connection wasn't necessary for a wetland to fall under the Clean Water Act's jurisdiction. A jury found that Robertson's ponds met the nexus test.
At Robertson's trial, experts from the EPA and Corps of Engineers testified the ponds Robertson built were in a stream and wetlands that had a "significant nexus" to traditional navigable waters — running into Cataract Creek, then the Boulder and finally the Jefferson, which the government said has been documented as navigable going back to the Lewis and Clark expedition.
The Montana State Program Manager for the U.S. Army Corps of Engineers, who determined Robertson was in violation of the act, explained the importance of adjacent waters during Robertson's trial like this:
"You think of a tree or a plant leaf where you've got a main branch and a leaf or a main branch on a tree and you get many smaller branches that come off of it and leaves on those branches. It all is connected into — you know, it's all part of the same tree or part of the same plant."
The Supreme Court's lack of a majority in 2006 created confusion, in the wake of which the EPA proposed the Clean Water Rule rule in an attempt to clarify what falls under its jurisdiction.
The rule "was developed by the agencies to respond to an urgent need to improve and simplify the process for identifying waters that are and are not protected under the Clean Water Act, and is based on the latest science and the law," said EPA Deputy Press Secretary Monica Lee.
The rule was published in the Federal Register in June 2015 and added headwaters, tributaries and adjacent wetlands and nearby waters to what the EPA can regulate. Organizations like the Farm Bureau said the rule would hamstring farmers' ability to work their property that may have isolated wetlands or other protected waters while groups like Trout Unlimited said it will ensure protections for fish habitat.
Just four months later, on Oct. 9, 2015, the U.S. Court of Appeals for the Sixth Circuit issued a nationwide stay against enforcing the rule after a lawsuit filed by several states that called it a power grab by the agency. Since then, the EPA and the Corps of Engineers have used earlier regulations to determine what is a waters of the U.S.
By resolution, Congress overturned the rule on Nov. 4, 2015. Montana Republicans Rep. Ryan Zinke and Sen. Steve Daines voted to overturn; Sen. Jon Tester voted no. But in January, with his ninth veto, President Barack Obama rejected that resolution. Senate Republicans tried to override the veto, but didn't get enough votes. Daines voted for the override; Tester voted against it.
Zinke said he thinks decisions about water are best made locally, not at the federal level.
"What I face every day is someone in Washington, D.C., who has a better idea of how to manage our resources and control our resources than Montana," he said. "If a person violates or dams a river or affects your neighbor or the environment adversely, certainly the state and even the county has enough provisions to take action. I don't think you need to prosecute under federal law for something that is a very local issue."
A spokesman for Tester said the EPA rule needs to "protect our most precious resource and work on the ground," adding the goals aren't mutually exclusive. He also said the failed override would have prevented future administrations from providing needed clarity on waters of the U.S. Daines has been a critic of the rule, saying it would have a harmful effect on farmers and ranchers and is "an attack on private property rights."
In a related case, on May 31 the U.S. Supreme Court issued a decision saying landowners could challenge "jurisdictional determinations" made by the U.S. Army Corps, the agency that makes the call on if waters fall under the federal government's oversight.
In that decision, Justice John Roberts touched on the severity of punishments for those found guilty of violating the Clean Water Act, writing it "imposed substantial criminal and civil penalties for discharging any pollutant into water covered by the act without a permit."
Amidst this murky legal picture, Robertson is one of those facing a substantial penalty. He could have to pay fines in the hundreds of thousands of dollars and go to prison for 15 years, what could amount to a life sentence for the disabled Navy veteran.
Mining area
Robertson hung his red-sleeved arm out the door of his green pickup as he drove bumpy roads through a patchwork of patented and unpatented mining claims and federally owned land near his home. His therapy dog, a retriever named Sasha, is prone to hanging her head out the topper's back, scanning the surroundings. Robertson has lived in the area since about 1996 and has a complicated legal past that includes many encounters with local, state and federal law enforcement. He has ended up in district court, the state Supreme Court and federal court before, though he's never faced charges this serious.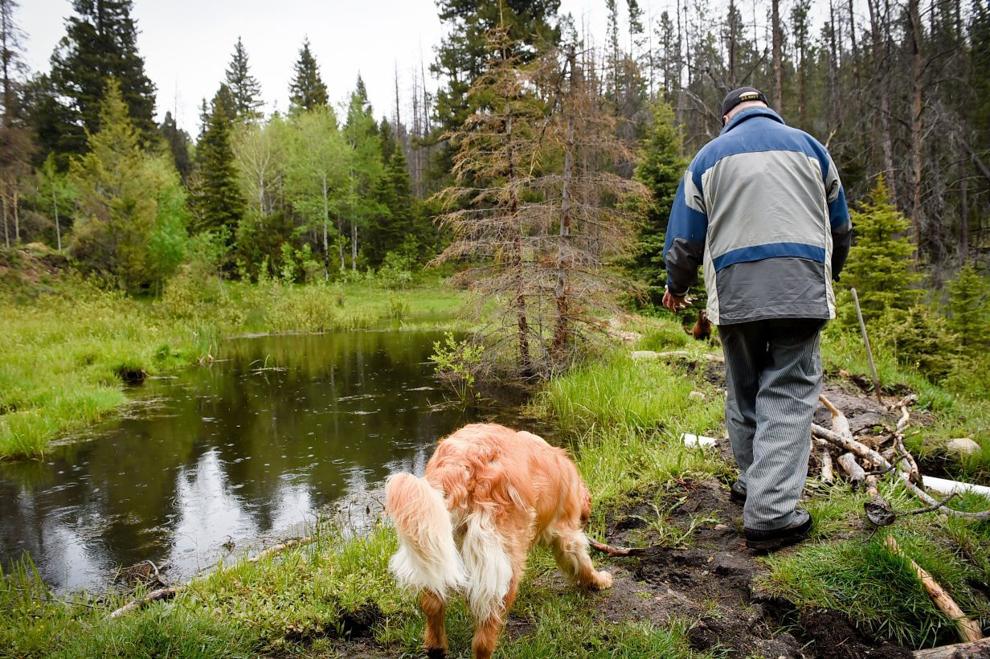 With pale blue eyes and abundant smile wrinkles around his eyes, Robertson could pass for a decade younger, though he likes to joke about his age. He's old, he said, but not nearly as old as some of the ponds in this area dug by miners in the 1880s.
The land above Basin has been mined for more than a century and evidence of such is almost anywhere you look. There's tailings on the shore of Cataract Creek just 100 yards downstream from a stump marking where the unnamed tributary Robertson polluted dives under the road and flows into the creek.
"That's ancient," he said, pointing to dry ditch that may have carried water down to what's now just the remnants of an old mill. "I don't know how you can say I'm polluting when you've got all that around."
Elk, ducks, geese and moose all frequent Robertson's ponds and it looks to be a bumper year for frogs. Though the ponds provide water for his five horses and two goats, Robertson is most proud of their utility in fighting fire.
The larger pond has connections to allow the tactical tender parked nearby to fill up.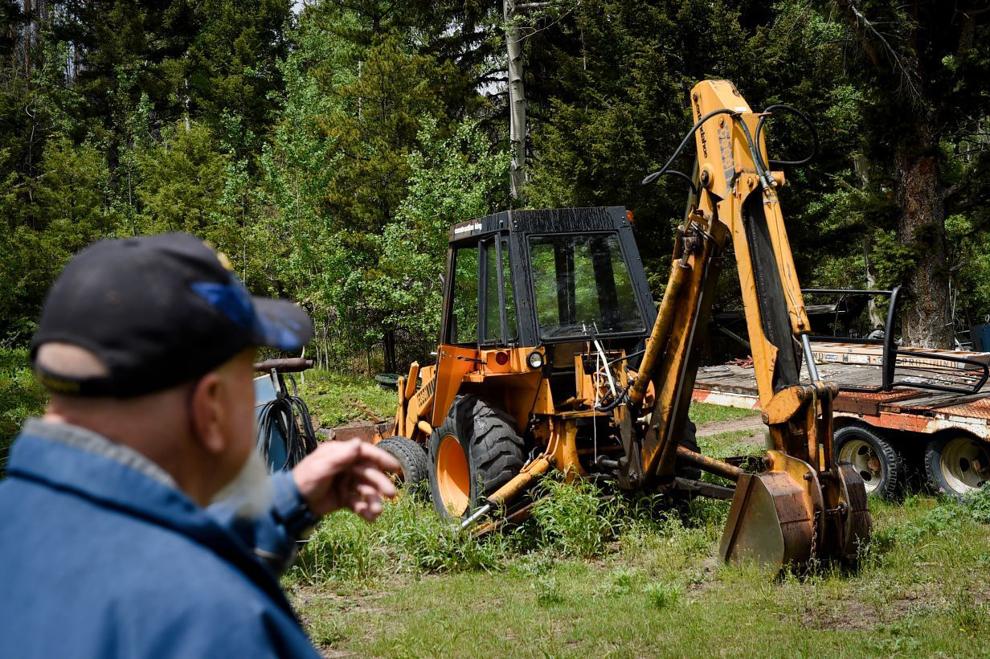 Fighting fire is something Robertson cares deeply about. For years, he said, he and his wife ran a Type 2 tactical water tender and spent their summers fighting fire, one 14-hour day at a time across the West.
His other devotion lies with fellow veterans — his wallet is stuffed with business cards for a group he organized to bring local veterans and their families out to his land.
"We have a lot of old, disabled veterans that have PTSD who want to come here, relax and enjoy life," he said, though he's discouraged visitors since his legal troubles started.
Robertson has struggled with PTSD himself and spent five-and-a-half weeks in an inpatient trauma recovery unit at Fort Harrison.
"Thank God I did because with these people coming up and packing weapons," he trailed off, referring to armed Forest Service agents who have visited his land to see if he has complied with court orders over the years to move structures and property he put on federally owned lands.
Support
State Rep. Theresa Manzella, R-Hamilton, is one of several starting to rally around Robertson. Her name is written in pencil along with other contacts of supporters on the back of a manila folder where he keeps all his legal papers.
Manzella said she first saw Robertson's story on Redoubt News, the communications outlet of a political movement that encourages migration to so-called safe-haven states in the West for like-minded conservatives who anticipate the downfall of the federal government.
The website features stories like one about a rally in Plains earlier this month that brought together self-proclaimed patriots including Robertson and the family of Jake Ryan, a 27-year-old Montanan who was arrested after a takeover of the Malheur National Wildlife Refuge in Oregon at the start of this year, and Jeanette Finicum, whose husband was shot and killed by law enforcement when five of the militants were arrested about 50 miles north of the refuge on Jan. 26.
"My concern is protecting our citizens, protecting our state sovereignty," Manzella said about Robertson's case. "Where does our state sovereignty end and the federal government take over in a situation such as this?"
Jim Buterbaugh, who lives in Whitehall and has known Robertson for years, said he's tentatively planning a rally at the July sentencing.
"This is the government going too far," Buterbaugh said. "He's a mile away from the creek, so I don't see where he's going to be polluting since his ponds are groundwater ponds."
The Oath Keepers, a group of constitutional activists known for armed support of individuals fighting government overreach, launched an online alert last month supporting Robertson and encouraging donation to his legal defense.
"I find it astonishing that they're picking on this veteran," said Oath Keepers spokesman Jason Van Tatenhove.
"I don't think the guy deserves to die behind bars," he said of a potential prison sentence.
Oath Keepers founder Stewart Rhodes joined Van Tatenhove in lambasting the investigation and court case. They allege fabrication of some evidence while ignoring other evidence in a retributive prosecution and failed defense.
Rhodes declined comment on whether the Oath Keepers is considering an armed operation in support of Robertson, but did say, "we want to see this fought in the courts."
Radio Free Redoubt host John Jacob Schmidt in an interview with Robertson referenced a "Second Amendment-type of option" when talking about what happens next.
But Robertson said he doesn't want anybody armed to come up near his land unless they're hunting.
"Oh no," he said. "I wouldn't want that. I wouldn't want any part of that. It's bad enough, there are a lot of disabled vets living up here. That's a bad situation. Carri had a guy with PTSD hunting that ran into armed Forest Service agents. This poor guy, it scared him to death."
What's next
Ray Kagel, who runs a wetlands, water and wildlife consulting firm in Rigby, Idaho, calls into question the EPA's report, so much so that he produced a pro-bono report countering the government's.
"In our opinion, there were no measurable or quantitative adverse impacts to the aquatic ecosystem," he said.
Kagel said he used to work for the Corps of Engineers and the EPA as a senior project manager and enforcement officer and said his work as a federal employee informs he about why the government pursued a case against Robertson.
"It's kind of like a feather in the cap showing 'Wow, what a great job we are doing as an agency based on all these enforcement actions we've taken,' " he said.
He contends Robertson's ponds neither fit the significant nexus definition nor are a continuously flowing stream because the flow goes underground.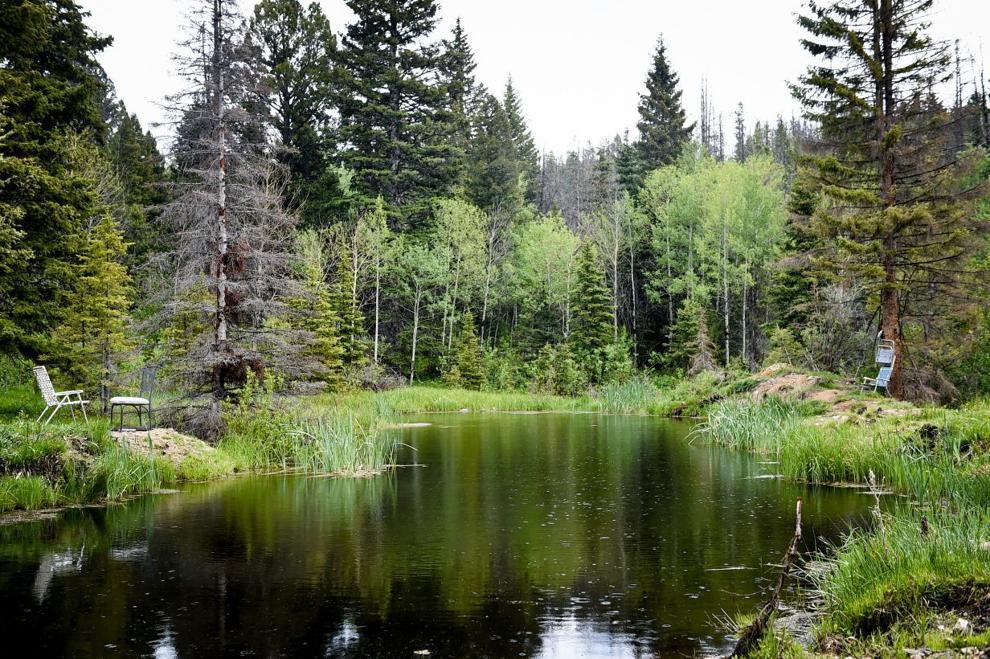 In his 2006 opinion, Justice Antonin Scalia said intermittent and ephemeral streams are not "waters of the U.S," though the jury in Robertson's case was told to use the nexus text. 
Kagel has done free work for others in similar situations, including a Wyoming rancher who was facing millions in fines over a stock pond he built and later settled with the EPA, saying he didn't pay a fine and kept his pond. He also produced a report for an Iowa woman who pleaded guilty to building a pond at her campground in violation of the Clean Water Act. The charges were dismissed, though the government held the right to continue the case later.
But Kagel's report was done after a jury found Robertson guilty and years of federal agents telling Robertson he didn't have permission to build his ponds. Robertson points out he did get a state-issued 310 permit to build an off-stream pond, though that permit expired before he started work and the state official who issued the permit said the ponds Robertson built didn't meet requirements. Robertson was never issued a 404 permit from the Corps of Engineers, which is required for activity that will result in the discharge or placement of dredged or fill material into waters of the U.S.
Meanwhile, Robertson continues to talk about improvements to his nine ponds and make plans for the rest of his life. He and his wife own a blue sailboat they'd like to put in Canyon Ferry, and more immediately there's a seeder in the back of his truck he needs to put to use.
"I gotta get that done before I go to prison," he laughed.
— Helena Independent Record reporter Tom Kuglin contributed to this report.