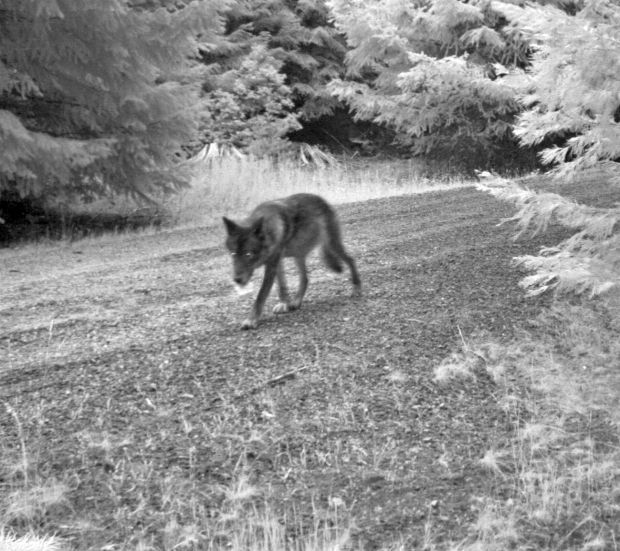 GRANTS PASS, Ore. — Genetic tests indicate that the mate of Oregon's famous wandering wolf, OR-7, found in the Cascade Mountains of southwestern Oregon could have been the girl next door when he was growing up hundreds of miles away in northeastern Oregon.
The Oregon Department of Fish and Wildlife announced Friday that scat samples picked up by biologists in May and July were analyzed by a laboratory at the University of Idaho. The report says DNA extracted from the scat show the mate is indeed a wolf, and two of the pups belong to OR-7 and his mate.
The report does not specifically say where the mate comes from, but she is related to the Minam and Snake River packs in northeastern Oregon. They each occupy territories neighboring OR-7's Imnaha pack.
"We want to see genetics travel and genetic interchange between the packs, and this confirms that is happening in Oregon," said department spokeswoman Michelle Dennehy.
She noted that wolves are known to follow the scent trails left by other wolves that leave their pack to establish a new territory.
OR-7 set off in search of a mate in September 2011, covering thousands of meandering miles from his birthplace in northeastern Oregon to northern California before settling in southwest Oregon. Against the odds, he found a mate last winter, and biologists have confirmed at least three pups on the Rogue River-Siskiyou National Forest in the southern Cascade Range east of Medford.
The report from the Laboratory for Ecological, Evolutionary and Conservation Genetics at the University of Idaho said the mate, whose age remains unknown, was related at the half-sibling or aunt-uncle level to the alpha females of the Minam and Snake River packs. DNA was only extracted for two of the three known pups.
The tests also put to rest any fears that the mate is a wolf-dog hybrid.
"It could be she also came from an Idaho pack that had dispersers," said U.S. Fish and Wildlife biologist John Stephenson. Oregon's packs descended from wolves that swam the Snake River from Idaho. "She may not be the girl next door, but it's possible.
"That's the neat part of the story. It was kind of a needle in a haystack once she did get out all this way. It shows they have ways of finding each other."