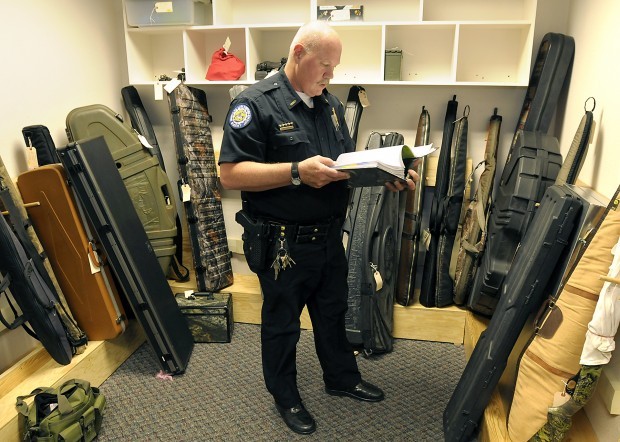 MISSOULA — On a hot summer evening in 2011, University of Montana police and the Missoula Police Department responded to calls of a shooting in the parking lot of the campus dining hall.
The 19-year-old victim had suffered a shotgun wound to the hand. The 20-year-old suspect, later identified as Michael Ream, was taken into custody without incident. As it turned out, the two were buddies and the .20-gauge shotgun had accidentally discharged, marking the first time a weapon had been fired on campus in nearly 30 years.
The Montana Board of Regents has strict policies regarding firearms on public campuses across the state. The law has been unchanged for years, and allows only trained and certified security officers to carry weapons on school grounds.
Students who want access to their firearms must store them in a campus gun locker. They can check them out as they please to hunt and sport shoot. They cannot, however, carry them to class or handle them in their dorm rooms.
"Things have run smoothly with our current policy and procedures," said Kevin McRae, associate commissioner of higher education for the Montana University System. "There's already a state law saying you can't carry a concealed weapon in a state building. Additionally, we have a Board of Regents policy saying that only an authorized campus security officer can carry a weapon."
While some argue that the state's policies work just fine, as evidenced by the lack of problems reported by campus police, Gary Marbut, president of the Montana Shooting Sports Association, stands among gun rights advocates who believe that the Board of Regents has no authority to ban firearms on campus.
Marbut argues that current laws leave students and faculty vulnerable to others with ill intentions. He says the time has come to revisit Montana law as it pertains to firearms on campus.
"I think people tend to agree with us, pretty generally, that the Montana Constitution doesn't give the Board of Regents any authority to abolish the (U.S.) Constitution," Marbut said. "We have a long wish list of things to do in this upcoming legislative session."
Following trends in other states, Marbut said the debate in Montana has undergone a shift in public opinion regarding firearms – a move he calls more sympathetic to the Second Amendment.
He cited the state's "shall issue" concealed weapons permit law, which passed in 1991. He said MSSA also has helped push 58 pro-gun and pro-hunting bills through the Montana Legislature.
More recently, Marbut's organization issued a questionnaire to candidates running for the 2013 Legislature. Among the 15 questions, the organization asked candidates if they'd support changing Montana law to allow concealed permit holders to carry firearms in restricted places, which include college campuses.
MSSA also asked candidates if they'd support a bill revoking all authority from the Board of Regents to restrict firearms on college campuses. It is, Marbut said, an effort to allow sensible possession of weapons at Montana's colleges and universities.
"The bottom line is, although the Montana Constitution gives the Board of Regents broad power to manage the university system, it doesn't give them any authority to amend or alter the (U.S.) Constitution, or suspend the constitutional rights of people on campus," Marbut said.
Across the country, elected officials have grappled with the debate of allowing or not allowing guns on campus. In 2011, according to the National Conference of State Legislatures, 18 states introduced legislation to allow concealed weapons on campus in some form.
"Within the last year, we've watched the evolution of other states, their struggles and their legislative actions," said McRae. "Not only does it keep us contemporary and up to speed on the issues other states are dealing with, but also, what we might expect the dialogue to be in our state."
That dialogue surrounding firearms is bound to continue in Montana in the coming years, especially as groups like MSSA pressure state legislators to rewrite the state's gun laws and lift restrictions on where weapons can be carried.
Of the 18 states that introduced campus gun legislation in 2011, two passed bills, including Wisconsin and Mississippi. While the Wisconsin law permits concealed weapons on campus, it also allows campuses to prohibit weapons in campus buildings if signs are posted.
The Mississippi law goes further, allowing those who have taken a voluntary course on the safe handling and use of firearms by a certified instructor to carry a concealed weapon on campus.
In Montana, the Board of Regents' policy currently allows firearms to be carried on campus, but only by trained security officers and employees of a private security company registered to carry a gun.
The Board of Regents also allows each campus to establish regulations governing the transportation and storage of firearms on school property. UM allows students to store firearms at a central location. They also may store firearms in a secured vehicle.
"Only campus security officers are authorized to carry," said McRae. "But there's something in the Board of Regents policy that says campuses can come up with their own policies for storage. We've never used the term gun-free zone."
Without success, efforts have been made to allow permit holders to carry concealed firearms on Montana campuses, and to loosen state gun laws pertaining to universities and government buildings.
State Rep. Krayton Kerns, R-Laurel, introduced a bill in the 2011 Legislature allowing gun owners with a concealed permit to carry guns in prohibited places, such as bars, banks and government buildings, including those on college campuses.
"I would certainly think it's a state issue and not a college campus issue," Kerns said. "I'd like to allow students with a conceal carry permit to carry concealed weapons on campus."
Kerns believes current laws prohibiting firearms on campus create an illusion of safety. He said gun-free zones are only gun-free for victims, while people intent on committing crimes don't heed the law.
He points to mass campus shootings at Northern Illinois University in 2008 and Virginia Tech in 2007, where Seung-Hui Cho shot 49 people and killed 32. Cho carried two weapons in the incident, including a .22-caliber semiautomatic handgun and a 9 mm Glock.
Kerns believes an armed student could have stopped him.
"Had there been one other armed student in that room, you'd have had a different outcome," Kerns said. "Every time we have one of these shootings, the kneejerk reaction is to take guns away from those who have no intent on doing a crime."
If Kerns' bill were to pass, Montana would join five other states that now allow concealed weapons on campus, including Colorado, Oregon, Utah, Wisconsin and Mississippi.
According to the National Conference of State Legislatures, 21 states currently have an outright ban on carrying concealed weapons on campus, including Wyoming, North Dakota and Nevada.
Montana, however, remains one of 24 states where the decision to ban or allow concealed weapons on campus is made by individual colleges and universities. In Montana, that authority falls to the Board of Regents.
Gary Taylor, chief of police at UM, said the current laws work fine. He said his staff, supported by local law enforcement, is equipped to deal with a campus shooting. Allowing students to carry concealed weapons would only muddy a bad situation.
"We have an active shooter team, should a shooting start, and we're all trained on that," said Taylor. "Should we respond to an active shooting and we're looking for someone with a weapon, and all of a sudden we have three armed students in a room, it makes it hard to determine in that split second who's the shooter and who's not."
Ream, who had the shotgun accidentally discharge while holding it, told the Missoulian last November that the university's punishment was harsher than the law. UM placed Ream on probation for two years and he can't go into dorms. He's also not allowed to carry guns or knives on campus, and he faces expulsion if he encounters another problem.