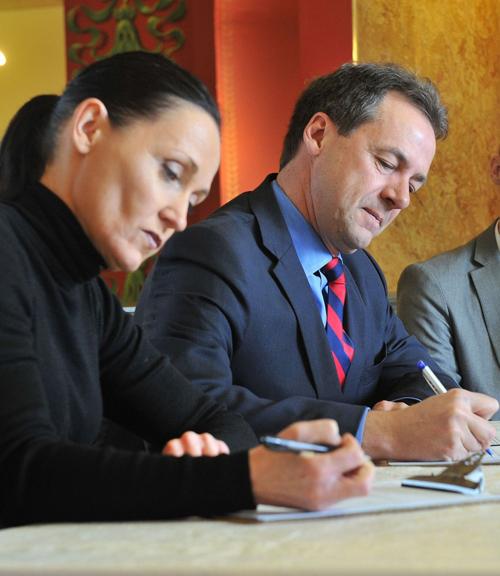 HELENA — Gov. Steve Bullock said Monday he will make his pick for lieutenant governor and his running mate for the 2016 election by the end of the year.
Bullock said he's still taking input on possible candidates from his senior staff, cabinet, business leaders and other interested parties.
Gov. Steve Bullock said Friday night that departing Lt. Gov. Angela McLean's perceived frust…
He said he expects to sift through between 50 to 100 names to make his selection.
"There's the list of people who are good and who are interested, and they don't always intersect," he said.
Bullock needs a new lieutenant governor, his third in three years, because the current Lt. Gov. Angela McLean is leaving the post Jan. 4 to become director of American Indian and minority achievement in the Office of the Commissioner of Higher Education.
Bullock said his pick won't be limited by gender or geography.
Commissioner of the Department of Labor and Industry Pam Bucy and Secretary of State Linda McCulloch had been mentioned as possible choices, both having run for office and spent time in the public eye. Bullock said "they're both talented people" but wouldn't say if he was considering either.
Bullock said he's reaching out to get more input than he did before when he picked McLean in 2014.
Emails released
According to emails released to the Gazette State Bureau on Monday, as far back as May 28, McLean was concerned Bullock was seeking a new running mate for the 2016 election. She wrote she felt it wasn't fair to solicit more fundraising contributions until she knew if she was on the ticket.
HELENA — Angela McLean plans to step down as Montana's lieutenant governor to take a job wit…
Through the middle of the year, most of McLean's emails were conducting the day-to-day business of being lieutenant governor — attending and speaking at events across Montana, traveling out of state to conferences, getting tickets for Griz football games, talking with Montanans about concerns they sent her way.
By Friday, Oct. 2, there were again signs of problems. McLean sent an email from her personal email account to Bullock's personal account. In it, she documented a meeting between her, Bullock and Dave Parker, senior adviser to the governor and lieutenant governor. She wrote that they told her she couldn't be happy in her job.
McLean wrote she would stay in her job until Dec. 31, 2016.
McLean and Parker had a meeting on Oct. 5, according to emails. The next day McLean sent an email to Bullock saying that Parker had called her five days prior and asked her 'to imagine a workplace where, if I stayed in my post but the governor took away my initiatives (SMART schools and STEM) and my ability to serve the citizens of Montana.'"
She said that Parker told her Bullock wanted her to assume a "more traditional" lieutenant governor role and that her policy initiatives would be handled by policy personnel.
McLean said she remained "committed to fulfilling my constitutional role as lieutenant governor" and was "willing to work in whatever capacity I am allowed in moving these initiatives forward that I have championed for more than a year."
The Montana lieutenant governor is elected for a term of four years, same as the governor. B…
In an interview Monday, Bullock said he's seen opinion pieces calling for the lieutenant governor to have a larger role, perhaps overseeing higher education, but said the Montana Constitution presents barriers to doing that. The powers and duties of the lieutenant governor, according to the Montana Constitution, are to administer that office, hire staff, compile a budget for that office and perform duties delegated by the governor.
"From Smart Schools to Main Street, Angela was given a part," Bullock said. He also said McLean's role was larger than other lieutenant governors had assumed in the past.
On Oct. 14, Parker sent McLean an email noting an event she'd scheduled at the Florence Crittenton Home for pregnant and young mothers in Helena. Parker said scheduling requests needed to go through his office so it can "determine whether or not it fits into our overall strategic scheduling goals for you and the governor."
By Nov. 9, Bullock and McLean hadn't spoken in over a month, according to McLean's emails. Arranging a meeting proved difficult. On that day, McLean wrote to Bullock and asked to meet. Bullock was traveling to Missoula but said he'd have time either that day or the next.
Tracy Stone-Manning, Bullock's chief of staff who was copied on the email, asked if 4:30 that day worked for McLean to meet with Bullock, though it appears an email glitch meant McLean's email accepting the 4:30 meeting wasn't received by Stone-Manning.
On Nov. 10, McLean asked if she could meet with Bullock at 4 p.m. that day, but Stone-Manning said he had a backlog of things to sign and review. Stone-Manning asked if McLean could meet with Bullock on Sunday afternoon, but McLean said she wasn't available then.
Three lieutenant governors in three years: It's a scenario not seen by a Montana governor in…
Stone-Manning suggested the following Monday, Nov. 16, to which McLean replied "Give me a call when you can." McLean missed Stone-Manning's call that morning before 8 a.m. McLean said she was available until 10 a.m. Later that night, Stone-Manning said she was traveling and in a meeting when McLean was available, but could talk the next day.
In response to a request for a statement Monday, McLean said:
"The day I announced I was leaving, the governor said that I had contributed to the success of his team and that I would be a positive influence in the state of Montana for years to come. I am going to focus on those comments made by the governor, himself, as opposed to a statement drafted in response to the press' request for emails.
"I loved every day of my service to hardworking Montanans as lieutenant governor. Now, I am looking forward and am excited about the opportunities ahead where I will continue to serve the good people of Montana."
Twitter account
Stone-Manning, Bullock's chief of staff, sent an email to McLean on Oct. 22 telling McLean that she was "concerned" about tweets sent by the lieutenant governor regarding Montana Superintendent of Public Instruction Denise Juneau's bid for Congress.
Stone-Manning said McLean could not use "the new LG twitter account you created" or state resources for electioneering activities. McLean could use a personal account to "support our friends," Stone-Manning wrote.
McLean replied that she did tweet from her personal account, one she created after she said Bullock, Stone-Manning, Parker and "perhaps others made the decision to lock me out of my state/official account on Monday, Oct. 5."
Tweets have been sent regularly from the official lieutenant governor account, @LtGovMcLean, since Oct. 5.
The majority of the tweets are retweets of Bullock and statewide newspapers and TV stations. Her personal account, @AngelaMcLean, also is mostly retweets with a focus on Democratic and education issues. On Thanksgiving, four days before the announcement of her departure from the lieutenant governor role, she tweeted: "Happy Thanksgiving Montana! I'm grateful for all of the opportunities this state has given me!"
McLean created a personal twitter account in February 2010. There is one tweet from Feb. 11, 2010; the next tweet from that account appears to be Oct. 15 of this year, though tweets may have been deleted.
Fundraising email
McLean sent an email about fundraising calls to Colleen Martin and Melanie Brock on Oct. 11. In that email, she said she asked Bullock two weeks prior to tell her if she would be his running mate in 2016, but that he had not answered her. She also said she was uninvited from a retreat, which indicated to her that he had "made up his mind." She said it would not be "honest" for her to make fundraising calls.
Brock's company, Brock Consulting, specializes in public and government affairs, project funding strategies, strategic outreach and event coordination. Colleen Martin worked on John Lewis' unsuccessful campaign for Congress.
On Sunday, an email sent from the Montana Democrats with McLean as the sender asked recipients to donate to the Montana Democratic Legislative Campaign Committee. The email said McLean has been an educator her entire career and says she "had the great privilege of serving as your Montana lieutenant governor."