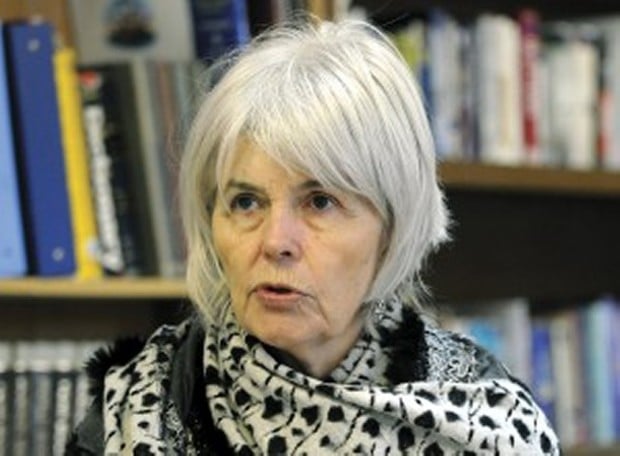 HELENA — On one side of the gate stood a group of Russian government officials with a Moscow television crew in tow, demanding entry into the ranch that one of them had called "a trash can for unwanted children."
On the other side, indoors and away from the camera, were Joyce Sterkel and the 25 adopted children under her care at the Ranch For Kids in remote northwestern Montana.
In the decade that the ranch for troubled adopted children from foreign countries has operated, it has been lauded by parents, advocates and the press as a refuge for adoptive parents to bring their children when they have nowhere else to go. But on June 28, some of the outrage and suspicion that Russians have toward U.S. adoptions of their children landed on its doorstep.
At Sterkel's gate were Russian children rights ombudsman Pavel Astakhov and human rights envoy Konstantin Dolgov. Astakhov claimed in comments carried by the news agency RIA Novosti that the children at Sterkel's ranch near the Canadian border were completely isolated from the outside world and questioned whether they were getting the necessary care or treatment.
Sterkel, who bristles at Astakhov's claims and says he is wrong on every count, suspected she was being set up for a made-for TV confrontation for political gain in Russia. She decided that they wouldn't step foot on her property without State Department officials, parental permission and an independent film crew on hand to document the visit.
Dolgov spoke of the Montana visit in July 5 comments carried by the Interfax news agency.
"We regret that we have been denied access. For all our respect for American law we think there are channels which must allow Russian officials to visit Russian citizens. All of these children are Russian citizens," he said.
Sterkel said she is concerned that they will try to make good on their promise to try again after a bilateral adoption agreement between the U.S. and Russia wends its way through the ratification process.
"This is a test case. This is to test the integrity of the bilateral agreement to see if they have the muscle to come onto American soil and push their way in," Sterkel said. "I think they want to see if they really can come in and visit children without parental consent."
The agreement, which was signed last year by Secretary of State Hillary Clinton, was approved by Russia's lower parliamentary body on Tuesday and still must go through the upper house and President Vladimir Putin. Its text has not been publicly released, but a draft was obtained Wednesday by The Associated Press.
The agreement would allow a U.S. adoption of a Russian child to occur only through authorized adoptions agencies. The adoption agency would be required to monitor the child's conditions and upbringing and report back to Russia on the child's development.
Russia would provide the prospective parents with all available information on the social situation and medical history of the child, along with a description of any special needs the child has.
If a child is to be placed with another family, the agreement calls for Russia and U.S. officials to consult before the new placement is made. Then, after the original adoption is dissolved, the new prospective parents would be told that Russia requires the child be registered with a Russian consulate and that the child's living conditions and upbringing must be monitored.
Negotiations for the deal began in 2010 after Torry Hansen sent her then 7-year-old adopted son, Artyom Saveliev, back to Russia with a letter saying he was violent and disturbed and she didn't want to be his mother anymore.
Sterkel, who said she has read the agreement, said she believes it would give Russian officials the right to come into American homes to check on adopted children if the officials are accompanied by a local official, such as a sheriff or social worker.
A State Department spokesperson who would speak only on background said Wednesday that Russian officials may request to have access to the adopted children, but the agency cannot require families to grant access.
"Our current practice is to encourage parents to allow access if requested by the Russian government. The same goes for private facilities such as the Ranch for Kids. In accordance with the children's privacy rights, parents would have to consent to the visit of Russian officials. This practice will not change under the agreement," the spokesperson said.
Sterkel's ranch for troubled adopted children, several of them Russian and many of whom suffer from damage caused by alcohol and drugs ingested by their mothers while pregnant, has operated in the tiny community of Eureka since 2003.
Ten of the 25 children there are from Russia, with others from China, Ukraine, Kazakhstan, Haiti, Ethiopia and other countries. Their ages vary, and their troubles range from fetal alcohol spectrum disorder to the aftereffects of spending their early lives in difficult conditions in orphanages.
Some are violent or have threatened violence. Others have committed crimes because they don't understand the consequences of their actions. Many are developmentally delayed because of brain damage.
"They are living with parents who love them very much, they just need help with behavior issues," Sterkel said.
Parents pay $3,500 a month to send their children to the ranch, and the length of their stay is determined month by month, Sterkel said.
Laurie Jarvis sent her adopted Russian child there in 2005 when he was 11. Jarvis said the Ranch For Kids gave her son a structured environment with a strict routine that involved classwork and outdoor activities such as horseback riding, giving him the chance to step away from the hectic pace of American culture.
The Ranch For Kids is often the last hope for a lot of parents who have nowhere else to turn, she said.
Sterkel said she believes the real motive behind Astakhov's claims is to bring more lawsuits against adoptive parents. Astakhov earlier this year said Russia is suing Hansen for $2,300 a month for her former adopted child's foster care and "psychological correction."
Sterkel said she is concerned that the U.S.-Russian adoption treaty may help Russian officials like Astakhov establish such legal claims and said any parent with an adopted child from Russia should be, too.
"If adoptive parents knew what was in this agreement, they'd be freaked out," Sterkel said. "The thought that a foreign government can come and harass me, a property owner, is outrageous. If we don't have sovereignty within our own country to protect us against a foreign government, we don't have anything."
Chuck Johnson, president and CEO of the National Council for Adoption, said the bilateral agreement was necessary, and it would bring important fixes to the inter-country adoption process that had almost permanently shut down after Hansen sent her adopted son back to Russia.
While he has not seen the text of the agreement, his agency has worked with the Russian government in its development, and he does not believe it allows officials the access that Sterkel fears.
Johnson said he has not met Sterkel, but he has communicated with her in the past about adoption issues and her reputation is good among adoption advocates. Families he knows who have sent children to the ranch spoke very favorably about it, he said.
"Joyce has taken on those situations that are really the worst-case outcomes, other than death, where she's trying to help the families develop these coping mechanisms," he said.