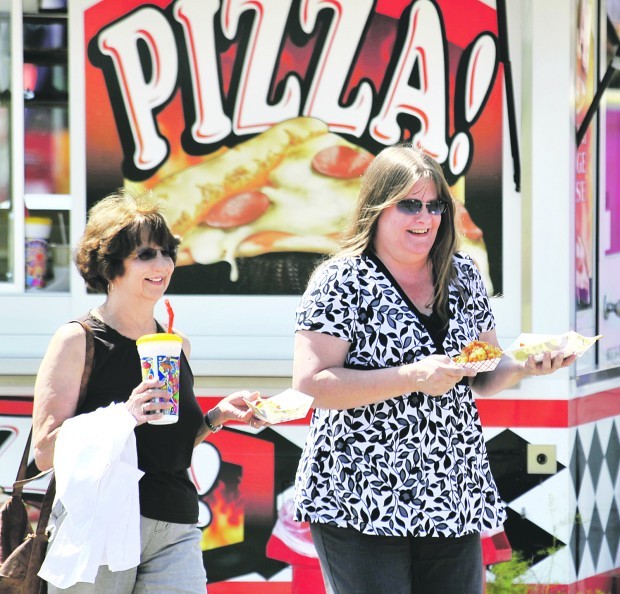 Jenny McGahan knew just where to head at MontanaFair: Khanthaly's Eggrolls.
Sure, she could get an egg roll from the family business at the Yellowstone Valley Farmers' Market, or at their downtown trailer by Transwestern III, but she said the egg rolls taste better at the fair.
So, while her nine co-workers from Gap West Broadcasting fanned out to pick up caramel apples, foot-long corn dogs, teriyaki chicken and deep-fried peaches, she went straight for the crispy egg rolls. Later, they had a company picture taken at the Old Fashioned Western Photo booth.
"It's going to be the company Christmas card," said Gap West director of sales Blair Dear.
The Gap West Broadcasting crew makes it an annual event, taking advantage of Lunch Bunch, a chance to get into the fair free during lunch.
"It's a once-a-year splurge, so we go all out," said Monica Kordonowy.
Lunch Bunch allows visitors to get a token that if returned before 2 p.m. allows them to get their $5 fair entrance fee back.
On Monday and Tuesday, at least 150 people took advantage of the lunch deal. MetraPark's marketing manager Sandra Hawke said this year the fair has sweetened the deal. If you take a MET bus to the fairgrounds, you can get a coupon for $2 off the regular $8 adult fair admission. At least 53 local food vendors and six food vendors that travel with carnival are at the fair this year with more than 100 foods.
Mike Gast, vice president of communications at KOA, brought his daughter Shana to the fair for lunch. They both had their favorite, Vikings on a Stick, a deep-fried meatball from the Sons of Norway. To top it off, Shana tried the deep-fried macaroni wedges from the Girl Scouts booth.
"Thumbs up on the macaroni," Shana said.
Mike added, "This is a one-time deal. Just to come out to the fair for lunch and get a Viking. It's the only time all year you can get one.''
The Sons of Norway were doing a brisk business during lunch on Wednesday, with a line of customers 12 deep. Nearby, the Girl Scouts were selling plenty of their new concoctions, including the deep-fried macaroni and cheese and funnel cake french fries.
"The adults like the mac and cheese the most, and they're the ones who are coming back for seconds," said Girl Scout booth operator Mary Finnicum.
A customer chimed in, "It's comfort food for adults. Kids haven't figured that out yet."
Jodi and Shawn Byrne and their two daughters were at MontanaFair Wednesday enjoying fair food for lunch.
Seven-year-old Carly said, "Basically, my favorite food is funnel cakes."
The family decided to try the deep-fried peaches, too, because Shawn had heard from a co-worker they tasted like peach pie straight out of the ovenm and 11-year-old Erika had to get her favorite, the hand-squeezed lemonade.
"I tried to make it myself once, but it turned out too sour," Erika said. "They know how to make it just right here."
Today is the last day to take advantage of Lunch Bunch deal at MontanaFair. Admission to the fair between noon and 2 p.m. is $5. Lunchgoers can get a token that if returned before 2 p.m. will get their $5 back. Lunchgoers who ride the MET bus may also get a coupon for $2 off the regular $8 adult admission.