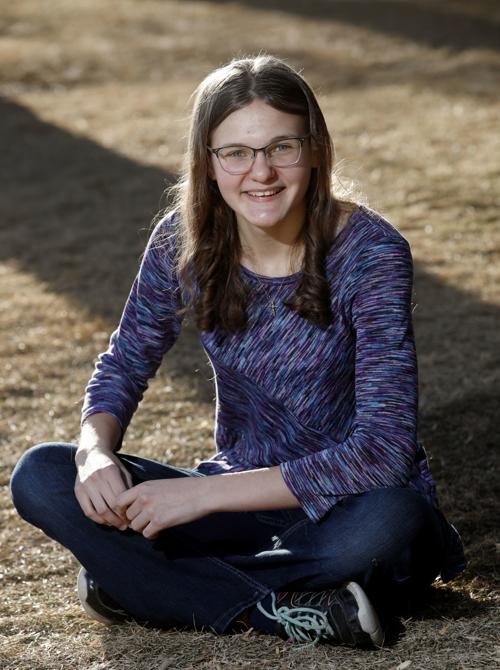 Jerrica Bursik never pictured herself as a leader — "like, ever."
Leadership, it seemed, was for the hand shakers, the natural speech makers, those who didn't think twice about standing up in front of a crowd. 
The Park City High School senior instead saw herself as the problem solver, someone who toiled quietly without seeking the spotlight.
Only recently did she realize that it was never about the spotlight — and that when she stood up, she could flourish under its glare. 
"I didn't really think of leaders being the problem solvers," she said. "Leaders become leaders through service."
Bursik has become a pillar in the music and FFA programs at Park City and taken on projects in the community. But she had a quiet start. 
Tending the garden
During elementary school, Bursik moved to Park City from Washington. Her role in FFA comes as no surprise for the girl who recalls working in her parents' garden, tending strawberries and vegetables. 
Park City's agriculture teacher, Kari Hanson, met Bursik in eighth grade. 
"She was just a real nice kid but super quiet and shy," Hanson said. 
Going to the national leadership conference for FFA helped change that. It wasn't just the instruction she received there; it was also the setting around her. 
"It was kind of more of a new start," she said. "You don't even know what state (other kids) are from, much less their personality and who they are."
She worked to get better at leadership skills that forced her outside of her comfort zone. 
"She went from saying, 'I'm not a leader,' to saying, 'Huh, I guess I can be a leader, I need to practice and know how,' " Hanson said. 
But she also brought back lessons to better not just herself, but also her community. 
Bursik and a friend have started a composting program, working with the school cafeteria and a local restaurant to provide more environmentally friendly food disposal that in turn can create ideal soil for agriculture. 
They do twice-a-week food pickups, and combine that with sawdust from the school shop and grass clippings for the requisite organic matter. They hope to find a home for the compost in the spring. 
Taking on such a project is unusual, Hanson said, leadership events or not. 
"Most kids go to those things as a social event," she said. "(Bursik) implements, which is probably something only 10 percent of the kids do when they go to them. It shows that she really cares about other people in her community more than herself, and that's rare."
FFA isn't the only area where she excels; Bursik has is a two-time national soloist in choir events. 
But music has long been an outlet for Bursik. 
Performing
Bursik doesn't think she great at explaining things. But as she describes her compost project, with the logistics, the science behind the transformation, its potential uses, and application in rural communities, she throws herself into the conversation. 
It's the same when she talks about performing.
"Performing is a very almost intimate thing. You're pouring out your soul to your audience," she said. "I feel like I can truly be myself when I'm performing."
Asa Harris, Park City's music teacher, saw that come through, whether in choir or when Bursik plays the flute or piccolo. 
"Music has the way of taking something you work so long and so hard for, then it's over in five minutes," he said. "There's a thrill to performing in public. ... It's something she gets to share with an audience."
"She's able to become more comfortable through music with speaking in public and performing."
And, like in FFA, Bursik has become a leader in the school's music programs. 
"If there's anything that we need a soloist to do or an audition, she's always up to do that," Harris said. "People in her sections always look up to her." 
Bursik plans to attend Montana State University and become a medical lab tech, a job that she thinks will balance her desire to help people with a quieter environment. But she also plans to continue to study music and agriculture. 
"Another part (of college) is to develop what you want to become, also non-professionally," she said. 
She envisions herself staying involved with gardening and hopefully pursuing more roles in music. 
None of that surprised Harris, who addressed her musical interest, but she also could have been speaking for agriculture, or leadership.  
"This is something you can take with you for the rest of your life," he said.