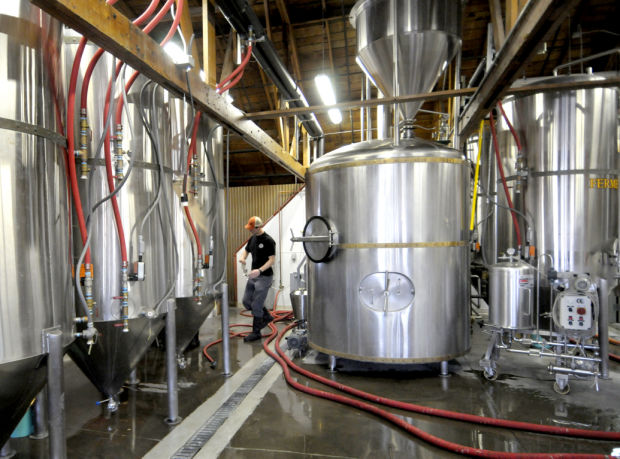 MISSOULA — Brewery battles are heating up again in Helena as the Montana Tavern Association and the Montana Brewers Association prepare to put separate, vastly different bills before state legislators as they consider how best to regulate the growing craft brew industry.
The groups have routinely failed to compromise on the issue of microbrewery regulation. This year has been no different.
Montana Brewers Association executive director Tony Herbert said that microbreweries here operate under some of the most restrictive regulations in the country. His members want a way to continue to grow what has become a $50 million-a-year industry in Montana.
But Montana Tavern Association spokesman John Iverson said the successful brewery taprooms have become "virtually indistinguishable" from bars.
Tavern association members want to stop the "abuse," Iverson said, of the "small brewers exception."
A compromise reached in 1999 by brewers, tavern owners and distributors changed state law to allow microbreweries to sell their beer out of "sample rooms," but restricted it to 48 ounces per person per day and limited hours of service to 10 a.m. to 8 p.m.
"If retail is the primary focus, you need to have a retail license and follow all the regulations" licensing entails, Iverson said.
A tavern association draft bill, LC1429, requested by Rep. Roger Hagan, R-Great Falls, is set to be introduced early next week. It includes a stipulation that allows breweries to "stack" licenses and create an additional issue of beer and wine licenses under the current quota system.
That gives existing breweries the option to buy a beer and wine license, which frees them from barrel production limits, Iverson said.
The beer license would cost $100,000, unless a cheaper option could be found on the open market, Iverson said.
But without adding a beer and wine license, breweries would be required to sell 60 percent of their product in the wholesale market and only 40 percent in taprooms.
An unofficial draft copy of the Tavern Association bill that has been circulated widely includes language prohibiting sample rooms from providing entertainment or food to customers.
However, Iverson said in an email Friday that language "will not be in the bill draft that we support. The MTA never requested that be in a bill, and we have no plans on supporting a bill that does have that language in it."
Nonetheless, Herbert said the brewers association will "resist (LC1429) with every ounce of energy we have."
In January, Herbert said the brewers association decided not to pitch any major legislation this session.
But in response to the tavern association's bill, Rep. Rep. Christy Clark, R-Choteau, has agreed to carry a brewers association bill, LC652, that proposes a joint resolution requesting an interim study of certain aspects of the alcohol code involving licensing.
"I want it to be a comprehensive review of the licensing system to consider how breweries can fit inside that in a better way than it currently does, so our manufacturing businesses are treated with respect, not in a manner that harms the taverns, but helps the industry at large," Herbert said.
Herbert hopes the bill will be ready for introduction early next week.
Iverson sees the brewers association interim study bill as a stalling tactic for an industry that "likes the status quo."
"We could study this until the sun falls out of the sky and we'll still fundamentally disagree. A study isn't going to solve this problem, what rights the sample rooms provide. What it comes down to is the Legislature needs to make a decision," Iverson said.
A draft bill sponsored by the Montana Tavern Association in January calling for 90 percent distribution and 10 percent on-premise sales died before introduction in January.
Brewery owners decried the "90/10 bill" as a microbrewery killer that would devastate smaller breweries and make it impossible to start new breweries. The "60/40" bill is no better, said Draught Works co-founder Jeff Grant.
Grant and partner Paul Marshall started Draught Works in Missoula last year. They are Montana Brewers Association members and have followed the proposed bill closely. Draught Works sells 100 percent of its beer from its taproom, although it plans to begin distributing soon, Grant said.
The upfront investment required to distribute even 60 percent of a brewery's product is unattainable for most startup breweries, Grant said.
It's inaccurate to compare brewery taprooms to bars that are operating with all-beverage licenses, Grant said.
"A half-million-dollar (all beverage) license gets you 20 gaming machines. You can sell all alcoholic beverages. You can operate from 8 a.m. to 2 a.m.," Grant said.
Microbrewery licenses are nontransferable and hinge on the brewers making a good enough product to keep patrons coming back.
"If my product sucks, we shut down," Grant said.
The state's three largest breweries, Big Sky Brewing Co., Kettlehouse Brewing Co. and Bayern Brewing Inc., are all based in Missoula.
None are members of the Montana Brewers Association, but they are monitoring the situation in Helena.
Kettlehouse Brewing Co. co-founder Tim O'Leary recently finished a deal to "stack licenses," having his mom, Helen, buy a wine and beer license. The separately held license frees up O'Leary's adjacent brewery to produce an unlimited amount of beer and allows a new taphouse where it will be sold.
Big Sky Brewing co-founder Neal Leathers said Friday he's watching and waiting to see what becomes of the draft bills being kicked around in Helena.
"At this point, all we've seen are a couple of drafts. We haven't seen anything that is final language. Until this is something you can actually talk to legislators about, we're just kind of waiting," Leathers said.
Bayern is taking a similar approach, said Jared Spiker, marketing and sales manager.
"Over the course of the years, it seems like every year there is new stuff that gets brought up. But in the end, nothing has changed," Spiker said. "We're just sitting down, taking things in and kind of waiting to hear if something changes. Until that time, we're brewing beer and complying with the law and that's about it."