Yellowstone National Park officials have enacted an area closure in the northwest corner after the Bacon Rind fire grew to 2 square miles over the weekend.
Warm temperatures, drier air, and higher winds fueled the fire's growth, which is expected to moderate as cooler temperatures and possible rainstorms are predicted. The blaze was caused by lightning and has been burning since July 20.
The closure will affect all trails in the northwest corner of the park, such as Fawn Pass and Bighorn Pass that connect Highway 191 to the Indian Creek area. Trail status can be found in the park's Backcountry Situation Report. Up-to-date fire information can be found on InciWeb. A public fire information phone line has been established at 406-640-3048.
Despite the trail closure, all roads and visitor facilities in the park and surrounding communities remain open.
A new fire was also detected inside the park five miles south of Heart Lake on Friday. The Basin Creek fire is less than an acre in size. The fire has prompted precautionary closures of some backcountry sites.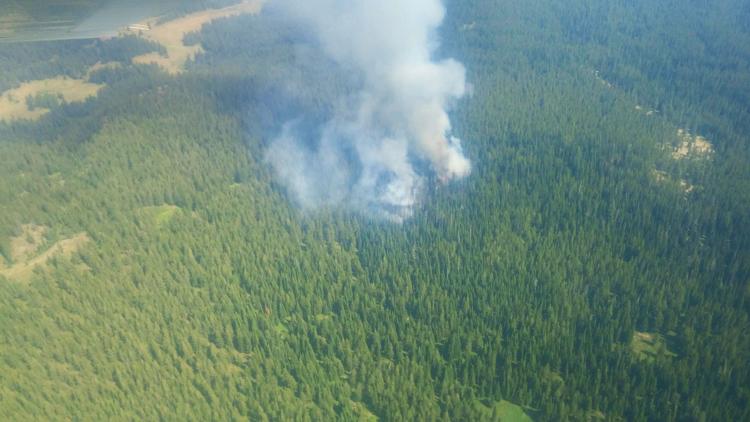 Near Cody, Wyoming, a grass fire reported Sunday evening had grown to about 4 square miles by Monday morning, according to the Bureau of Land Management.
The Powerline Fire is located about seven miles southeast of Cody in the Oregon Basin area. No containment has been reported, but spokeswoman Kristie Salzmann said cooler winds from the northwest and higher relative humidity were helping limit the wildfire's growth Monday.
The fire is not currently threatening any structures.
"Most residential areas are on the other side of some rimrocks," Salzmann said. "They are watching the situation, but they do not believe it's something to be concerned about."
Two single-engine air tankers, an air attack platform and seven fire engines were fighting the blaze Monday, the BLM stated in a press release.
Most notably, evacuations were ordered in Glacier National Park after the lightning-sparked Howe Ridge fire "changed in fire behavior significantly."