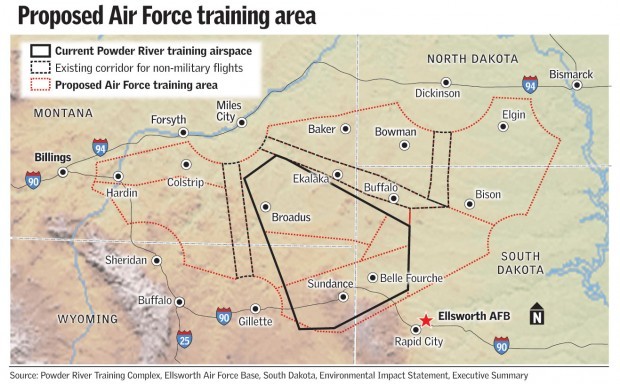 RAPID CITY, S.D. — In addition to quadrupling the space bomber pilots have to train in, the proposed new Powder River range will allow the use of two defensive measures that are prohibited in the area.
Flares eject from the B-1 bombers to distract heat-seeking missiles. Chaff deploys to block enemy radar. Both have ranchers and residents under the proposed area confused and fearful.
"The best way to get a big-picture understanding is to realize we've been using flare and chaff around the country for over 20 years now," 28th Bomb Wing Commander Col. Jeffrey Taliaferro said. "There hasn't been one flare that's resulted in a fire, and not one single claim against the Air Force for the use of B1 flares."
To give pilots more realistic training, the Air Force has proposed increasing their range from 7,000 to 28,000 square miles in South Dakota, North Dakota, Wyoming and Montana. The training includes allowing supersonic flights, training flights as low as 500 feet and the use of chaff and flares. The public has until Nov. 13 to comment on the proposal that will be decided next fall.
Official Air Force documents acknowledge that flares, which are used in bombing ranges in Nevada, Utah and Idaho, pose a small fire risk and could rapidly fall to the ground as duds. They say chaff poses no environmental or safety threats.
Representatives from Ellsworth Air Force Base recently took Rapid City Journal reporters behind closed doors to a munitions facility for a close look at the two technologies.
If the proposal to expand the bombing range is finalized next fall, magnesium pellet flares that can burn as hot as 1,200 degrees will be ejected throughout the 28,000-square-mile area during training missions. The temperature is hot enough to melt aluminum and similar to that of lava spewing from a volcano. The flares need to be hotter than the afterburner of a B-1 to attract the heat-seeking missiles bombers could see in combat.
Air Force officials say the flares will likely never touch the ground at that temperature.
"These will be deployed very high," Ellsworth spokesman Maj. Matthew Reese said. "From 22,000 feet, they will be way gone before they even hit the ground."
The MJU-23/B flares that are used by the B-1 Lancers burn out after dropping about 500 vertical feet, according to the Air Force. They have pledged not to drop flares below 2,000 feet in the expanded bombing range.
"There would be a very slight potential for increased fire risk if flares were accidentally deployed substantially below authorized altitudes," the Air Force's Environmental Impact Statement said.
That's exactly what happened in 2007 when an F-16 accidentally deployed a flare too low 25 miles north of Atlantic City, N.J., inside the Warren Grove Gunnery Range.
Walls of flames 100 feet high raced toward senior citizen communities. No one died in the fire, but 6,000 people were evacuated, more than 17,000 acres burned and 13 homes were destroyed or damaged, according to news reports.
Acknowledging the possibility for fire in the expanded range, the Air Force said it will suspend the use of flares over areas with an "extreme" fire danger rating.
"In drought conditions, that could be almost any day in August," said Kurt Hansen, district ranger at the Sioux Ranger District in Camp Crook that oversees a wide forest range in northeast South Dakota and southeast Montana.
Hansen said the increased size of the range will increase the chances of a fire caused by Air Force activities.
"This time of year the grasses are done growing and on a warm windy day in early fall, it wouldn't take much for a fire to take off and get going," he said.
Marvin Kammerer, a Rapid City rancher who lives near Ellsworth Air Force base, said he is concerned about the possibilities of a fire, no matter how slim the threat.
"Whether these people realize it or not, when we hear a lightning storm, some of us go to the hilltops and check for fires," he said. "Do we need to do that every time an airplane flies over?"
David Heidgerken, another rancher who lives near the base, said he fears that fires are inevitable and that a better system needs to be established for property owners to get compensation for damages.
Air Force representatives have said that any damage caused by fire or noise from the B-1Bs would be handled through the base's public affairs office.
Flares also can deploy without igniting, meaning they can fall to the ground at speeds as high as 100 mph, which would likely kill someone on impact, the Air Force acknowledges in its impact statement.
"It is extremely unlikely that an individual could be struck by such a falling object, but if someone were, it could cause severe injury or death. Dud flares are extremely rare, but they are dangerous," the impact statement said.
If someone finds a dud flare, they are instructed in Air Force materials to notify officials. In other ranges where approximately 200,000 flares have been deployed, about 18 duds were found, which equates to a probability of 1 in 10,000, or one dud every three years over the proposed airspace, according to Air Force documents.
"These flares are dangerous," Kammerer said. "We're supposed to plant a stake and remember where it is. These people don't get it. It's not that they're bad people, they just don't get it."
In order to block enemy radar, pilots also can choose to deploy chaff. The inch-long aluminum coated silica spreads rapidly into the slipstream of the aircraft, creating a 30-meter cloud in less than a second.
The tiny fiber strands that look like clippings on a barbershop floor would then float to the ground. The Air Force said chaff poses no threats to the environment or livestock.
"Chaff deposition would be estimated at 0.0049 ounces per acre annually. There is no evidence of chaff affecting vegetation or biological species," according to the Air Force.
Kammerer and other ranchers worry about chaff being scooped up by cattle, but the Air Force has repeatedly said the tiny particles are not dangerous, and made from naturally occurring materials.
"They haven't paid me one iota to dump trash in my grass," Kammerer said. "The health summary raises more questions than it answers."
The Air Force said during its initial meetings that many were surprised to learn that modern-day chaff is almost invisible to the eye and poses no environmental risk. It will also use a special training version of the chaff that will not interfere with other planes using radar.
"Modern chaff is not like the aluminum strand chaff used from World War II through the Vietnam War," the Air Force said.
Taliaferro has emphasized that the process is built to be inclusive of all comments, and there are alternate plans being considered.
"The importance is, just like the rest of the expansion is, it's about realistic training," Taliaferro said. "Our airmen use flares and chaff in Afghanistan and the advantages are they become familiar with systems they would actually use in combat."
Air Force representatives will hold nine more public hearings in Wyoming and Montana. Additional comments can be sent to Ms. Linda DeVine HQ ACC/A7PS at 129 Andrews St. Room 337 Langley AFB, VA 23665.