Mary Peters stood on a hill overlooking the summer pasture that normally is home to the family ranch's Black Angus-Charolais cattle and saw it covered in water from the Musselshell River.
"We've lost six huge cottonwoods, a Russian olive, and we have to re-fence the whole place," she said Friday afternoon, standing on land seven miles east of Lavina.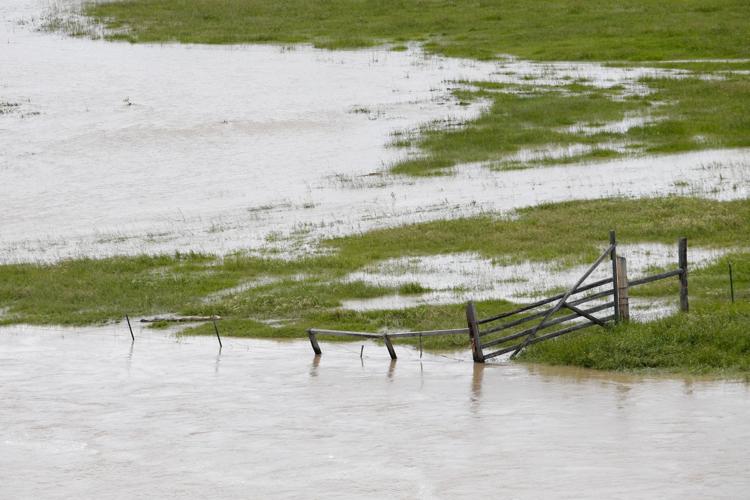 It's no surprise. Flood stage for the Musselshell in the Lavina area begins at 8 feet, five inches. It was at 11 feet, 11 inches on Thursday "and then it rained all evening and all night," Peters said.
Over in Roundup, a long swath of river water gushed over 4-H Road, which was blocked to public access. Roundup resident Terri Krambeer drove up to the temporary barrier Friday afternoon just to see the flooding up close.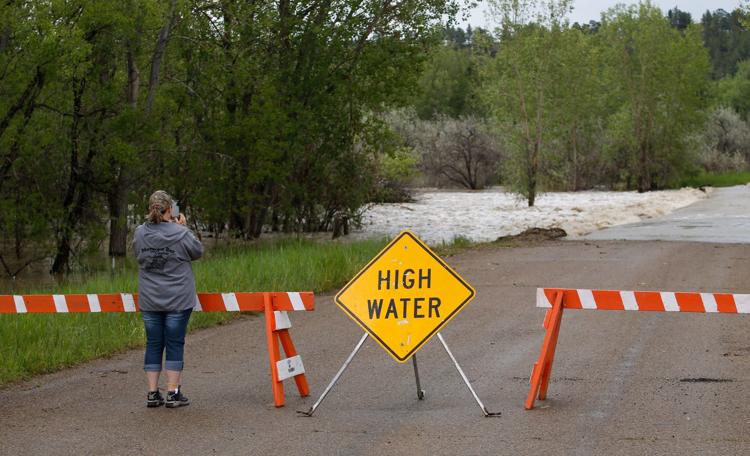 "It hasn't been this bad all spring," she said, looking at the water spilling across the roadway. "This is probably the worst I've seen it so far."
The road was one of four that remained inaccessible to drivers Friday, said Justin Russell, Musselshell County Disaster Emergency Services deputy coordinator. Flooding stage for the river is 10 feet, and it was cresting at 10 feet, 5 inches Friday morning, he said.
Dean Creek Road, previously closed, was reopened to use, although a low level of water still flowed across the roadway. Only one home, in the Riverside section of town, was threatened by flooding, and the owners had been issued a voluntary evacuation notice, but decided to stay put.
"Besides the roads, we're seeing a lot of farmers, ranchers getting flooding in their fields," he said. "So that's a lot of crop damage."
Russell said this second go-round of a high river "was better than we thought it would be."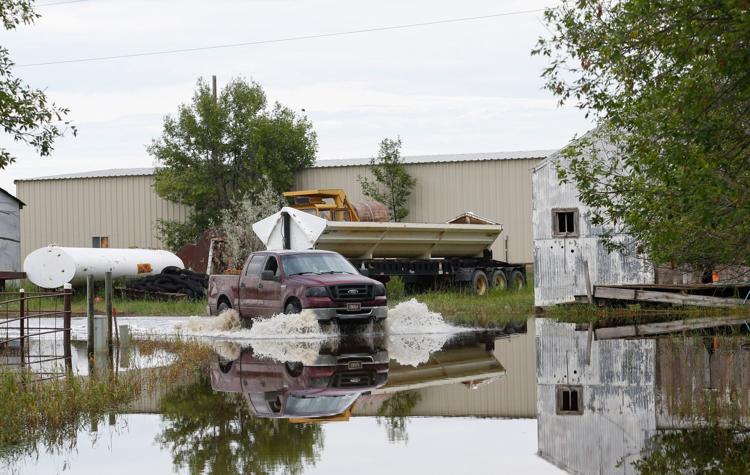 You have free articles remaining.
Keep reading for FREE!
Enjoy more articles by signing up or logging in. No credit card required.
"Once the water goes down, we will have better assessments of what happened to flooded roads again."
The consensus in Roundup was the flooding wasn't nearly as bad as what the town experienced in 2011, although the May 31 hailstorm severely damaged the roofs and windows of buildings and vehicle exteriors, including cracked windshields.
Virginia Long, who has lived in Roundup for about 11 years, said back in 2011, the town experienced two huge rainstorms about a week apart that combined with snow melt and ice melt on the river, causing huge problems for the town.
This year, the rain has been steady, not as much all at once, although the groundwater has done its share of damage. And then the hail storm heaped on the misery.
"I've had water in the ceiling and water on the floor and problems with the plumbing," she said, standing on the sodden dirt outside her home.
Krambeer said 4-H Road has been closed "probably almost a month." The lack of access has caused the town to cancel its Fourth of July rodeo at the fairgrounds, which is located on the other side of the blocked roadway.
"There's a back road to go in there, but they're not going to have the fairgrounds in shape for the Fourth," she said.
Peters, who shoots photos for the Golden Valley County Sheriff's Department, said at a spot on U.S. Highway 12, between Lavina and Ryegate, water was flowing over the highway. Water also blocked vehicle access on Dean Creek Road.
---
Photos: Musselshell River floods — again