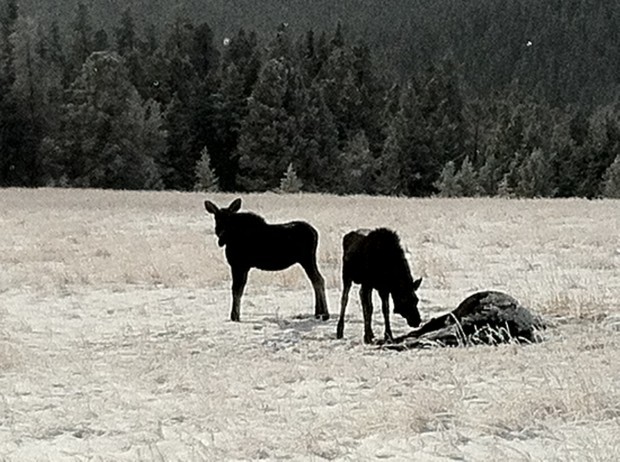 HELENA — A rash of poaching incidents this fall in central Montana is prompting officials with Montana Fish, Wildlife and Parks to ask for the public's help in finding the responsible parties.
On Monday, FWP released a photograph of two moose calves standing over the body of their dead mother, which was killed near the top end of Belt Park Road in the Little Belt Mountains in the early-morning hours of Oct. 25.
That incident came on the heels of three elk slaughtered and left for dead this fall north of Whitehall; a bull elk shot in Jefferson County and one southeast of Townsend, both with their antlers removed; an illegally shot bighorn ram that was left to rot west of Townsend in the Elkhorn Mountains; and a 6-by-6 bull elk shot and left to rot on private land in the North Hills in Helena.
In addition, numerous deer were shot and left in the field in the Flathead and Bitterroot this year.
"It seems like there's been an exceptional amount of poaching this fall," said Jim Kropp, chief law enforcement officer for FWP. "Clearly these people are not hunters; they're killers and destroyers of our wild resources. They're basically thrill kills."
FWP game warden Rob Aldridge said he's still working on the elk and bighorn sheep cases near Townsend, as well as the elk left to rot on private property off of Applegate Drive.
"Unfortunately, we still don't have a lot of information on those cases," Aldridge said. "I know there are people out there who know exactly what happened; we just hope they'll come forward.
Anyone with information on any case is urged to call 1-800-TIPMONT. Typically, rewards of up to $1,000 are available for a conviction, but in some cases — as with the dead moose — private citizens offer additional rewards. Informants are kept confidential.
Bruce Auchly, an FWP spokesman, said the photograph of the moose was taken on a cellphone by game warden Kelly Friede as he investigated the incident.
Auchly said that even though the moose calves were young for the year, they had been weaned from the cow moose and should be able to make it on their own. FWP prefers to let wild animals remain wild instead of capturing them and possibly getting them desensitized to humans, so the orphans were left alone.
"Typically animals, by the fall, whether they're younger deer, elk or moose, are able to survive on their own," Auchly said. "But this is a sad deal."