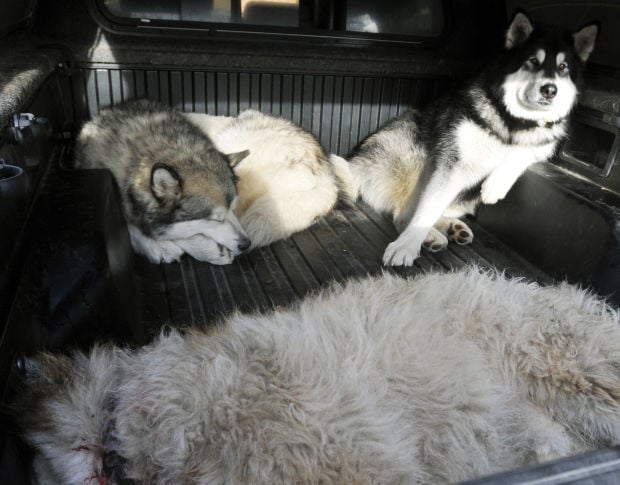 MISSOULA — Missoula County sheriff's officers will lead the investigation into who shot and killed a Missoula man's dog while he was cross-country skiing in the Lee Creek area on Sunday.
Layne Spence told the Missoulian he was skiing near Lolo Pass with three of his malamute dogs when someone dressed in camouflage shot his 2-year-old dog "Little Dave" six times with what Spence described as an assault rifle from 15 yards away.
"My dog is lying there, dead and I shouted 'What are you doing?' and the guy said, 'I thought it was a wolf,' " Spence said. The man then walked away. Spence filed a report with the sheriff's office on Sunday afternoon.
Montana Fish, Wildlife and Parks game wardens are not involved in the investigation, department spokeswoman Vivica Crowser said Monday. Because the dog killed was a domestic pet, the incident would not be considered a poaching violation, Crowser said. It would fall under the taking of personal property, which is a county criminal matter.
But the initial description of the event raises concerns about proper hunting behavior.
"Until we know the identity of the person, or something that turns up out of the investigation, we can't say anything for certain," Crowser said. "But it appears to violate lots of the basic tenets of hunter education and the safety and ethics we want to instill."
Wolf hunting is legal in Montana for any qualified hunter with an over-the-counter license. But anyone hunting wolves with a firearm during the Oct. 19-Dec. 1 big-game season must wear at least 400 square inches of hunter-orange clothing above the waist. Wolf hunters may disregard the hunter-orange requirement before and after big-game season, but not during. There is no rule prohibiting the use of military-style rifles in hunting, as long as they are legal for civilian ownership.
"For someone to have done that, make multiple shots, kill the wrong non-target animal, and then leave the scene, that violates the basic rules of firearms safety," Crowser said. "Taking responsibility for a mistake and staying to help with the situation is one of the key things we stress in hunter ed classes."
The U.S. Forest Service maintains the Lee Creek Campground for non-motorized winter use. Lolo National Forest recreation manager Al Hilshey said the area is popular with cross-country skiers who like to bring their dogs. Forest Service officials are cooperating with the sheriff's office in the investigation, Hilshey said.