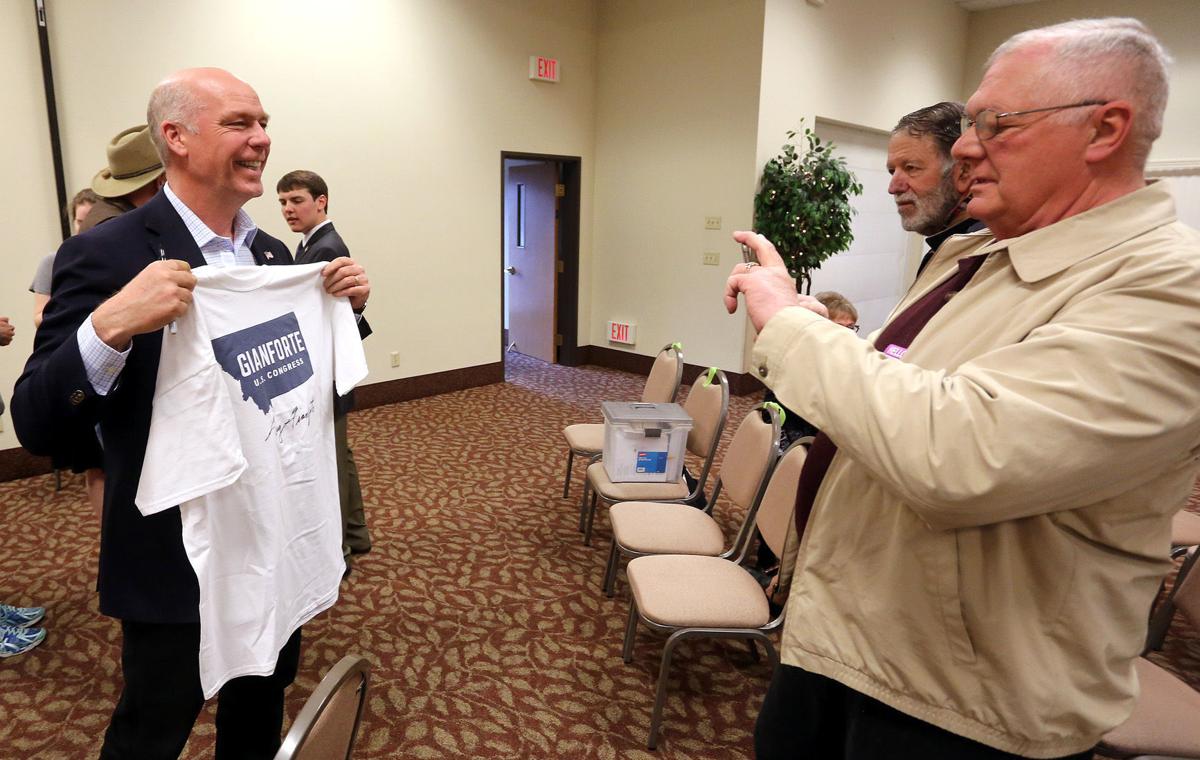 HAMILTON – Republican congressional candidate Greg Gianforte celebrated his 56th birthday at a meeting hosted by a constitutional Christian group in Hamilton Monday night.
The meeting marked the first of three visits Gianforte has planned for Hamilton over the next couple of weeks. He's on the ballot with Democrat Rob Quist and Libertarian Mark Wicks in the race for the congressional seat vacated when Republican Rep. Ryan Zinke joined Donald Trump's cabinet as Interior secretary. The special election is set for May 25.
On Friday, Gianforte will join the president's son, Donald Trump Jr., and Republican Sen. Steve Daines of Montana for fundraising rallies across the state this week.
But the trip west won't be all about work for Donald Trump Jr.
"You know what we're going to do over the weekend?" Gianforte said. "Donald Trump Jr. wanted bad to shoot prairie dogs. So we're going to help him scratch that itch a little bit."
The announcement was met with laughter and applause.
Echoing Trump's own campaign slogan, Gianforte said he's ready to go to work "with Donald Trump to drain the swamp. Specifically, we need to put term limits in place. We also need to make it illegal for congressmen to become lobbyists after they're done."
And, during questions at the end of his talk, Gianforte took one from a man who said: "Our biggest enemy is the news media. How can we rein in the news media?"
The man then looked at the Ravalli Republic reporter sitting next to him and raised his hands as if he would like to wring his neck.
Gianforte smiled and pointed at the reporter.
"We have someone right here," the candidate said. "It seems like there is more of us than there is of him. I don't have a simple solution for you. I will say that doing town hall meetings and getting out and visiting with people is very important."
During his 30-minute speech Monday, Gianforte talked about his long love affair with the state.
"I got introduced to Montana originally over 40 years ago," he said. "I had a junior high school science teacher back in Pennsylvania where I grew up who flew P-51s in WWII. He trained at Malmstrom Air Force Base and fell in love with Montana.
"The only way he could get back here on a teacher's salary was to bring 18 ninth-graders with him in a van, actually two vans. We drove from Valley Forge, Pennsylvania, where I lived, all the way to Red Lodge."
Four people who took that trip ended up moving to Montana.
"It's interesting when you talk about the impact a teacher can have," Gianforte said.
A couple of years later, Gianforte took a solo train trip from Philadelphia to West Glacier in an effort to see more of the state.
"I tried to get a backcountry permit in Glacier National Park, but I couldn't," he said. "They said there was this other place called the Bob. So a buddy and I that I met in West Glacier hit the trail at Spotted Bear and then we hiked all the way to Lincoln.
"I knew at the end of that trip that I was going to make a life here," he said.
Gianforte and his wife, Susan, have lived in Montana for 24 years. They founded Right Now Technologies in 1997, which went public in 2004 and sold to Oracle Corp. in 2011 for a reported $1.5 billion.
Gianforte said he and his wife have lived the American dream.
"My wife is the daughter of two German immigrants that came here to the U.S. after WWII," he said. "Unfortunately, her dad died when she was 1 year old. Her mom, with no high school diploma, was in New York City. She spoke German and no English.
"As a single mom, they lived in a three-floor walkup in Queens, one bedroom," Gianforte said. "Her mom was determined to stay here. She got a job in the mail room of a bank delivering messages. She worked there 38 years and retired as an officer of that bank. … She got her little girl that she raised by herself in that third-floor walkup into Cornell engineering school. Now she's retired and fully independent.
"She has lived the American dream," Gianforte said. "Susan and I have lived the American dream. And it's not complicated, but it involves hard work and frugality and being able to keep the fruits of your labor. We risk losing the American dream if we don't understand the ingredients to make it happen."
Three of Gianforte's children have followed in their parent's footsteps to become engineers. The fourth, Adam, is finding his own way.
On the year that he graduated from college, Gianforte said his son decided to ride his unicycle from Banff to Mexico to raise money for the International Justice Mission. It took two and a half months. He raised $16,000.
"He's quite a young man of faith," Gianforte said. "On Friday, he quit his job and he moved under a bridge in Chicago because he has a heart for the homeless. He wanted to be with them. I just talked with him on the phone today. He had his second night under the bridge last night."
"He's going to do that for a few months," he said. "He's a cool kid."
Just before the crowd sang Happy Birthday to the candidate, the society's Hollis Poe presented Gianforte with a one-ounce silver eagle coin. Poe said the coin was in recognition that Gianforte and the society were like minded.
"Should you go on to victory, I would appreciate that you would carry this in your pocket as an everyday coin so that when you're having those conversations with those lobbyists chasing after you in D.C., you can reach in and feel this coin and be reminded that there are folks back home that you care more about than them," Poe said. "That our issues trump their issues, literally. This is a token to remind you that you work for us and we stand behind you."
Gianforte said he and his wife are ready to serve.
"We have an amazing thing going on in Washington D.C. right now," Gianforte said. "A politician is actually doing what he said he was going to do. You don't know how refreshing that is."