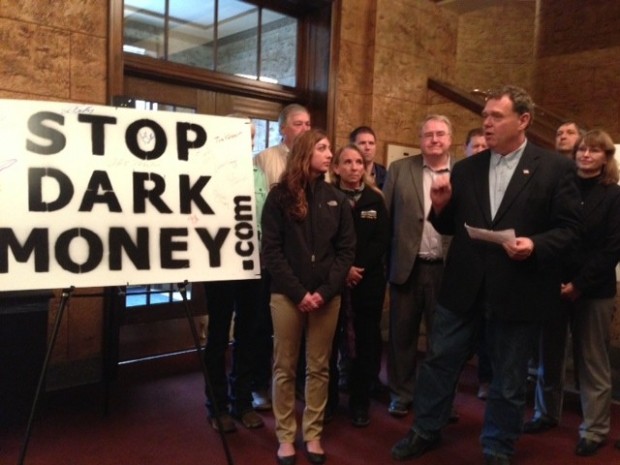 GREAT FALLS — A Republican-led group Monday launched a campaign for a Montana ballot measure that would require disclosure of political "dark money," which group members said is corrupting the state's political system.
The initiative, if it qualifies for the 2014 ballot and is approved by Montana voters, would require any entities that spend money to influence campaigns in Montana to report that spending and the group's financial supporters.
"We decided we need to do something about dark money, and return the power of the election back to the people," said Sen. Jim Peterson, R-Buffalo, at a Great Falls news conference. "We think the people of Montana need to have a voice (on this issue), and we're confident that they would like to see this dark money reported … so they can follow the money."
Peterson was joined at the conference by a half-dozen other Republican lawmakers, former superintendent of public instruction candidate Sandy Welch, and other supporters of the ballot-measure campaign.
Peterson sponsored a bill during the 2013 Legislature this spring to force disclosure of who's behind so-called "dark money," which is spent primarily by nonprofit groups that often aren't required to reveal their spending or financial supporters.
His bill died in April, when a majority of House Republicans prevented it from coming to the House floor.
One of them, Rep. Roger Hagan of Great Falls, said he's confident the initiative will have bipartisan support, since most Democrats supported the Peterson bill and want disclosure of dark-money finances.
"It may be a Republican group that's kicking it off, but we think we'll have good (bipartisan) support," he said.
The group plans to submit initiative language to the secretary of state within the next 30 days, Peterson said, and will begin gathering signatures once the petition's language is approved by that office.
To qualify the measure for the 2014 ballot, backers need to gather signatures of at least 24,175 registered Montana voters and from at least 5 percent of the voters in at least 34 of Montana's 100 House districts. They'll have until next June to submit the signatures.
Gov. Steve Bullock, a Democrat, supported Peterson's bill during the 2013 Legislature and has spoken out against dark money.
Peterson said he's talked to Bullock about the initiative and that the governor is interested in the idea, but hasn't seen the final wording of the proposal.
Kevin O'Brien, a spokesman Bullock, said Monday that the governor looks forward to seeing the specifics of the proposal and "applauds the work of these statesmen and women."
Peterson said the ballot measure's disclosure language will say if a group mentions the name of a candidate or ballot issue in any publicly disseminated material within 90 days of the election, the group then must report its donors, spending and other financial details.
Sen. Llew Jones, R-Conrad, who attended Monday's news conference, said there "will never be truth in politics until voters can follow the money."
"Transparency is not a partisan issue," he said. "It is not partisan that those who speak freely, should have to freely identify themselves. … Lies and half-truths literally were everywhere (in recent election campaigns). This appalled all Montanans, and it brought shame to the process."
In recent Montana elections, many nonprofit groups have bought media ads or mailed campaign fliers attacking various candidates, but won't publicly report their finances. They argue they're merely "educating" voters on an issue, and not directly advocating for or against a candidate, and therefore aren't required to disclose their financial backers.
Rep. Ed Buttrey, R-Great Falls, also said Monday that money behind these "dark money" ads often comes from out-of-state sources and discourage good people from running for office.
"How do we keep (Montana) as the last, best place, if these outside interests want to chase away the last, best people?" he said.