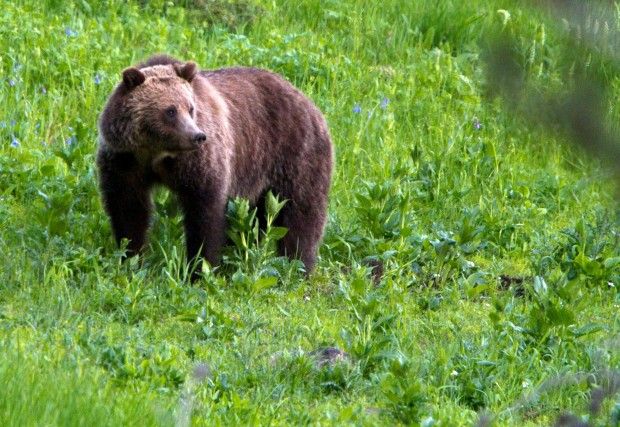 MISSOULA — To ensure they've got the best look at how well grizzly bears can endure in the Greater Yellowstone Ecosystem, researchers want a full picture of the predators' diet before another attempt to remove them from endangered species protection.
The Interagency Grizzly Bear Committee hopes to convince the 9th U.S. Circuit Court of Appeals it was justified in delisting the big bears from the federal Endangered Species Act, despite concerns that declining whitebark pine food supplies threatened the bears' survival. At the committee's winter meeting in Missoula on Wednesday, members reviewed a plan that could have a new delisting proposal ready by the end of 2013.
"The 9th Circuit doesn't believe we adequately explained how the decline of whitebark pine will affect grizzly populations," said Chris Servheen of the U.S. Fish and Wildlife Service. Grizzlies historically have fed on whitebark pinecone nuts, but the trees have suffered greatly from fungal disease and mountain pine bark beetle infestations. Around Yellowstone National Park, the bears also feed on cutthroat trout, carrion and army cutworm moths. All of those sources also have undergone changes in recent years.
"So we decided to take a little more holistic look at things," said Frank van Manen, a U.S. Geological Survey scientist who's heading up the grizzly bear food synthesis study. "What this is all about is caloric intake for bears."
The new study should be done by next October. That could trigger a new delisting proposal by early 2014.
You have free articles remaining.
While the appeals court focused on whitebark pine research, van Manen said the bears appear to switch frequently from one bountiful food source to another. Whitebark pine nuts have good and bad years even in healthy forests, so the bears can't entirely depend on them. Furthermore, grizzlies in the Northern Continental Divide Ecosystem between Interstate 90 and Glacier National Park haven't had whitebark pine nuts to eat for nearly 30 years, since the fungal disease killed most of those trees.
So far, biologists have identified 157 plants and 30 animals that grizzlies eat occasionally or frequently. Some bears feed mainly on meat, while others are nearly vegetarian.
In recent years, the Yellowstone area has seen increases in its army cutworm populations. It's also seen much of its cutthroat trout population crash as lake trout have invaded Yellowstone Lake, where many of the cutthroats spawn. And the reintroduction of gray wolves has drastically changed the behavior of elk, deer and bison in the park. All those things change the mix of food that grizzlies depend on, van Manen said.
The Greater Yellowstone Ecosystem grizzly population has been growing somewhat less than 2 percent a year. It now numbers about 600 animals. That's not as fast as the Northern Continental Divide bears, which have been expanding at 3 percent or better recently to more than 1,000. In both cases, the bears have been moving out of wilderness habitat and into surrounding farms, ranches and even towns.
Much of the IGBC's working time on Wednesday went to updates on education programs that teach people in those areas how to deal with grizzlies eating their grain or bird feeders. The expanding populations have convinced many on the committee that the bears no longer be considered a threatened species under the federal Endangered Species Act.
As the numbers grow, so have the number of human-bear conflicts, especially in those fringe areas outside the wilderness and national parks. That's increased pressure on land managers to have new ways of dealing with problem bears. But it's also seen as a reason to maintain federal protections by some bear advocates, who fear delisting would irreparably reverse the bears' progress.