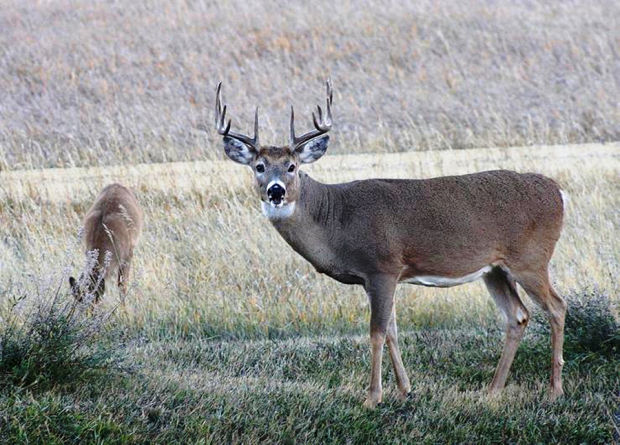 HAMILTON – Three Hamilton men have forfeited their hunting privileges after being found guilty of killing deer for the thrill of it last year.
One defendant told investigators the men shot as many as 25 deer, but wardens were only able to locate nine, said Montana Fish, Wildlife and Parks warden Lou Royce.
"We really don't have a clue exactly how many deer they shot," Royce said. "One defendant said they shot between 20 and 25 deer with a .22. The deer could have run off and died in the woods or been hauled off by predators. There could still be deer out there with bullets in them."
The case began a little more than a year ago after a landowner off the Westside Road near Hamilton called to report a poaching case.
Royce said the property owner and his son had heard a shot after dark near their home. A few minutes later, they saw headlights shine on their front yard to illuminate a deer. A moment later, a shot rang out and the deer dropped.
"The shot was made right toward the building," Royce said.
The property owner's son chased after the vehicle and was able to obtain a license number.
"That was our big break in the case," Royce said.
Royce said a newspaper article in the Ravalli Republic about the poaching also led investigators to several carcasses.
"The news article helped," he said. "People told us about a number of different deer after they had read it."
Ravalli County Justice Jim Bailey handled all of the cases.
Gabe Rinehart, 19, pleaded guilty in August to 18 misdemeanor citations that included hunting without a license, hunting after dark, using a spotlight, as well as others.
Rinehart was fined $7,580 and ordered to pay $700 in restitution to FWP. He was sentenced to 1,980 days in jail, with all but two suspended.
Rinehart also lost hunting privileges for 20 years, but may apply with the court for reinstatement after five years.
Nicholas Cropp, 19, was found guilty of eight citations in a jury trial on Oct. 24.
Cropp was required to serve 15 days of his 1,100-day sentence in jail. He was ordered to pay $4,569 in fines, $639 in jury fees, and $800 in restitution. Cropp also forfeited a .270-caliber Savage bolt-action rifle.
Cropp lost his hunting privileges for 10 years.
Jedidiah Schmitt, 19, was sentenced on Nov. 7 for two citations for illegally killing one deer following a bench trial.
He was required to pay $1,370 in fines and $300 in restitution. Schmitt lost hunting privileges for six years. He was also sentenced to 360 days in jail, with all of it suspended.
"They later claimed that they were going to go back and get the meat, but they never did," Royce said. "As best as we could determine, they were shooting deer for the thrill of it."