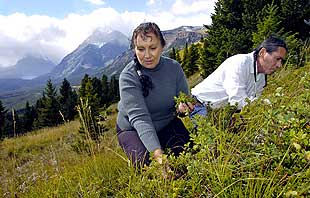 BROWNING - A botanical Rocky Mountain landscape nourishes Pauline Matt's lifelong passion for plants, her answer to health and healing.
"To us, it's the Creator's work," she said. "It's not necessarily myself or the plants that do the healing. It's the Creator we give gratitude to."
While Matt has always used traditional medicines for friends and family, she decided only a year ago to make herbal teas, lotions, lip balms and salves for others. The herbalist uses leaves, stems, berries and roots from the mountain medicine chest near her home on the Blackfeet Reservation in northwestern Montana.
She and her companion, Calvin Weather Wax recently headed for the mountains. They sighted a slope sweeping upward from Two Medicine Lake, which rests in a valley set against Glacier National Park.
These are the traditional lands of the Blackfeet Nation, or the Nitsitapi, meaning the Real People. Matt carries on tribal practices that have sustained the Blackfeet for generations.
During the past five months, she's harvested spring's greenery and summer's petals. Now with September winds laced with autumn's chill, it is time to gather roots. One of her favorite mountain gathering areas already is covered by three feet of snow.
On this day, the sun shines and distant peaks like Rising Wolf Mountain soar more than 9,000 feet into a sky of clouds. Matt and Weather Wax know this territory well. They've found plants botanists told them didn't exist on the east side of the Rockies.
They park their four-wheel drive and begin to walk up a mountain path. The Two Medicine Valley sweeps below them. They are surrounded by a healing circle. Plant medicine is everywhere.
Bubbles of medicinal sap lie within the bark of a sweet pine. A few feet away, the rotting leaves of valerian impart the smell of stinky feet. Other plants - arnica, red root, rattlesnake plantain and licorice - remain rooted nearby.
The couple has an orderly relationship with plants based on respect. If the species has less than 10 "relatives" growing around it, it's left alone to assure continued growth. If anything is removed from a plant, its seeds are returned to the soil.
About 100 feet farther up the path, they spot a lush growth of kinnikinick, its shiny leaves hugging the ground. It's a good plant for ceremonial tobacco. Crimson berries that taste like tiny dried apples grow on its stems.
They kneel to the ground near the tobacco plant. Matt reaches into a hand-sized square of green felt for a pinch of tobacco. She holds it above her head in prayer, an offering to the plants, the Creator and the Four Directions. She places the tobacco on the ground before lightly pulling leaves and berries.
"Calvin's gentler than I am," she said. "He picks the leaves slowly."
Matt inherited a love and appreciation for the earth from her father, a man she remembers as kind and gentle. He taught her brothers and sisters about plants. She doesn't remember being taught about those that might harm her.
"He didn't want to scare us," she said.
Matt's Blackfeet name, "Savis Berry Woman," once belonged to her great-great-grandmother. The fruit is often used in Blackfeet ceremonies.
For the retail market, Matt operates Real People Herbals, a phone and mail-order business she started.
"Oh, gosh, I don't know how I did it," said Matt. "Every time I got a little extra jingle, I'd pour it into something."
Several of her products, such as sweetgrass lip balm, are sold at the Blackfeet Heritage Gallery in Browning and in several retail outlets in Montana.
"It's a hard, hard business," Matt said. "It's not something we feel we'll get rich at."
But it is something she believes she was meant to do. Plants have brought her peace, solace, love and healing throughout her life. She fell into despair several years ago after a close friend died. When a home she built burned, she retreated to the mountains with a sleeping bag, tea pot and solar shower.
She sought healing and returned home three months later to begin again. She has since built a new house.
"It was the plants that came forward and taught me to be a carpenter," she said. "And it was the plants that taught me to be a mason. It's always been the plants that carried me."
When she wanted a flower box, several people promised to make her one. No one followed through. So she bought a hammer and saw. Soon she was making outdoor furniture, and then building homes. A plant fossil embedded in rock inspired her to learn masonry work, too.
The plants even brought her a man. She met Weather Wax in a greenhouse.
Even though she uses plants to help others, she has suffered from ailments. Eight years ago, arthritis began to cripple her hand. One day as she was reaching for a strawberry leaf, she unwittingly disturbed a bee hive. She walked away with 12 bee stings, but left her arthritis behind.
Her lesson: "Watch the plants that grow around you," she said. "It could be the plant that came to heal you."
She now uses her hands to freely stir and mix lotions, lip balms and salves infusing Chief Mountain beeswax, shea, almond, avocado and macadamia nut butters with scents such as sweetgrass, sage and horsemint.
Whether her plant-based products are used in ceremonies, given away or sold for retail, Matt remains thankful for these gifts from the Creator.
"We are just mere human beings who rely on our faith and devotion to make things," said Matt. "We ask the plants to help."
Jodi Rave covers American Indian issues. She can be reached at (406) 523-5299 or jodi.rave@lee.net.
Real People Herbals
To contact Calvin Weather Wax or Pauline Matt, or for more information about Real People Herbals, call (406) 338-3016 or e-mail them at risewolf@3rivers.net. Matt's products include herbal teas, lotions, lip balms and salves.
Be the first to know
Get local news delivered to your inbox!