Montana's schools won't be getting letter grades on their new report cards. Instead, a series of graphs will show how a school's students stack up against the rest of the state — mostly on standardized tests. 
The report cards are required under the Every Student Succeeds Act, a federal education law that replaced No Child Left Behind. But states have taken varying approaches in their presentation. 
Montana's report card is more bare-bones information, OPI Deputy Superintendent for Educational Services Susie Hedalen told legislators Wednesday while rolling out a draft version of the report card.
"In Montana, we are making our report card usable while staying within a small budget, a tight budget," Hedalen said. "Some (states) are using it as marketing tools for school choice, which is not the case in Montana."
It's being designed by Aspect, the same company that manages the state's current data system, GEMS, she said.
The proposed report card was also presented to the Board of Public Education on Friday, where some board members worried about public perception. 
Mary Jo Bremner, a retired teacher from Browning, asked about reservation schools, which typically score lower on standardized tests than the state average, part of a well-documented achievement gap between American Indian and white students. 
"Will there be an explanation on their improvement, versus, this is just the worst school in Montana?" she said. "Our paper grabs the first thing that says Browning on it, and they publish it. I don't know if it's shaming or what."
Hedalen emphasized a section that shows student progress, a new addition from reporting under No Child Left Behind. But the new law requires reporting for test scores and other metrics, and identification of schools that perform lowest using the state's evaluation formula. 
"We do not have to shame schools. We do have to meet the law," Hedalen said. "We're not saying anything negative, like this school's failing, or anything like that."
Schools will likely have the chance to author a cover letter for the report cards; Hedalen said OPI could recommend schools highlight a challenge, a success and a data point not included in the report card. 
The current three-page proposal will likely expand to about 15 pages in order to comply with federal requirements, Hedalen said. The state must post report cards that comply with the new law by the end of the year, and Montana hopes to publish report cards with information from the previous school year in March.
"We're going to be working really hard to get feedback and input," she said. 
Montana Parent Teacher Association president Sherry Holderith said that she hadn't had a chance to review Montana's prototype, but that the PTA supports the report card concept. 
"The School Report Card is a great way to engage parents and give them the tools to see the big picture of the importance of family engagement," she said in an email. 
Marco Ferro, the public policy director for the state teacher's union, said that the report card draft looks "pretty clear" in how it communicates required information. 
You have free articles remaining.
"It doesn't seem like anything earth shaking yet," he said. 
Categories
The documents lead off with information about enrollment, income levels of students' families, and whether the school had been labeled for assistance based on a low ranking in the state's evaluation system.

The percentage of students "showing progress" toward proficiency in reading and math is compared with state averages, as well as English language learners' progress in English proficiency. 
Several Board of Public Education members questioned how progress was defined and recommended that the report card have a clear explanation.

Reading, math and science are compared on a school, district and state level. 

Another set of graphs shows three-year trends for students scoring proficient or advanced in each subject area compared to state goals. 

Montana's prototype examines attendance, showing the percentage of students who attended 95 percent of school days or more. The metric is widely considered more useful than average attendance, as it better illustrates how many students miss too much school.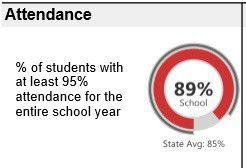 The second page also shows demographic information about a school and additional information about English language learners.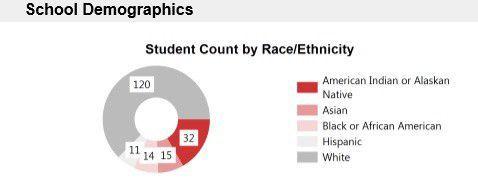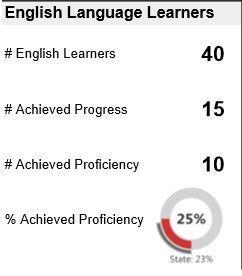 A third page would examine test scores, comparing average scores to those for minority groups and students with a disability.