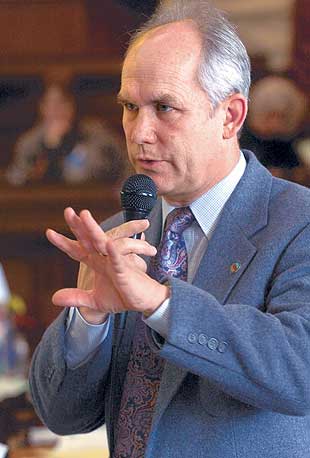 HELENA - The House of Representatives overwhelmingly endorsed a measure Tuesday that will create a state-subsidized health insurance plan for 19,000 school district employees across Montana.
House Bill 124, by Rep. Tom Facey, D-Missoula, passed 74-26 on a preliminary vote. It faces a final House vote before moving to the Senate.
Attaining health insurance
The insurance plan would cost the state about $46 million a year and would give every school a $200-per-employee subsidy every month for the purpose of attaining health insurance.
Facey said the bill will help the state meet the Montana Supreme Court demand to fix its unconstitutional school funding formula by Oct. 1, but other legislators fear the cost.
"I would love to be able to do this," said House Republican Leader Roy Brown of Billings. "But when I look at what this bill's going to cost, how are we going to afford this?"
Gov. Brian Schweitzer wants the state to boost state spending on public schools by $80 million over the next two years, but doesn't want the money plugged into the health insurance plan. But Facey said the Legislature could move some money around within the governor's budget to cover the plan, as well as some of Schweitzer's other priorities.
Facey also said he'd agree to delay implementation of the plan until Jan. 1, 2007, so that state expenses in fiscal year 2007 total $23 million. The bill currently calls for a July 1, 2006, startup, which will cost the state $46 million in fiscal 2007, which begins that same day.
His bill was initially tabled by the House Select Education Committee but was resurrected last week after Republicans reversed their position on the bill and came out in support of it.
"This is a way to help our schools. This is a way to help our local property taxpayers," Facey said on the House floor. "I hope this is part of the solution this Legislature comes out with."
Facey said 500 teachers and 4,000 other school employees, such as secretaries and janitors, across Montana don't have health insurance right now. Small, rural school districts have long said they can't afford to offer health insurance because their small number of employees make health insurance pools prohibitively expensive.
Republican Floor Leader Mike Lange, R-Billings, said the large, statewide health insurance pool will benefit the smaller districts.
"This bill offers something that doesn't happen very often - that's called change," Lange said.
The subsidy is enough to cover catastrophic health insurance. If the employee wants a standard or premium health plan, they'll have to negotiate with their local district.
The bill is currently tied to inflation and would require the state to adjust the subsidy for inflation in the future. HB124 also calls for $26 million in loans from the state Board of Investments for start-up costs and initial reserves.
The plan would be administered by an oversight board, and districts could opt into, and out of, the plan only once.
Rep. Dave Gallik, D-Helena, offered an amendment Tuesday that would have exempted the bill from the state spending cap, but it failed. The state budget for fiscal 2006-2007 is currently $114 million over the statutory limit established by state law, and HB124 would add millions of dollars more.
The fight over the next state budget will get under way on the House floor Thursday, while HB124 is headed down to the House Appropriations Committee for consideration.