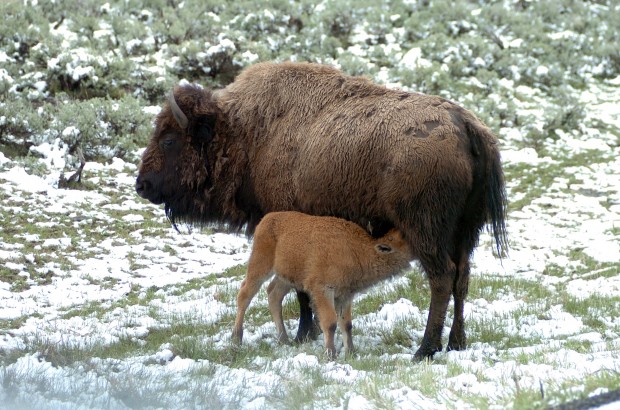 Denounced as legislation for the killing, extermination or "liquidation" of wild bison, tribal representatives and conservation groups urged the House Agriculture Committee to kill Senate Bill 143 on Thursday.
The committee voted 9-8 in favor of the measure.
SB143, sponsored by Sen. John Brenden, R-Scobey, would revise bison management laws to allow more hunting licenses for bison that leave Yellowstone National Park in winter, and to prohibit the relocation or transplanting of wild buffalo anywhere in the state except for the Moiese Bison Range.
Brenden took issue with the claims made by opponents of his bill.
"When people say I'm out to exterminate the bison, that's blasphemous," he said.
Rep. Carolyn Lopez-Pease, D-Billings, who voted against the bill, said it ignores tribal treaty rights and will damage relations between tribes and the state.
"I think it's one of the most extreme bison bills we've considered this session," she said.
Rep. Krayton Kerns, R-Laurel, who voted for the measure, put the blame for the problem at the feet of the National Park Service.
"This is principally a problem given to us by the federal government," he said.
Kerns added that although the bill may be "aggressive," it is what's needed to make a statement that the current method of management isn't working.
Brenden called the measure a "management bill" meant to protect ranchers and farmers from property damage, the possibility of disease transmission and the loss of grass or crops. He noted that agriculture is the No. 1 industry in Montana.
Farm and ranch groups favored the measure. Nicole Rolf, of the Montana Farm Bureau Federation, said bison have not roamed the Montana landscape for many years and that adding another large ungulate to the landscape would increase the burden on farmers and ranchers who already provide habitat for deer, elk and antelope.
Republicans passed an amended version of the bill in the Senate on April 5 on a 26-0 party line vote during a dispute with Democrats. Among the amendments were changing the season from year-round to Nov. 15 through April 30.
Montana has a closely regulated bison season that allows hunting in two periods ranging from Nov. 15 to Feb. 15. The state issues 44 either-sex licenses. If a lot of bison leave Yellowstone in a bad winter that forces migration, the state may issue up to 100 additional /calf licenses.
Tribes coordinate their own hunts and harvest numbers with the season typically running from January to mid or late March.
At Thursday's hearing, opponents outnumbered proponents and included the Montana Department of Fish, Wildlife and Parks. Pat Flowers, Region 3 supervisor in Bozeman, said the state already has a management plan that is closely coordinated with other state and federal agencies.
"As a result, I think we've been very successful," Flowers said.
"I urge you not to erode the positive steps we've taken to manage bison outside of Yellowstone National Park," he added.
If the bill were to pass, Flowers said, the state would lose the cooperation of tribes who have been exercising their treaty rights to kill bison that leave Yellowstone National Park in the winter.
Laura Pippin told the committee, "The buffalo are my brothers. They are sacred to me."
John Harrison, an attorney for the Confederated Salish-Kootenai Tribe, said passage of the measure would result in endless litigation. He also said that even if all bison were removed from the landscape, the disease brucellosis -- which can be transmitted to cattle and cause cows to abort -- would still be in the ecosystem since it is carried by elk.
Brenden said his legislation is not an anti-Indian bill, "it's about being a good neighbor." He also said that if bison are allowed to be relocated to Eastern Montana, as some sporting groups propose, then landowners would retaliate and close off their property to hunters.
"If this continues on it is not good for Montana," Brenden said. "Free-roaming buffalo in a modern society is not going to work."
The bill, if passed by the full House, would void House Bill 396, which has already been approved by the House and Senate. HB396, sponsored by Rep. Mike Lang, R-Malta, would require county commissioners to approve any translocation of bison in Montana. Lang, who is a member of the House Agriculture Committee, voted for Brendan's bill although he said he thought his bill was a better approach.
Be the first to know
Get local news delivered to your inbox!