HARDIN — Big Horn County Undersheriff Michael Fuss led a small group of media into a cramped jail intake room. 
Fuss glanced at Kenny Rogers, the jail sergeant, and County Commissioner George Real Bird III. He wondered aloud how much detail to present on the tour before showing off some exposed wires low on the wall, across the room from a leaking water faucet.
From there, the tour went by one of the larger inmate areas.
"You come last week, there were 10 (inmates) on the floor there," Fuss said.
He pointed to the ceiling, which is a sort of metal grate that prevents someone from reaching up to the exposed plumbing above. A wire dangled down here or there. At the end of one hallway, the door to the visitation room had to be propped open for ventilation.
"And you're here on a good day," Fuss said to the visitors. "It doesn't smell too bad here."
Big Horn County is on a public relations offensive, which in this case involves showing off the more deteriorated aspects of its overcrowded county jail. The goal is to convince voters to approve the county's plan to renovate and expand the jail for $12.3 million.
The county is quick to stress that the initial funding plan doesn't include new taxes. The money will come almost entirely from past and future coal mineral royalties, which have for years been an important supplement to county tax revenues.
Jail woes
Like the majority of jails in the state, Big Horn County's has been plagued with overcrowding for years. The facility, occupying the lower rear level of the county courthouse, was built for 35 inmates but has held as many as 50 or 60.
During Tuesday's media tour, Fuss praised the work of the jail's cook.
"For 54 inmates, it's hard to manage food for all of them," he said.
Rogers corrected Fuss. The jail took on two more that day, bringing the resident count to 56.
Officials say the problem is also the condition of the jail. Thermostats are out in the open and can be easily tampered with. The women's section consists of one room with two smaller cells built in, and there's nowhere else to put them in the event of a skirmish.
ACLU Montana agreed about the jail's conditions in a 2015 report, which surveyed inmates throughout Montana.
The county has already saved $5 million for jail renovations, but it's been hard to pass a measure with voters to get more funding. A supplemental $6.6 million bond proposal failed to pass in 2016.
Now the county is back with a similar proposal. Partial funding will come from that same $5 million, which was saved from previous mineral royalty payments. Candy Wells, administrative assistant to the commissioners, said there is about $7 million in that fund now.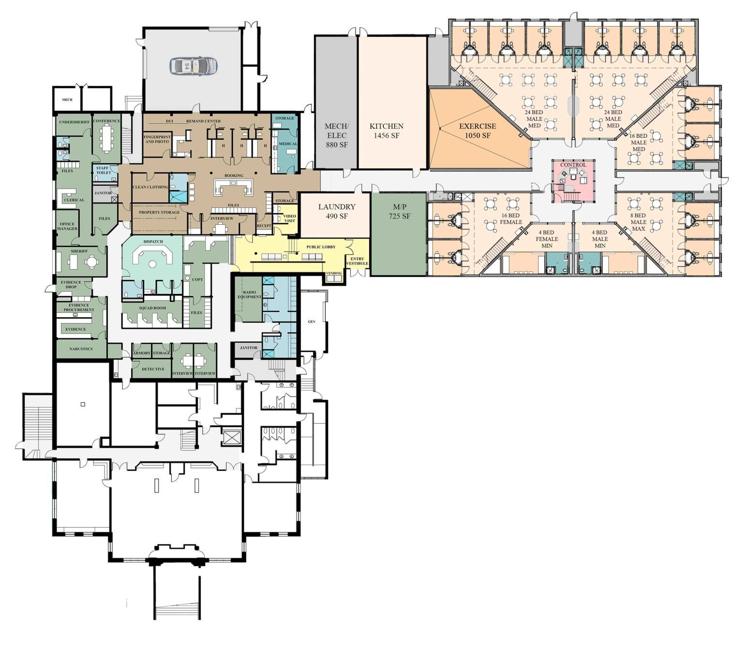 Voters this fall will choose whether to let the county borrow $7.3 million against future mineral royalties. The current borrowing limit is about $1 million, according to Real Bird III. The county will do it by selling bonds.
That brings concerns about the reliability of coal royalties in the future. Mine production, particularly in Big Horn County, experienced a short-term boost this year. But the long-term picture isn't as certain as regional power plants continue to phase out coal and the market moves toward other power sources.
Real Bird III said they're looking more toward international exports, but access to Asian markets for Big Horn County coal remains largely mired in debates over the Millennium Bulk Terminal near Longview, Washington. The terminal, if built, could accommodate a 40 percent increase in U.S. coal exports to markets in the Asia Pacific. The port has been a lightning rod for environmental groups concerned about climate change and river damage.
At the same time, Big Horn County is sending more money out of the mineral royalty fund to cover government expenses — anywhere from $900,000 to $1.4 million annually since 2015, according to county records.
Royalty payments will need to be at least $900,000 annually to cover debt payments, according to county accountant Michael Opie, who declined to be quoted.
Annual mineral royalties for the county have never been that low. And officials are banking on the coal industry to keep the tap on.
"From all projections, coal's going to be around for 25 to 30 years," Real Bird III said.
If not, he said, the county might see budget cuts. Another option, pointed out on a website created for the project, is that taxes might be raised if royalty payments dip too low.
Two Rivers
One of the most common questions officials get about the jail expansion is about the large, empty prison across town.
The Two Rivers Detention Facility is a failed economic development endeavor by the city of Hardin. It was built in 2007 through revenue bonds that have fallen into years of default.
The prison was active for a year through a private operator and contract with the Bureau of Indian Affairs but has otherwise sat empty. The BIA said it would lease the facility, but the agency has missed multiple self-imposed deadlines to finish the deal.
Big Horn County's position is that the 464-bed Two Rivers facility is too big for county use. The county wants just around 100 beds to operate.
"For us as a county, it's too big," Real Bird III said. "It's too much."
The county also says Two Rivers would cost more to operate than its own renovated facility and that it isn't up to safety standards.
Big Horn County is doubling down on an expansion for the county jail, and part of the outreach effort will be four public forums through September and October.
If the measure doesn't pass, Fuss said they're looking at out-of-state options for inmates, even with an empty prison next door.
"I can't even think of a place we can take them right now in Montana," he said.