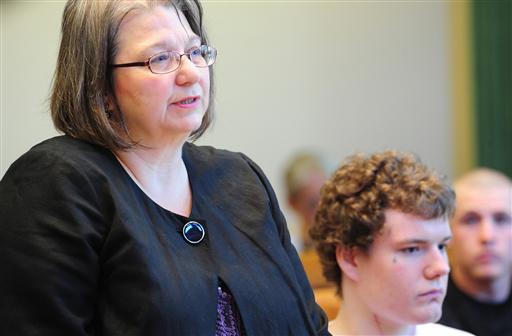 HELENA — An 18-year-old Montana State Prison inmate who claims he has been treated inhumanely is asking a district court judge to step in to keep him from returning to a solitary cell and other treatment he and his lawyers say is deplorable and scarring.
Raistlen Katka testified Tuesday that he has attempted suicide four times in part due to his treatment at the prison. According to Katka's attorneys with the American Civil Liberties Union of Montana, an injunction is needed to stop the irreparable harm being done by the prison.
A hearing was held before District Judge Jeffrey Sherlock to give Katka and the prison a chance to argue their cases.
The ACLU filed a lawsuit against the Montana Department of Corrections and the state in December on behalf of Katka, alleging he had been treated illegally and inhumanely. The situation be-came so dire, Katka testified Tuesday, that he twice attempted to kill himself by biting through the skin on his wrist to puncture a vein.
"My thought process was if I don't die, at least I'll get out of my cell for 30 seconds," Katka testified.
Katka is being housed at the Montana State Hospital pending the ruling on the injunction. Testimony will continue today.
Attorneys representing the state said the confinement in the prison's maximum-security unit helped to protect Katka and other inmates in addition to preserving order at the facility.
Katka had been at the prison since February 2008 after he pleaded guilty to two felony counts of assault on a peace officer stemming from a physical altercation with two correctional officers at Pine Hills Correctional Facility for juveniles. After the altercation, he was sentenced to five years under the supervision of the Department of Corrections. He was convicted as an adult after waiving his right to transfer the charges to youth court.
Katka and his attorneys say his treatment at the prison has exacerbated his mental illness, which includes depression and post-traumatic stress disorder. They are asking that Katka not be subjected to solitary confinement, not be disciplined with acts such as the removal of personal property from his cell and be transferred to another facility where his needs can be better met.
Maxon Davis, a Great Falls attorney representing the state, argued Katka was a danger to himself and others and that was evident by his criminal history, including violent crimes, dating back to the age of 10.
Katka said he didn't tell prison officials about his suicidal thoughts for fear of punishment.
At the prison, Katka's available mental health treatment consists of a staff member knocking on his door once a week and asking if he has any concerns, according to his attorneys, and then he must answer by yelling within earshot of other inmates.
"I think the state has proven in this case that they are not willing or able to provide the mental illness treatment he needs," said Andree Larose, a Helena attorney representing Katka. "He needs a chance and that chance can't come from the prison treating him like an animal."
Katka said much of his time at the prison he was in a solitary cell with only a mattress and blanket and dressed in a smock.
The lawsuit was originally filed when Katka was 17 years old and he was listed as "Robert Doe."
Jennifer Giuttari, ACLU of Montana staff attorney, said she heard about Katka's plight in letters from his fellow inmates saying they had heard the teen crying out for help and were concerned. His mother and aunt also wrote to the ACLU asking for help.