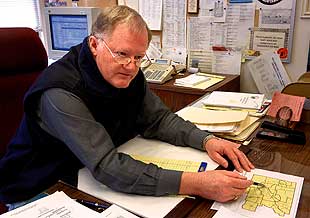 In the end, Montanans should be safer. In the meantime, counties are struggling to lay the groundwork for a statewide communication system that will cost millions and is still years from reality.
"To me, it's the equivalent of going from a party line system to cell phones. It's a quantum leap," said Chris Christensen, communication technology manager for Montana's Public Safety Service Bureau.
Christensen is referring to communications "interoperability" for first responders.
That is agency lingo for having all emergency responders, like police officers and firefighters, linked in a way they can communicate over one seamless communication system.
Some may assume such a system already exists. In truth, the lack of a such a system continues to plague emergency responders across the country.
"That's what happened in New York City (during 9/11)," said Jim Kraft, Yellowstone County's director of emergency services. "Emergency responders created their own systems and they couldn't talk to each other."
In Yellowstone County, there's a disconnect between the city's radio system and the county's radio system. Because they're on widely different frequencies, a city police officer can't communicate directly with a sheriff's deputies. There are patches to allow the interchange, but they never seem to work real well, he said.
Even before 9/11, the state began looking at ways to remedy the problem. Jenny Hanson, bureau chief for the Public Safety Services Bureau, said an early estimate for the statewide system came in at $151 million. Allan Overcast, owner of Lockwood's Link Communications Inc., a business that specializes in interoperability planning and equipment, puts that figure closer to $300 million. A large part of that cost will go to replace all of the state's thousands of responder radios with newer, digital models that run from $3,000 to $5,000 each - versus the $500 to $700 price tag for standard analog models.
Lewis and Clark County is already several steps ahead. The state's first top-of-the-line communications system, operated via one massive controller that may one day serve the entire state, is set to go on line there as early as May. It took several years to create and it cost more than $6 million.
In spite of the costs of implementation, interoperability seems to be the buzzword when it comes to homeland security dollars.
"Until that system is up and running, that'll probably be the focus of federal dollars coming to the counties," said Jim Larson, chair of the Big Sky 11 Consortium. The consortium, one of about half a dozen in the state, links 10 counties, including Yellowstone, and two tribes in south-central Montana. The group's mission is to take interoperability from concept to reality. Larson thinks the process could take 10 years.
Once realized, the benefits of the system could prove immeasurable. Christensen says the new system will have "phenomenal" capabilities. Kraft likes the idea of sharing infrastructure, such as towers and repeaters, with a laundry list of agencies - from the National Guard to fire departments to the Bureau of Land Management.
Hanson sees another benefit.
"It'll save lives. It's as simple as that," she said.
But, as the counties pedal hard to keep up with state and federal guidelines, frustration is evident.
"When it's all said and done, this is probably going to be a good system, but it takes money away from enhancing our other projects," Larson said. "Our frustration is trying to hit a moving target with these plans and timelines."
With no federal or state plan to follow, the counties are breaking new ground. Before there's an interoperability system, there must be a plan. But small counties and even some larger counties don't have the money to write the plan in the first place.
According to Larson, the plan alone could run anywhere from $150,000 to $300,000 of the $1.7 million allocated to the Big Sky 11. The balance can be used for radios, repeaters and related equipment. But, Larson added, some of the equipment can't be purchased without training, and some of training programs are backed up with a two-year waiting period.
The consortium is also working under tight deadlines. By Nov. 30, all of this year's funding must be spent.
In contrast to the state's plan, which proposes a total equipment overhaul, Overcast offers a different solution. He envisions using current technology to provide temporary patches for today's system.
In fact, that's precisely what's in the works for Yellowstone County. Before the state began promoting its seamless system, Overcast worked with Yellowstone County to solve its local disconnect. He authored a plan for the county and came up with a system that uses two "black boxes" - one mobile, one in a permanent location - that will allow the city and county radios to communicate with one another. He's demonstrating the system in Lockwood on Monday.
He believes similar systems across the state could solve problems for the short term, something he sees as essential.
"It's fine to plan for the state network, but to stop planning for tomorrow's disaster is bad planning," he said. "We could set up communication networks for all these counties and now we're prepared for tomorrow. Then you can start building a state network."
But even with a state network in place, he questions the wisdom of depending on one key state controller.
"That's begging for failure," he said. "If that master controller goes down, you've lost the statewide network."