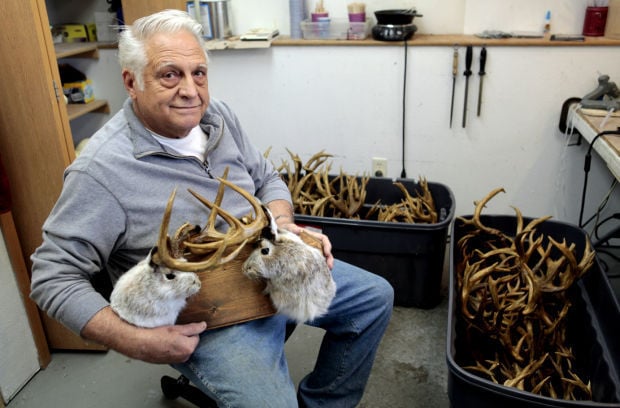 RAPID CITY, S.D. — There was a time when Frank English put his business name and phone number on the back of his jackalopes.
Every so often, somebody at a bar would get a bright idea: Let's call the jackalope guy!
"I got sick of getting woken up in the middle of the night by a damn drunk," English said.
He stopped attaching his phone number, but his jackalope business kept hopping along.
For about 30 years now, the 71-year-old Rapid Valley resident has been the exclusive provider of jackalopes to Cabela's, the giant outdoor-themed retailer.
Just as Cabela's considers itself the "world's foremost outfitter," English considers himself the world's foremost jackalope-maker. He declined to say exactly how many he churns out, but he said it's "multiple thousands" each year, and it exceeds the amount made by any competitor.
Making mounts of the mythical animals' heads has been a full-time occupation for English and wife, Dianne, since he retired from the Air Force in 1981.
A "jackalope" (derived from the words "jackrabbit" and "antelope") is a taxidermied jackrabbit with antlers attached to its head. The late Douglas Herrick is credited with creating the jackalope in the 1930s in Douglas, Wyo.
Supposedly, Herrick and his brothers returned from a hunting excursion and threw a dead jackrabbit across their shop floor, where it came to rest near some antlers. Inspiration struck, and the novelty shops of the West have been selling jackalopes ever since. South Dakota's Wall Drug is famous for the massive jackalope statue that tourists climb atop for photos.
The key to the jackalope's sustained appeal might be its usefulness in pranks, especially by rural folks against urbane visitors. Just about everyone in the rural West has a story about a gullible city dweller falling for a tale about jackalopes in the wild.
One of English's favorite stories is about airport customs officials in England. Assuming a jackalope found in an American woman's luggage must be a protected species, they confiscated it and placed it in a locker with other contraband such as elephant tusks.
English was asked to write a letter on the woman's behalf, which he did, and he heard she eventually got her jackalope back.
"There are people who think they're real, and usually those people are the recipient of a jackalope," English said. "Somebody buys one for the guy, and he puts it on his wall assuming it's real and tells all his city friends it's real."
To aid the hoax, lots of lore has been concocted. English offers a jackalope hunting license signed by game warden "Will Katchem" and an 1800s-era written testimonial from "Never Miss Bill" about jackalope sightings. The testimonial includes an origin story based on a terrible winter thousands of "moons" ago that drove a few deer and jackrabbits into a cave to cohabitate.
On the Cabela's website, English's mounted jackalope head sells for $139.99 and his "world record" jackalope, with bigger antlers, sells for $149.99. He makes other styles, too, including pairs with antlers locked in a fighting pose.
English runs advertisements each winter when jackrabbit fur looks its best, and he pays $5 per carcass. In South Dakota, jackrabbits can be hunted statewide and year-round with a license. There is no daily limit.
When he gets a pickup-load of jackrabbits, English hauls them to a man in Philip who skins them. He has other business partners who make foam mannequins and wood plaques. The antlers are manufactured in China, because real ones proved unsatisfactory to customers who wanted the antlers to look identical to the pictures in catalogs.
English makes and attaches the eyes, puts the skin on the mannequins, attaches the antlers, and mounts the finished product on a plaque. The entire basement of the English home is devoted to the business. Mounted deer and antelope heads adorn the walls along with pictures of hunting and fishing exploits. Bagged-up jackalope mounts are stacked on the floor, and boxes and cabinets are filled with antlers awaiting jackalope heads.
The fabled creature seems to have found its perfect match in the wisecracking English, who at 71 jokes that he's "just too young" to think about retiring.
"People ask me, 'Geez, Frank, don't you get sick of making those things?'" he said, warming up for the punchline.
"I say, 'Yeah, when I get really bored, I go down to the bank and make a deposit.'"