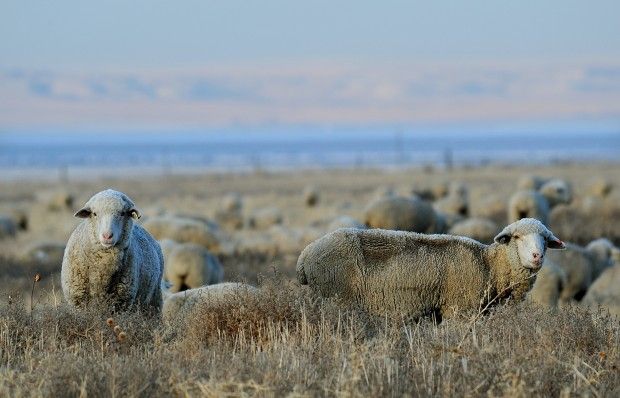 More than 2,000 domestic sheep can continue to graze on U.S. Forest Service land in Montana's Gravelly Mountains after a federal judge denied a request from wildlife advocates to halt the practice.
The Gallatin Wildlife Association had argued in court that allowing the animals to continue grazing in the Beaverhead-Deerlodge National Forest near the Idaho border threatened to harm federally protected grizzly bears and was blocking the return of wild bighorn sheep.
U.S. District Judge Brian Morris said that he was not convinced irreparable harm was likely if grazing continues while he considers a lawsuit from the Bozeman-based group.
Morris rejected an injunction sought against two grazing allotments held by members of the extended Helle family of Dillon. The judge said he would further explain his ruling at a later date.
Gallatin Wildlife Association attorney John Meyer with the Cottonwood Environmental Law Center appealed the ruling on Monday to the 9th U.S. Circuit Court of Appeals.
Meyer said the killing of at least one grizzly bear by a sheepherder in 2013 shows that harm already is being done to the population.
"If there's been killing in the past, the court can assume there's going to be killing in the future," he said.
The Helles are authorized by the Forest Service to graze almost 8,000 sheep in the Gravelly range on seven allotments that are under the names of two businesses — Helle Livestock and Rebish-Konen Livestock.
The injunction request applied to more than 2,000 sheep on the Cottonwood and Fossil-Hellroaring allotments.
Jim Brown, an attorney for the Montana Wool Growers Association and spokesman for the Helles, said sheep were moved onto one of the allotments on Sunday, with the other scheduled to receive sheep later this week. They'll remain on the forest land until mid-September, according to court documents.
The U.S. Fish and Wildlife Service determined in 2013 that the government's management plan for the Beaverhead-Deerlodge, which includes the grazing allotments, did not jeopardize bears. However, that finding was based on a 2010 analysis and did not include the killing of the grizzly by the sheepherder, Meyer said.
Attorneys for the Forest Service argued in court filings that grazing has been a part of the Gravelly Mountains landscape for 150 years and the area's grizzly bear population is thriving.
Federal protections for grizzlies apply at the population level, not to individual animals, the attorney said, and they referred to the bear killed by a herder as an isolated incident.
A final decision in the case is likely to come in 2016, Brown said.