Some 35,000 American Indian tribal members and their descendants have just one month left to claim remaining funds owed to them through a landmark class-action lawsuit settlement that awarded $3.4 billion to Native Americans for decades of alleged mismanagement of property held in trust by the federal government.
In an order filed in January, U.S. District of Columbia District Court Judge Thomas Hogan set a deadline of Nov. 27 for tribal members to claim their share of funds from the Cobell v. Salazar settlement.
One of the largest class-action lawsuit settlements involving the U.S. government, the case was brought in 1996 by Eloise Cobell, a banker from the Blackfeet Nation and the lead plaintiff in the suit who argued that the Bureau of Indian Affairs had mismanaged, squandered and stolen billions of dollars in land-lease royalties and other tribal-owned property over the course of a century.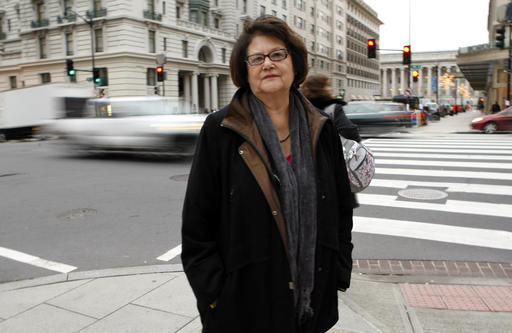 The case played out for 13 years before the parties reached a settlement in 2009. The settlement terms became U.S. law in 2011, the same year in which Cobell died and was posthumously awarded the Presidential Medal of Freedom for her advocacy for Native Americans by former President Barack Obama.
Since then, about 95 percent of the settlement money to be paid out to members of the class action lawsuit has already been distributed, according to North Carolina-based attorney David Smith, the class counsel for the settlement's beneficiaries. He noted that typical class-action settlements net only around 10 percent distribution.
The deadline for payments was set in recognition of the diminishing returns for continuing the six-year effort of tracking down class members listed as "whereabouts unknown" by the Bureau of Indian Affairs, he said.
"The data the government gave us for these roughly 450,000 tribal members, most had no addresses. All we had was a name and tribal affiliation," Smith said.
Since the settlement was finalized, Smith and the Garden City Group Inc., the court-appointed claims administrator, have sifted through agency records, met with tribes and held meetings in Indian country to locate those missing class members.
Within the tribes based in Montana's seven federally recognized reservations, more than 3,000 have yet to be located, according to Garden City Group. That said, ongoing efforts to track down those remaining members have likely brought that number down substantially, Smith said.
Along with helping tribe members and their descendants receive their shares of the settlement money, Smith said the efforts to locate those people have also helped improve the Department of Interior's data on American Indians.
"We had roughly 25,000 individuals who were listed as alive in the data, who were in fact deceased," he said. "We found over 1,000 individuals who were listed as deceased in the Interior's records and were actually alive."
Once the deadline passes, any unclaimed funds will be placed into the Cobell Educational Scholarship Fund.
One exception to the deadline exists — for deceased class members with pending probate proceedings before the BIA Office of Hearings and Appeals. That applies to a further 28,000 class members nationwide, according to Lori Casteneda, Garden City Group's vice president of business development and customer relations.
"As long as they have a probate with OHA, it would be under those exceptions," Casteneda said.
Whether a tribal member or their descendant is eligible for funds goes back to the Indian General Allotment Act of 1887, which began a policy of dividing tribally owned reservation land and allotting it to individual tribal members.
Those land rights became "fractionalized" through successive generations gaining an interest in the undivided property as heirs. Clark Madison, a 31-year realty officer for the BIA who now works as a consultant for Billings-based Elk River Law Offices, said those fractionalized interests were further complicated by poor record-keeping by the federal government over the years.
Although the Indian Reorganization Act ended allotments in 1934, prior acts of Congress had cleared the way for private interests to lease rights on the land — typically in the form of agricultural use, timber cutting, coal extraction or oil and gas leases. The royalties from those leases then flowed to those heirs, an increasingly complicated process as the decades separated the original allottees from their descendants.
"As those people died, it became more and more fractionalized. They were married and had a wife and kids that inherited land, and their wives and kids inherited land," Madison explained, "to the point where you would have hundreds or in some cases thousands of people who would have an interest in an undivided piece of land."
Madison, whose responsibilities for the BIA included using the formula for divvying up royalties and placing them in Individual Indian Money (IIM) accounts, said in one case the computer program wasn't able to process a share of an oil lease that required 43 decimals, and it had to be calculated manually.
"It's an amazing title issue of who the heck owns the land," Madison said. "For example, in the Rocky Mountain Region, there were about 950,000 owner interests. About 25,000 individual landowners who acquired their interests in about 950,000 ways."
The IIM accounts were a central part of Cobell's lawsuit. In it, she alleged that the federal government failed to provide a historical accounting of those and other trust assets, and neglected its trust responsibilities for both land and funds owned by tribal members during more than a century of mismanagement.
Under the terms of the Cobell settlement, class members are paid out in part based on the amount of money that has gone through their IIM accounts, according to Smith.
"The minimum anybody typically receives is just under $2,000," he said. "The maximum has been several million dollars."
Madison pointed out that for some class members, they may not realize they are owed money, because they may have never interacted with their IIM accounts directly. Those accounts are generated and receive payments automatically by the federal government, regardless of whether an account holder accesses them.
With the clock ticking for remaining tribal members and their descendants who still have not claimed their settlement money, Smith said the last-minute effort is an important step in finalizing Cobell's legacy.
"She worked for two decades on this case, and she wanted to make a change in the way individual Indians across the country were treated," he said. "And by finding these people, we are in fact correcting Interior's records and we are fixing those things that Eloise wanted to change."