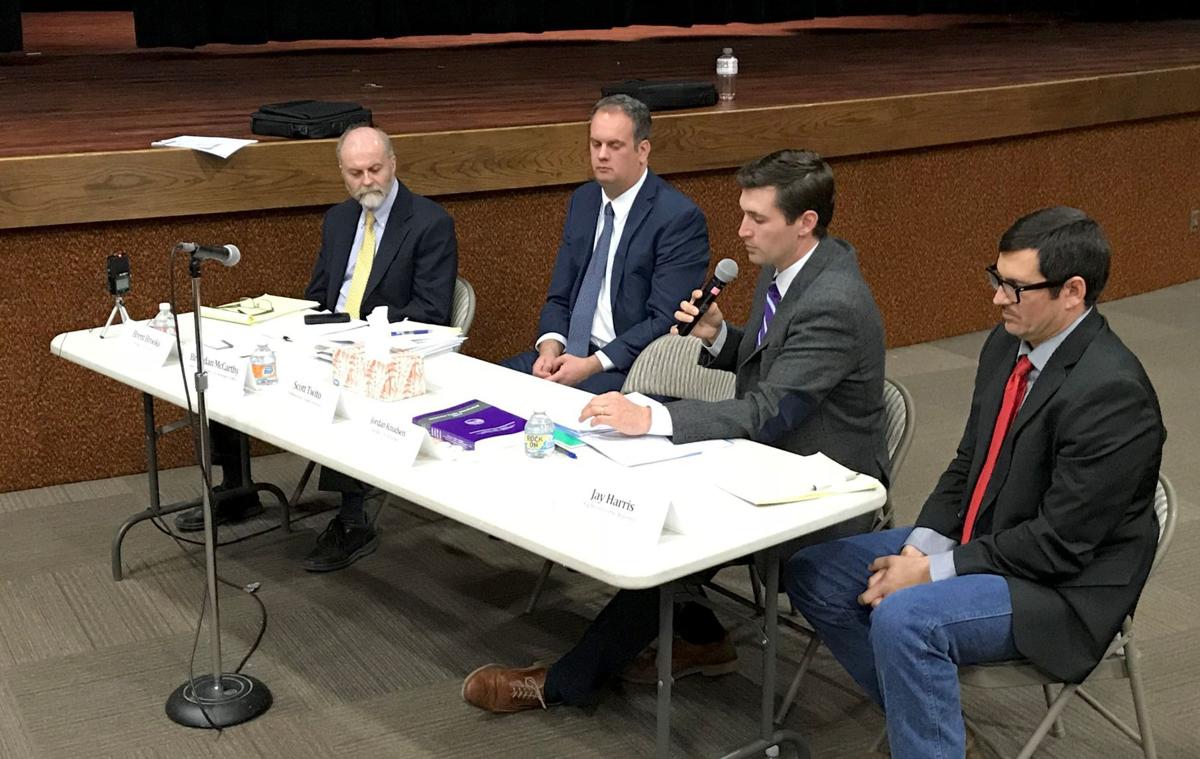 HARDIN — Law enforcement and tribal leaders on Thursday advocated for addressing a disproportionate number of Native American arrests, bringing better cultural representation in schools, and improving housing and work opportunities on and near reservations.
The daylong public meeting with Montana Advisory Committee to the U.S. Commission on Civil Rights at Hardin Middle School's auditorium was the second of its kind exploring racism and discrimination in reservation border towns.
Crow Tribe Chairman Alvin "A.J" Not Afraid and Northern Cheyenne Tribe President Jace Killsback told the eight committee members about the negative influence discrimination has had on their tribes.
To combat what he said is a pervasive issue of people in positions of power in the region not understanding or mischaracterizing their Native neighbors, Killsback said more cultural education in schools should take place "not just during Native American week or Native American month."
"Every aspect of their education should be inclusive of their cultures," Killsback said.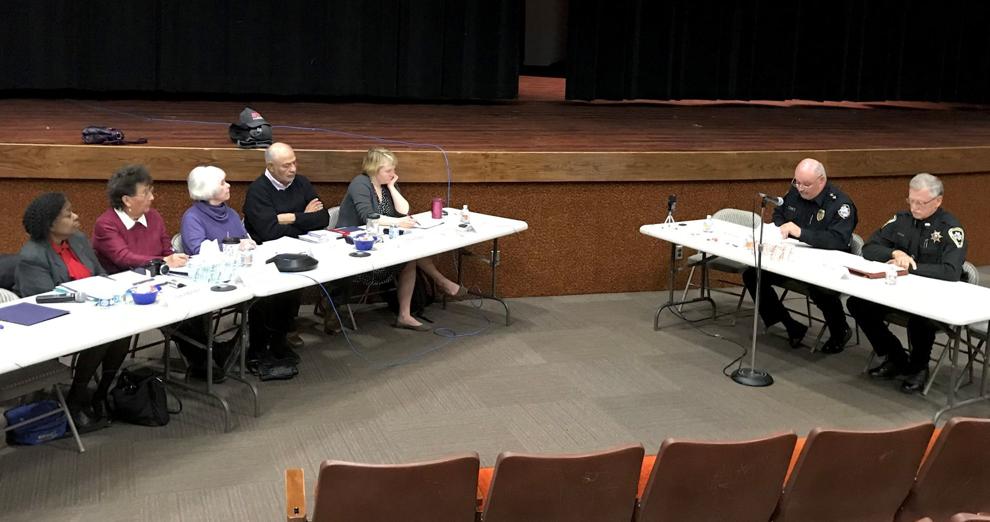 Law enforcement
The sheriffs from Yellowstone, Big Horn and Rosebud counties all participated in the event, as did Billings Police Chief Rich St. John. Committee members were particularly interested in determining the disparities between the racial makeups of the communities they serve, and whether they were disproportionate when compared with their arrests and the populations of county jails.
Of those three counties, only Rosebud's detention center had a ratio of white to non-white inmates that was in line with that of the broader community's demographics, according to numbers provided by Sheriff Allen Fulton.
St. John acknowledged that the Billings Police Department arrests Native Americans at a substantially higher rate than is reflected in the city's demographics.
But, he said, at least part of that is due to the department's Motivated Addiction Alternative Program, which has increased the number of misdemeanor trespass citations issued to those suffering from substance abuse or mental health problems and are repeatedly responsible for many of the city's calls for law enforcement. The jail-diversion program has been successful in pushing those individuals, many of whom are Native, to seek treatment, he said.
"What we're seeing here is the effect of the MAAP program," St. John said. "You can paint it in a negative light, but I think there's a lot positive here."
Like his peers, the police chief said his department has policies in place to prohibit racial profiling and other forms of discrimination. His officers generally don't drive around looking for reasons to arrest people, he said, but stressed that they are required to respond to the more than 94,000 calls for assistance they received in 2017.
"If we were to enforce every violation of the law we saw, I wouldn't make it two blocks from my house," St. John said.
Like other off-reservation jurisdictions, Hardin City Attorney Jordan Knudsen said the city of Hardin experiences a high volume of Native American offenders who are suffering from substance abuse and mental health issues. He said his office has tried to focus its efforts on treatment rather than penalties like revoked licenses, which he said "can really turn into a meat-grinder situation — for anybody."
"It leads to convictions and more convictions, fines piling up and license revocations piling up," Knudsen said. "We'd rather just see people get the treatment ... We'd rather just see people be successful and move on."
Community comment
The optimism expressed by local law enforcement and prosecutors wasn't reflected in the handful of public comments provided to the advisory committee, however. Janine Pease, a faculty member with Little Big Horn College on the Crow Reservation, ticked through a litany of issues she said she's dealt with as a Crow tribal member in Hardin, as well as impacts of systemic racism experienced by many of her students and fellow tribal members.
Few landlords in Hardin publicly advertise rentals, she said, requiring would-be renters to go through an "informal network" in the community that appears designed to weed out prospective Native renters.
"I've come to the conclusion that there are many non-Indian homeowners who do not want to rent to Indians," Pease told the committee. "There is no housing in Crow Agency, there is no housing in Lodge Grass. ... Yet if you drive around Hardin, you will find 50 vacant houses that are for sale."
That "disconnect," between the testimony of law enforcement officials and the community members they police struck committee member Dennis Taylor.
"They'd all say that 'We don't see a problem,' and then they'd report the statistics" showing disproportionately high levels of Native arrests and detentions, Taylor said. "In my mind, it so represents institutional racism, that people don't see it as a problem."
The commission will report its findings from the two meetings (the first of which was in Billings) to the federal commission.