Building an off-the-grid house in six months last year while living with three children in a wall tent was the most challenging activity in Livingston couple Mark and Erica Lighthiser's life … so far.
That's saying something considering that four years ago they biked more than 2,000 miles in four months from Colorado to Montana with their children — Eva, Clara and Emmett — and dog in tow.
"They come in and they are pretty idealistic and get run through the wringer," said Vince Cusomato, executive producer of the one-hour shows, which also track five other off-the-grid projects — four of which are in Montana.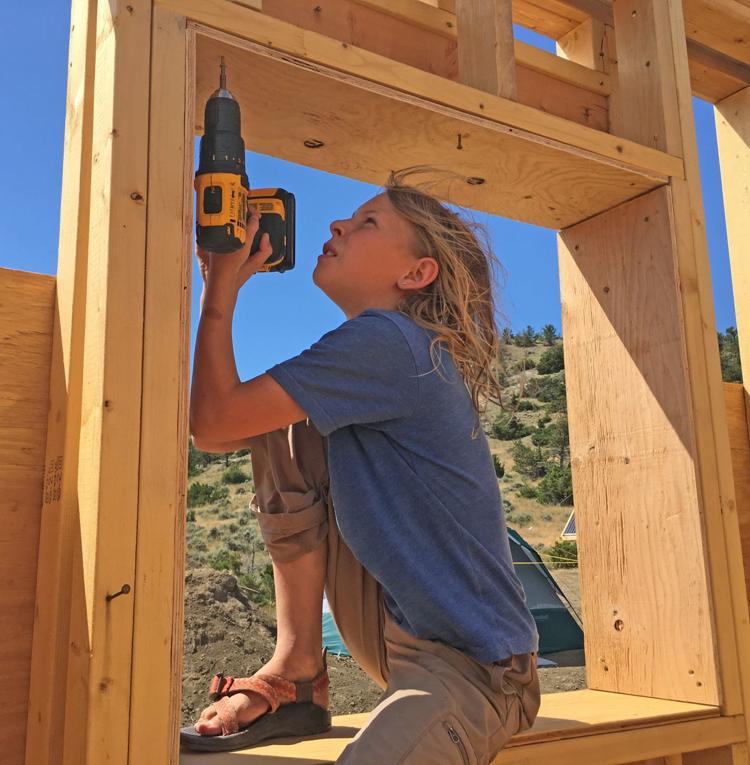 Filming
During the filming a crew of five would visit the homebuilders about 10 times over the course of the project. They also set up time-lapse cameras and gave the Lighthisers small cameras, including one for a confessional.
"It's very candid," Cusomato said. "Some of the things they share are very powerful."
Looking back now after a couple of months rest, the Lighthisers are proud of the accomplishment and finally well rested after a strenuous chore.
"The level of challenge was tremendous, physically and emotionally," Erica said. "It was a big risk and a big reward."
"Physically it wasn't as difficult as it was mentally and emotionally," Mark said. "We were kind of flying by the seat of our pants."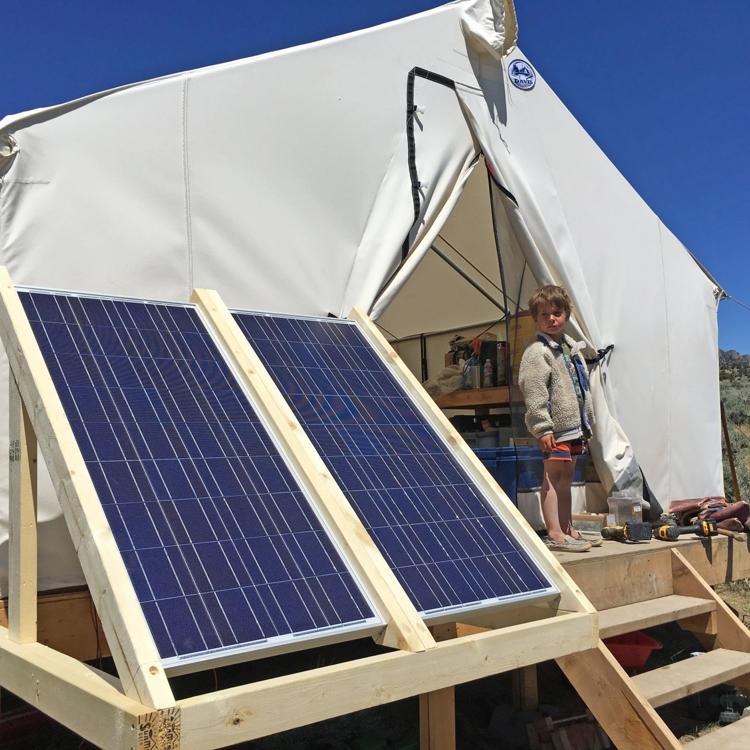 Solar home
The culmination of all the work stands 10 miles east of Livingston on a hill overlooking the Yellowstone River. Their two-story, 1,500-square-foot house — four beds and two baths, although one still needs to be finished — utilizes solar power with a generator for backup on cloudy days or during the winter solstice.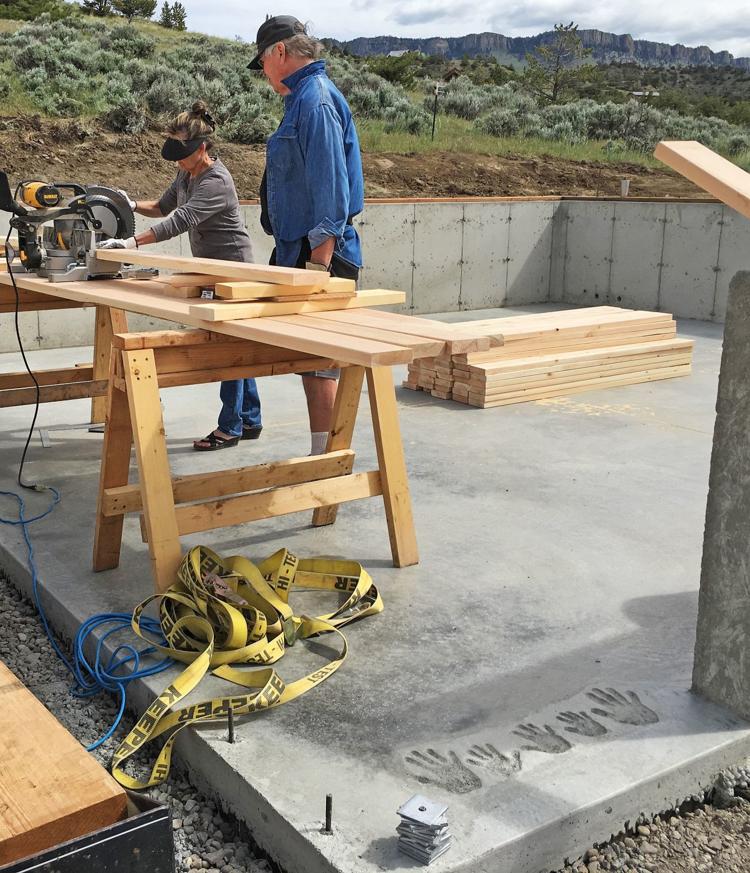 "It's really a rewarding lifestyle to look at the solar panels on the garage and know that's the primary source of electricity," Mark said.
With double-studded walls and high-tech windows, the house is so well insulated that it can be warmed in winter by a Tulikivi soapstone fireplace, although a conventional gas furnace provides backup when no one is around to build a fire.
"The end product is drop-dead gorgeous," Cusomato said. "I told them, 'I want you to build me one.'"
A detached two-car garage substituted as a temporary home when the weather turned bad in the fall, pushing the family from their wind-frayed wall tent.
"The wind becomes a main antagonist throughout the show," Cusomato said. "They have to build a house to withstand the wind."
Staying in the tent started off "being pretty magical, satisfying all of our romantic notions of wall tent life," Mark said.
"We had some pretty interesting nights," Erica added.
"It got really tough later in the season," Erica said, as the weather got colder and there was no stove in the tent to provide heat. The family was not getting enough sleep.
"It's definitely not something we plan on repeating any time soon," Mark said. "The kids will probably never forget those experiences. They'll probably need all kinds of therapy. I'll pay the bill."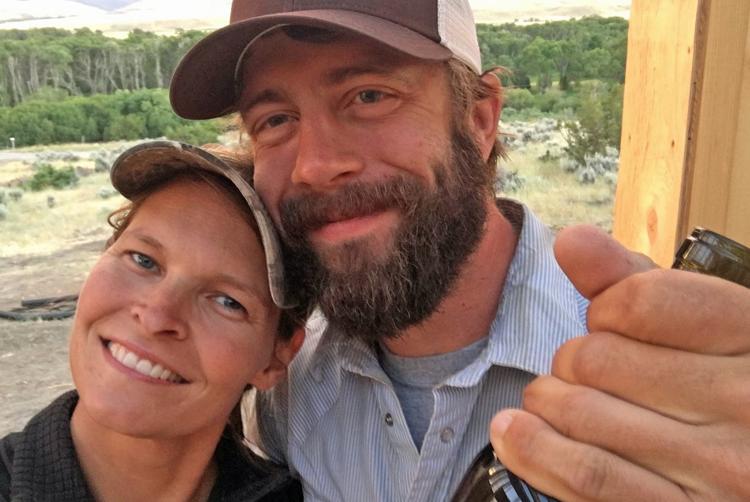 Do-it-yourself
The Lighthisers designed the home on their own, researching different sources for materials and how to build.
"They were super savvy," Cusomato said.
Mark had experience in construction but not in general contracting — things like organizing material deliveries, subcontractors to do the wiring, plumbing and septic system — so Erica took on that chore.
"Our budget started to escalate pretty quickly," Erica said, meaning some of their initial ideas about using reclaimed materials had to be tossed to meet their timeline and financial concerns.
The family also had to accelerate their schedule to reach the film crew's deadline, working sunup to sundown seven days a week with only five days off the whole summer to visit family in Colorado. Such close quarters and constraints might crack an ordinary couple's relationship, but the Lighthisers said they weathered the financial, emotional and physical strains well.
"Because both of us were so involved in building it we didn't get hung up on the little things," Erica said. "We didn't have time. Overall, we had to become a partnership and divide and conquer."
Cusomato said the Lighthisers handled all of the challenges "very gracefully," partly because Mark has a "great sense of humor" and Erica is "one of the toughest women you'll know."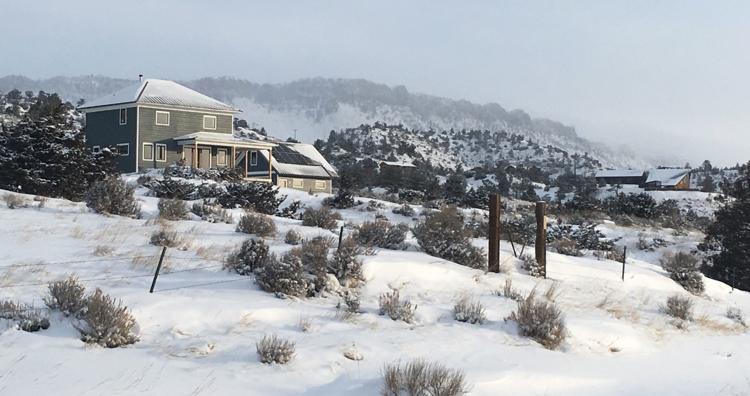 A little help
To help out, the Lighthisers at times relied on friends and family.
"We really wanted to make it about the community and do it in barn-raising style," Erica said. "My dad came up 13 times over six months and spent a week at a time. Our poor families were so amazing."
Friends donated their weekends, putting "their heart and soul into helping out," she added.
Although challenging at times, overall the work created a "feel-good" atmosphere, Erica said, that included "kindness from strangers."
"It gave me renewed faith in humanity. People want to help each other and want to come together as a community to work through a challenge."
Latest challenge
In many ways, building their home was similar to the family's epic bicycle trek, Erica said. "The bike trip helped prepare us for this."
During that trek everyone got sick. They started out physically challenged by Colorado's mountainous terrain and the requirement to pedal heavy bikes and trailers repeatedly uphill. Although they wanted to quit several times along the way the family kept pedaling north and gradually grew stronger. The Lighthisers got so used to moving that when the trip finally ended after reaching the Whitefish area Erica said it was "kind of depressing." What now, they wondered?
"This summer project, we needed that next big thing," she said.
It was an experience that paid many dividends.
"At the end of the day we have a great little house and a memorable experience that we'll remember for the rest of our lives," Erica said.