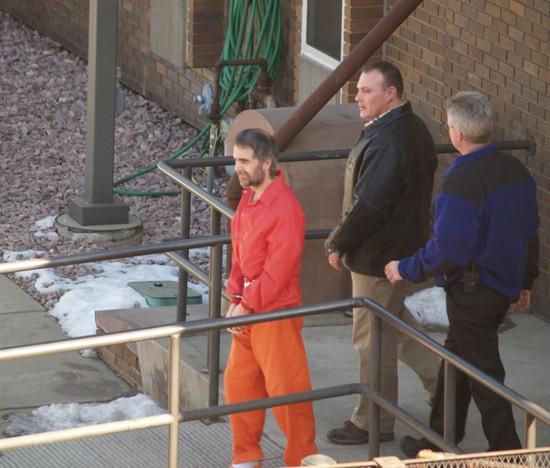 PIERRE, S.D. - A former Billings man who murdered his wife a year ago, tried to get his twin brother to frame her lover and then accused his 12-year-old daughter of the brutal crime was sent to prison for life Tuesday.
Brad Reay, 47, of Pierre is not eligible for parole. A court employee said Reay believes he will die in prison.
Holly Givens, the slain woman's sister, said in court Tuesday that Reay had a selfish obsession to control his wife and fulfilled it by killing her and then blaming their daughter.
"What kind of a father lies and blames so viciously his flesh and blood?" Givens said.
Before he was sentenced, Reay stood in the courtroom and said he loved his daughter, Haylee, now 13, but never turned to look at her in the front row just a few feet away. Nor did he take a last chance to watch as she left the courtroom, even though the judge's sentence bars him from ever having written or telephone contact with her or his late wife's family.
Reay testified at his trial that he found Haylee with a knife in her hand, standing over her mother's dead body in her bed in the middle of the night. He said the girl has no memory of what she did and that his only crime was trying to cover it up. "I gave up my life because I love her," Reay said Tuesday of his daughter.
Reay was convicted in January of first-degree murder for the slaying of his wife, Tami, 41. Her nude body was found in an isolated area several miles north of the capital city. She'd been stabbed three dozen times.
The woman was reported missing by her lover, a co-worker at a retail outlet, when she failed to show up for work. Her body was found after an extensive search.
Reay was immediately suspected because his wife's lover told police about their affair. When police questioned Reay, he gave them permission to search the family home. His wife's SUV was parked in the garage, and blood was dripping from a door.
Tami Reay's mother, Bonnie Burns, tearfully read a statement Tuesday to the killer. He did not look up as his former mother-in-law mourned the loss of her daughter and celebrated her life in a video photo display that ran for several minutes in the packed courtroom.
"We trusted you for many years and you deceived us," Burns said. "You have taken all you can from this family. On this earth, you will not receive enough punishment for your heinous crime."
She shamed Reay for blaming his daughter. "I'm surprised you didn't blame the cat," Burns said.
Haylee testified at her father's trial that she was awakened by the family cat on the night her mother disappeared. She said her father was standing in the doorway of her bedroom with a bunch of clothes under an arm, and the next morning he was doing laundry.
Haylee, who lives with her late mother's parents in Lander, Wyo., did not testify Tuesday at her father's sentencing, but she provided the judge with a statement that was not released.
Circuit Judge Kathleen Trandahl said Reay was a calculating, cold-blooded murderer who killed his wife out of vengeance for having an affair and telling him she wanted a divorce.
Reay would like people to believe he is the victim, but that is not true, the judge said.
"You are not a victim. You are a predator," Trandahl told Reay, who has grown a scraggly beard and looked haggard after more than a year in jail.
Reay's twin brother, Bret Reay, of Helena, was sentenced earlier Tuesday for trying to help frame Tami Reay's lover. The judge sentenced him to the 172 days he'd been held in jail before agreeing to testify against his brother, and he was immediately released.
Mark Barnett, chief deputy attorney general, said Bret Reay realized he'd made a mistake in trying to help his brother and cooperated fully. The man has been punished enough, including the death of the brothers' mother, who suffered a fatal aneurism a day after visiting them in jail last year, Barnett said.
Bret Reay, who will have his criminal record sealed if he successfully follows the conditions of his release, said he made a mistake in trying to help his brother, adding that his brother should be put in prison. "He deserves to go where he's going," he said.
At the request of a prosecutor, the judge signed the necessary paperwork on the spot Tuesday, and Brad Reay was taken directly to the State Penitentiary in Sioux Falls.
Tami Reay was buried at Lander, Wyo. Her tombstone lists her last name as Burns.
Copyright © 2007 Associated Press. All rights reserved. This material may not be published, broadcast, rewritten, or redistributed.