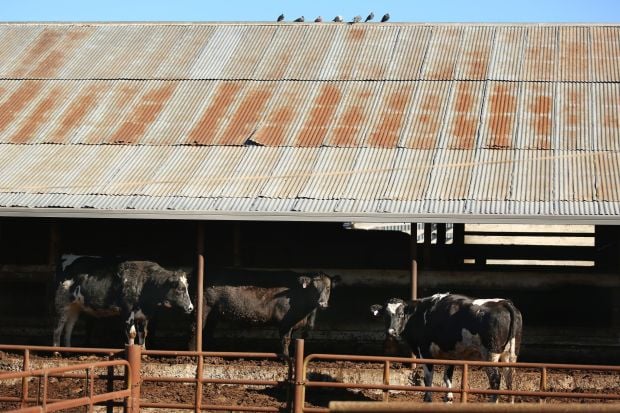 An 8.7-million-pound meat recall reached Montana and Wyoming over the weekend as Wal-Mart and Smith's removed questionable hamburger.
The recall, sparked by the slaughtering of "diseased and unsound animals" at Rancho Feeding Corp., in Petaluma, Calif., involves not just Wal-Mart and Smith's, but nearly 1,000 markets selling everything from hamburger patties to Hot Pockets and hot dogs.
As soon as it became apparent that Wal-Mart suppliers were caught up in the recall, the world's largest retail grocer began removing questionable merchandise, said Dianna Gee, a Wal-Mart spokesperson in Bentonville, Ark.
"Wal-Mart is committed to providing our customers with safe and affordable food," Gee said. "If they feel they have purchased products impacted by this, we urge them to bring the products or receipts to the store for a full refund."
Specifically, Wal-Mart announced over the weekend that it would recall frozen beef hamburger products, both Fatburger in 2-pound boxes and Great Value frozen hamburger patties in 3-pound bags. The products are part of a third-party recall by supplier Jensen Meat Co.
Jensen is a consignee of California-based Rancho Feeding Corp.
Smith's is recalling Kroger Ground Beef patties and ground beef mini sliders.
Nestle also recently announced it was recalling Hot Pocket Philly Steak and Cheese 12-count and two-count packages, as well as Hot Pocket Philly Steak and Cheese Croissant sandwiches.
The Rancho recall also includes 30-pound boxes of the Western bar delicacy known as Rocky Mountain Oysters, or fried, breaded bull testicles.
The boxes are frequently busted up and sold in smaller amounts.
Word of the recall hadn't reached Rock Creek Lodge in Clinton, home of the Rocky Mountain Testicle Festival.
The festival takes place in late summer, but oyster chef Sherri Wahl said the lodge does serve the occasional oyster basket.
Wahl said the bar was getting bull testicles from BandR Supply in Missoula, but those needed breading. It just switched to a pre-breaded variety from Slim Pickens packing company
"We just have one 10-pound bag out of Colorado right now," Wahl said. "The ones from Colorado are very, very good. They're a lot more tender."
Suppliers hadn't contacted Wahl about the recall, but she was going check to make sure the oysters weren't affected by the recall.
No illnesses associated with the Rancho recall have been reported, though the list of retail consignees has expanded rapidly.
The initial list, issued two weeks ago, included less than two dozen retailers. By Monday, the consignees numbered nearly 1,000.
The Wal-Mart recall includes Fatburger with UPC number 7874203525, best by date of 07/08/2014, and Establishment number 1899(A).
The Great Value 85/15 frozen hamburger patties in 3 pound bags have the UPC number 7874207495, best by date of 10/07/2014 and prior, and establishment number 1899(A).
Great Value 80/20 frozen hamburger patties are also recalled, in 3-pound bags. The UPC number is 7874207492 and best by date is 08/15/2014.
The Smith's recall is for Kroger ground beef patties in a five–pound family pack, 80 percent lean and 73 percent lean.
The Kroger Ground Beef Mini Sliders are 85 percent lean and come in a 2.5-pound package.