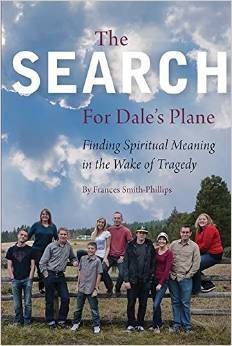 BUTTE — Fran Smith-Phillips lost five family members in an airplane crash in late 2013 in which Butte indirectly played a role.
The mother of the pilot, Dale Smith, and grandmother to two young couples on board, Fran tells the story in a cathartic account of the excruciating searches for the plane – and how faith and community support helped her family through the tragedy.
Family members, undaunted by severe conditions, found the plane in rugged, remote Central Idaho mountains 40 days after it disappeared from radar on Dec. 1.
Her book, "The Search for Dale's Plane: Finding Spiritual Meaning in the Wake of Tragedy," provides a detailed chronological account and aviation specifics of the two exhaustive searches, plus biographies of each of the five lost souls.
Fran, of Salt Lake City, characterized the accident as "very, very traumatic and very sudden."
As a way to make sense of losing so many at once, she also writes about the eventual Jan. 10, 2014, discovery of the downed plane.
Meeting in Butte
Butte was merely a meeting point for two young couples, including Sheree and Daniel Smith of Glasgow, and their pilot-father, Dale Smith of San Jose, Calif.
The story starts when Sheree and Daniel drove from Glasgow to Butte to meet with Amber Smith and Jonathan Norton, engaged to be married on Jan. 4. Amber and Jonathan drove to Butte from Rexburg, Idaho, where they attended Brigham Young University.
Daniel and Amber were the children of Dale and Janis Hansen Smith and Fran's grandchildren.
The couples parked their vehicles at Bert Mooney Airport. From there, they boarded Dale's plane and headed to Baker City, Ore., for a family Thanksgiving function at a rented ranch.
The tragedy unfolded on Dec. 1, 2013, on their return trip to pick up their vehicles in Butte.
On that day, Dale's aircraft disappeared from radar shortly after he radioed Salt Lake City air traffic controllers about engine trouble. He had filed a flight plan and was a meticulous pilot, said his mother Fran.
For 13 days, her youngest son, Dellon Smith, also a pilot, led the search as volunteers, other pilots and family members combed by land, air and satellite the mountainous terrain, 150 miles northeast of Boise.
Succumbing to the reality that the five likely did not survive, they decided to resume the search after Christmas.
It wasn't until Jan. 10, 2014, that Dellon and a stranger-turned-friend, Arthur Stock of McCall, Idaho, discovered the plane by ground search.
2,000 searchers
Fran said 2,000 searchers, rescue personnel, independent pilots and ground crew participated in both searches. All worked on their own dime, she said.
Barry Chalmers, Sheree's father who lives in Glasgow, and one of his sons helped with the first search.
"We wanted to get up the mountain, but we couldn't," said Chalmers.
Heavy winds and drifting snow kept pushing their snowmobiles back, preventing progress.
After the first search was called off on Dec. 13 and carrying an awful sense of the unknown, Chalmers stopped in Butte on his way back to Glasgow to pick up their vehicle.
Undersheriff George Skuletich guided Chalmers to a locksmith and dealer and vouched for him at the airport.
"We do what we can," said Skuletich. "We've had a couple of plane crashes here, so I know what that's like."
Finding closure
Still, the large extended families on all sides had yet to find the wreckage or find closure.
"All that time was hard," said Chalmers. "It was actually harder when we were not sure what had happened. I … said to Fran, we knew they were not alive because physically that was not possible. The only closure we lacked was where it happened."
Fran and Dale's widow, Janis, however, prayed they survived somehow.
"Jonathon Norton's Dad knew his son hadn't survived, but we held out hope that somehow the others had survived," said Fran. "That there was a cabin, hot springs or something so that they would come walking out of the woods."
When the search was resumed after Christmas, Barry Chalmers and Fran give full credit to the two men who spotted a small portion of the wreckage sticking out of the deep snow.
"Dellon and Stock did miraculous things," said Chalmers. "It's so hard to see from the air, but when those two went up, it took them a day and a half to get up the mountain. They worked through the night to clear a path so they and others could get through."
Finally, with their discovery, the families' worse fears were confirmed.
As Fran relates in her book, the Mormon faith and a strong sense of community have sustained her and the extended families.
"We believe in the after-life," said Smith-Phillips, "And we believe that we will be together in the after-life."
Mass funeral held
A mass funeral for all five was held on Feb. 1, 2014, in San Jose, where all were buried. Fran said about 1,000 mourners attended. The Mormon Church service was piped live over the Internet to at least five other states, including Montana.
"We did things individually and did not have a family gathering on Dec. 1 this year," said Fran. "People chose to stay home and did not try to go back to Baker City."
Janis, Dale's widow, has invited friends and family to San Jose, where she will hand out copies of her mother-in-law's timeline tome as a tribute to her husband and children.
For her part, Fran has thoroughly reported the facts and details of the intense search, with the help of her two surviving pilot-sons, Dellon and Darrin.
"I wrote like crazy and when I got it done, I consulted my family," said Fran. "I wanted to get it printed as quickly as possible."
Still, she looks to her faith for comfort.
"Writing my book was very bittersweet because I got to relive all the miracles again – a lot of them I didn't know about until various volunteers started communicating with me and started telling me their stories," said Fran. "I didn't see the big picture. Losing five members of our family is tragic beyond measure, but we are blessed."
Her message to readers takes the high road:
"I want people to feel God's love and miracles," she added. "I want people to know that we felt really loved by other people through this adversity. We felt like prayers were being answered."
The Glasgow community supported Chalmers during the ordeal, too, but pain remains.
"We're OK," Chalmers said. "Anytime something like this happens, you always feel a great loss that's probably never going to go away."
Sheree and Daniel worked for Barry Chalmers in his IT business in Glasgow. The Chalmers have 10 other children who mourn the loss of their sister and brother-in-law.
"We feel that we missed out on the important part of their lives – and they did, too," Chalmers added. "Sheree was looking very forward to having children. As for the anguish, we're mostly past that now."