With help from a Montana Army National Guard helicopter crew, a Humvee has been returned to Malmstrom Air Force Base after spending more than a week stuck on a muddy Montana road.
The recovery operation took place April 12 on Fairview Road, near Grass Range.
The Humvee, a High Mobility Multipurpose Wheeled Vehicle, was removed by a powerful CH-47 Chinook helicopter. The whole rescue took about 30 minutes, from preparing the Humvee for flight to the moment its wheels returned to dry ground, said Maj. Christopher Lende, chief of public affairs for Montana National Guard, in an email.
Lende said "sling load operations" are a training task Army aviation units are required to demonstrate. The recovery was a joint effort with the United States Air Force. After the helicopter set the Humvee back on the ground it was met with a ground recovery team.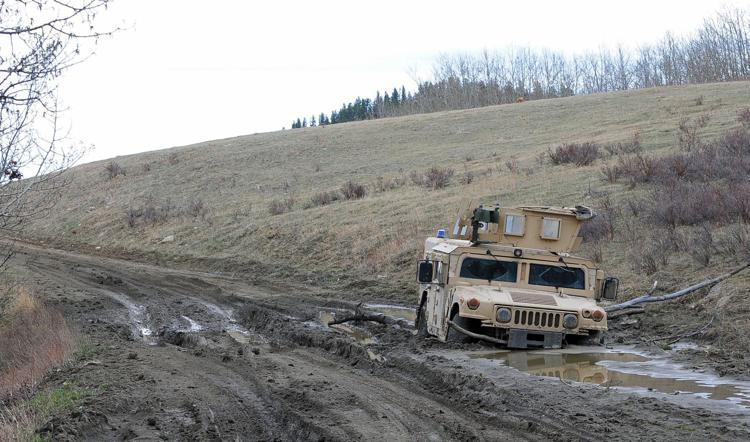 The Humvee became stuck in deep mud while Air Force Security Forces patrolled a nearby Minuteman III missile site the previous week.
In an email, Connie Hempel, public affairs chief for Malmstrom Air Force Base, said airmen drive more than 4 million miles per year on roads across central Montana. They receive at least 12 hours of training before taking the wheel of government vehicles and are required to take refresher courses every year to learn how to deal with the difficult driving conditions often present in Montana.
"These airmen exercised the precautions and protocols they were trained to use," Hempel said in the email. "Unfortunately, the road conditions going to the launch facility were not the same when they were leaving the launch facility. They had to make a judgment call as the conditions worsened and thankfully put their safety first while ensuring the security of the government vehicle."
Fairview Road is gravel leading to the missile site but becomes unmaintained dirt about a half-mile after. The Humvee was positioned facing away from the missile site about two miles down the road.
Before the recovery Hempel said the airmen were driving on an alternate route but were not in an unauthorized area. They packed out their firearms and other equipment when they made the decision to leave the stuck vehicle.
According to Hempel the Montana Army National Guard contacted personnel at Malmstrom to use the recovery as a training exercise.
"It was great opportunity to demonstrate and execute how cross-service support really works and we appreciate the assistance," she said.