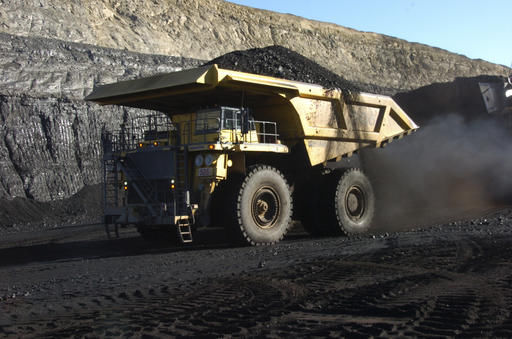 Montana coal mining was on a 3-million-ton upturn through the first half of the year, but could fade as Colstrip Power Plant problems stretch into a second month.
Coal production through June was 17.9 million tons, a 20 percent increase from the first half of 2016. Cloud Peak's Spring Creek Mine and Lighthouse Resources' Decker Mine lead the gains, said Bud Clinch, Montana Coal Council executive director.
"Cloud Peak Energy and Decker Mine, Lighthouse, they've produced 2.23 million tons through the first of July," Clinch said.
Both southeast Montana surface mines export coal through British Columbia's Westshore Terminal, which reports signing a 10.5-tons-per-year shipping agreement with Cloud Peak through 2022. The agreement was signed July 15.
That shipping agreement is a big change from late 2015, when Montana mines suspended exports entirely because a glut of coal in the Asia Pacific market had made shipping coal unprofitable. Cloud Peak paid Westshore to reserve space, rather than ship coal at prices that wouldn't cover the cost of delivery. Montana Coal production hit its lowest point in a decade the next year. It has moderately increased since then.
Cloud Peak also quietly paid the Crow Tribe $1.8 million in June to begin developing part of its Big Metal mine project, while extending its lease option on two other project areas. The Crow Tribe has now received $12 million from Cloud Peak since 2013 for the development of Big Metal mine.
Pulling production in the opposite direction is Colstrip Power Plant, which has shut down Units 3 and 4 for failure to comply with federal Mercury and Air Toxics Standards, or MATS. Colstrip is the second largest coal-fired power plant in the West and Units 3 and 4 produce 70 percent of its power.
Units 3 and 4 were taken offline in late June after tests by operator Talen Energy revealed their emissions of hazardous air pollutants were too high. At the time, Colstrip's other two units were offline by schedule. But Units 1 and 2 weren't part of the MATS problem and are clear to operate.
The power plant gets its coal from the adjacent Rosebud mine, which will feel a production pinch, Clinch said. It has been nearly two months since Units 3 and 4 went down. Power plant data submitted to the EPA indicates that the units would burn more than 1.2 million tons of coal in a typical July and August. They operate only for testing at this time.