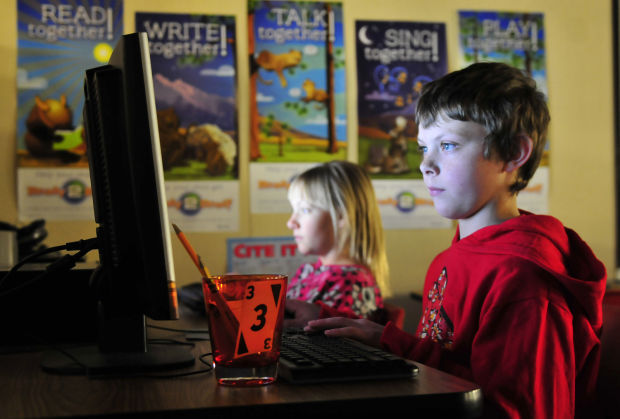 HELENA — Students won't be sharpening number two pencils to take the state standardized test this spring.
Instead, they'll use computers to try out a new assessment that will measure how well students are meeting recently adopted Common Core state standards.
Around 70,000 students in grades 3-8 and 11 will participate in a pilot program of the Smarter Balanced exam, which replaces the Montana Criterion-Referenced Test (CRT).
Field tests of new Common Core-aligned exams are being conducted around the country before the tests become official in 2015. But Montana is one of only a handful states to go "all in" by scrapping its existing assessment a year early and requiring all students to participate.
State Superintendent of Public Instruction Denise Juneau sought and received permission to do so from the U.S. Department of Education, saying it would ease the state's transition to the new exam without testing students twice this spring.
"We should look at it as a practice run," Juneau said in a recent interview.
Smarter Balanced is one of two main assessments developed to accompany the new standards, though at least eight states that have adopted Common Core have elected to create their own exams. Twenty-two have signed on to Smarter Balanced Assessment Consortium, including all states in the Northwest.
The standardized tests, intended to track student progress, are used as a key measure of school accountability under the federal No Child Left Behind act.
Like the standards themselves, the new exams emphasize critical thinking and problem solving skills. They cover literacy/reading and mathematics.
"The test itself is different too," Juneau said. "Rather than just having to read a passage and answer stuff about the plot, students are going to really have to know content to answer these computer-based questions."
In one sample problem, the student is asked an open-ended, rather than multiple choice, question about a short passage. Another asks the student to highlight phrases in a paragraph that elucidate the meaning of an unfamiliar word.
You have free articles remaining.
The final version of the Smarter Balanced exam will be adaptive, meaning that a student's answer to one question will dictate which question comes next. The difficulty will steadily increase with correct responses and decrease with incorrect ones to hone in on the student's ability level.
"I really like the idea that it's going to tell us what the kids know, (instead of) what they don't know," said Joe McMahon, principal at Radley Elementary in East Helena.
Juneau said the new test will be a "restart" for the state's student achievement data.
"There can be no comparison between our new assessment and our old assessment because they're based on two entirely different sets of standards," she said.
Because this spring's assessment is experimental — a test of the test, rather than students — schools and families won't receive information about student scores, nor will the state have the data to compare school performance. It will take a couple more years after Smarter Balanced becomes official before results can be meaningfully analyzed.
In petitioning for the federal waiver, Juneau nonetheless argued that it wouldn't make sense to test students this spring using the outgoing exam, because teachers are no longer using the old standards. Montana educators began implementing Common Core last fall.
The Smarter Balanced test is estimated to cost around $2 million, or around $29 per student, according to the Office of Public Instruction. That's slightly less than the CRT, which costs $32 per student.
Unlike its paper-and-pencil counterpart, the computer-based exam promises a new test-taking experience for many Montana students as well as fresh challenges for teachers and school districts.
Administering the test will take longer than the CRT, because few schools have enough computers to test all students at once, which will cut further into instructional time.
The test is untimed, with each section expected to take three to four hours to complete.
Schools have between March 18 and May 14 to complete the tests. Students in grades 4, 8 and 10 also will continue to take the science portion of the CRT, and students with special needs will take the CRT-alternate exam this spring.
While many schools currently use some computerized assessments, this is the first time OPI is mandating one statewide.
"It's very new for us," Juneau said.