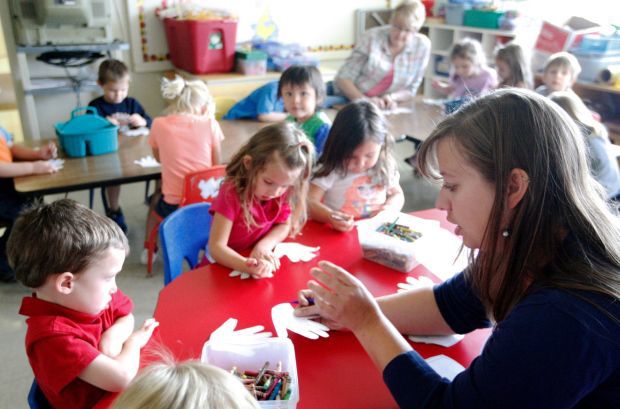 Montana ranks 30th in educating its children, according to a national report released this week by Education Week, with a score that was boosted by above-average student achievement and graduation levels but hindered by low enrollment in early childhood programs, stagnant test scores and unequal state spending.
The state's overall "C" grade — the same as the nation's — is based on a variety of statistical measures of socioeconomic makeup, achievement and state spending across an individual's life, from birth through adulthood.
The 2015 Quality Counts report is the 19th annual evaluation of state education performance by the national news outlet. The study was changed this year to focus exclusively on outcomes, rather than policies.
In a new early education index, Montana scored at the bottom for preschool and kindergarten enrollment rates. Only 37 percent of Montana 3- and 4-year-olds were enrolled in preschool programs, compared to a national average of 47 percent, and 70 percent of eligible children were in kindergarten, compared to 78 percent nationwide.
The state does not fund public preschool, and though it does fund full-day kindergarten, state law does not require school attendance until a child is 7.
However, Montana's overall early education score was its highest of the report's categories, driven by above-average enrollment in federal Head Start programs and the narrowest poverty gap in the country for preschool programs.
The state does provide child care scholarships for low-income families through the Department of Health and Human Services.
Montana students scored above the national average in reading and math on the most recent NAEP, or National Assessment of Educational Progress exam, but performance has improved slowly over the past decade.
Montana has the most room to improve in fourth-grade reading scores, with only 35 percent of students earning proficient scores — a proportion that has remained flat since 2003.
By eighth grade, however, 40 percent were proficient readers, ranking the state 10th in the country.
About the same percentage of eighth-grade students earned proficient scores in math, ranking the state 13th.
The average rankings run parallel to Montana's average spending levels, the report found.
Spending per pupil ranks 16th in the country and 29th as a proportion of taxable resources. However, the report also found that spending across school districts is among the most disparate. The degree of variability in district-by-district funding is the fourth-highest among the states, by Education Week's measure.