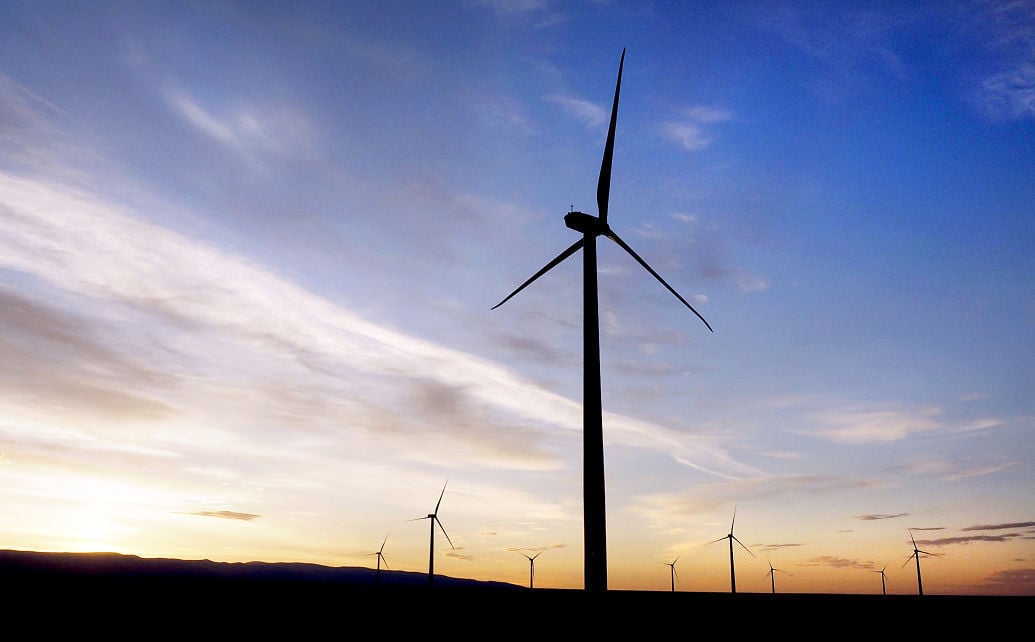 The power plant-sized transmission lines connecting coal-fired Colstrip Power Plant to the Pacific Northwest have attracted a new electricity generator to southeast Montana, one with a greener future.
Clearwater Energy is laying the groundwork for a wind farm near Forsyth with enough juice to power 300,000 homes. The project has been quietly in the works since 2012, but is being frequently referenced by Montanans discussing the region's energy future as Washington and Oregon abandon coal power.
"At 300 megawatts, it's almost 50 percent of what we already have," said Jeff Fox of Renewable Northwest, who estimates Montana's current wind energy output at 665 megawatts.
Renewable Northwest promotes the development of cheap renewable energy in the Northwest, and it's no stranger to Clearwater's developer, Orion Renewable Energy Group, an Oakland, Calif., company generating wind power on the Washington-Oregon border. Orion has also in Wyoming developed two wind farms, the Foote Creek Wind Farm in Carbon County and the Wyoming Wind Energy Center near Evanston.
The Clearwater project has flown under the radar, said Orion's Michael Cressner, because the company isn't a self-promoter. Conversations about Clearwater have come from third parties.
In January, when The Gazette met with Colstrip residents to discuss the social and regulatory challenges faced by coal power, Clearwater was cited more than once as a place energy workers might find jobs if part of the power complex for which the town is named had to close.
Clearwater was mentioned again last week after Montana Gov. Steve Bullock announced that he would form a working group to try to keep Colstrip's most vulnerable coal turbines from being shut down if utilities, under pressure to leave Colstrip, actually exited.
Ann Hedges of the Montana Environmental Information Center told The Gazette it would be better to find a green-energy future for Colstrip instead of trying to squeeze a few more years out of the existing coal power plants. Hedges specifically cited the Clearwater project as an example of renewable energy possibilities in the Colstrip region.
Make no mistake about it, Cressner said, Clearwater is located where it is because of the transmission infrastructure serving Colstrip. Colstrip Power Plant is served by 500-kilovolt power lines and a substation big enough to accommodate Colstrip power and the 300 megawatts Clearwater would put on the energy grid.
The Bonneville Power Administration in partnership with NorthWestern Energy and other stakeholders in the transmission line serving Colstrip, have also discussed upgrading the transmission system by up to 700 megawatts. The Clearwater project is being planned to fill that extra capacity if it materializes.
The first phase of the project will cost about $500 million, Cressner said.
"There will be significant numbers of jobs created in the construction phase and a smaller number in operations," Cressner said. "The exact numbers will depend upon the phasing and timing of the developments we take forward, but typically you would expect well over 100 jobs during construction, and initially 10 or more long-term, full-time, jobs to manage a 300 megawatt wind farm."
Earlier this year, Clearwater posted its public notice for the first part of its project, the 70 to 95 miles of power line that will connect the wind farm to Colstrip's substation. The lines are 345 kilovolt, hung from towers 90 to 200 feet tall and spaced 900 feet apart. The turbines, when the blades are at the top of their stroke, could be between 425- and 500-feet tall.
The plan is to develop the project without having to undergo the state regulatory approval process required by Montana's Major Facilities Citing Act. The Montana Legislature recently amended the citing act to allow projects to skip review, provided 75 percent of the landowners representing 75 percent of the neighboring land approved of the project. Clearwater is the first wind project to test the amendment.
There's financial reason for landowners to participate in wind farm development, Fox said. The organization Windustry reports that as a rule of thumb, leases for wind farms run about $4,000 to $8,000 annually per turbine, or $3,000 to $4,000 per megawatt of capacity. 
Cressner said Orion would like to sell wind power to Montana customers, but realizes that the Montana energy market is small and the Pacific Northwest states linked to Colstrip are sizable.
"Montana has always been a tricky market to develop renewables," Cressner said. "It kind of goes back to there's not as yet a huge demand for new intrastate power, much less than there has been in Oregon, Washington, or California, and even North Dakota, for the perspective."
Most of Colstrip's power also is sold to customers in the Pacific Northwest.
A likely customer for Clearwater energy would be a utility, or a business like a large database company that is seeking a renewable energy source and also mindful that energy costs will at some point in the future increase.
"There are a lot of very green-minded consumers, which is a big reason why wind and solar are options in these days as long-term economic development investments in renewable energy as hedge against increased energy costs," Cressner said.
The trend in wind farms is for large consumers to either contract for the power or buy the wind farm outright, according to Fox. Tech giants like Google and Apple, as well as large firms like Wal-Mart and Ikea are investing in wind energy.
"In 2015, almost 60 percent of all new generating capacity on the U.S. grid was wind power and about half of that was built on contract with corporate purchasers," Fox said. "That's the emerging trend."