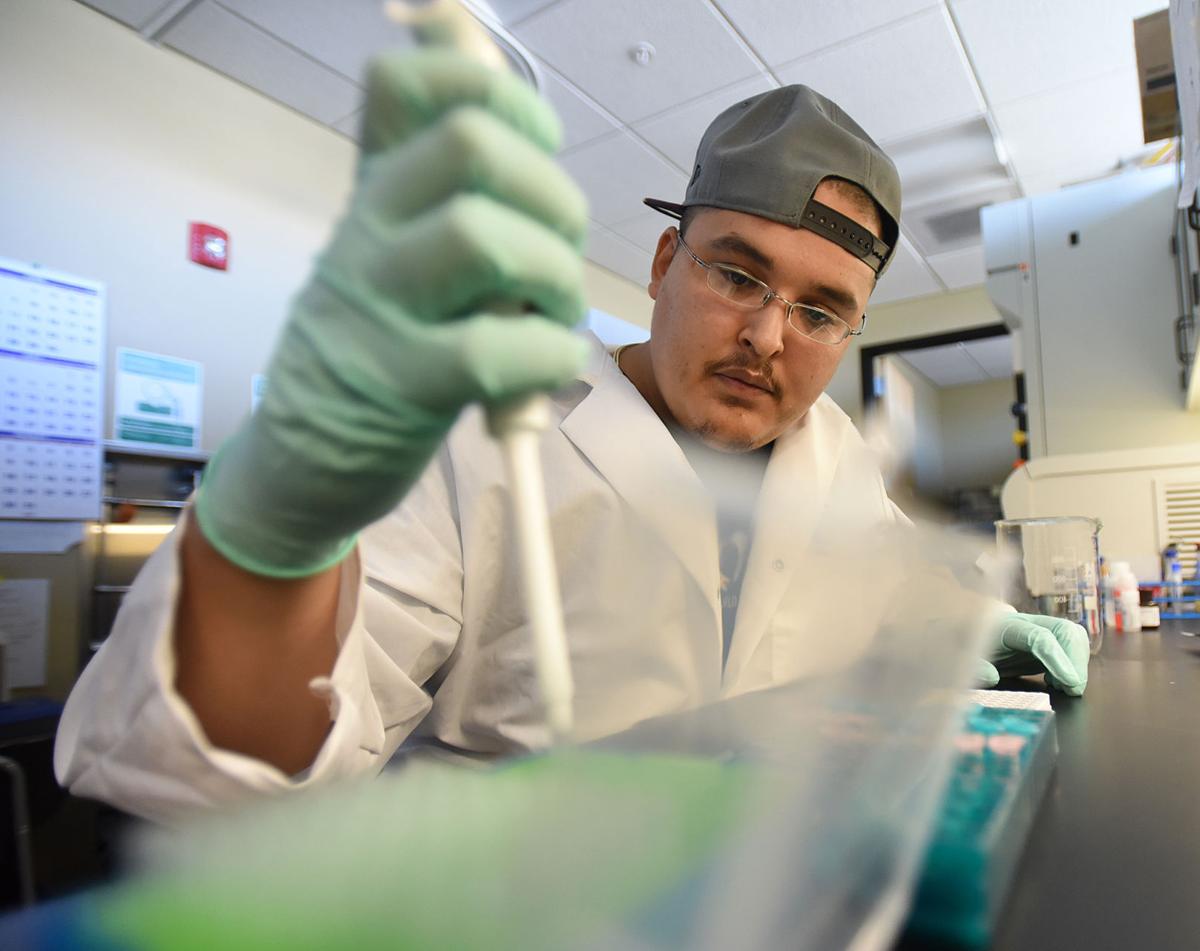 Ball cap turned backward and holding a pipette in his gloved hand, Colbi Kipp hunched over a tray of tiny vials that might help doctors better treat Native Americans or prevent illnesses they contract at higher rates.
A nearby cooler held hundreds of saliva and blood samples collected on the Blackfeet Indian Reservation by Blackfeet Community College students like Kipp, 29. The senior researcher at the campus' biomarker lab is hopeful about the answers that might be found in those vials.
"The big goal in this is always the intervention, right?" he said. "We find out what the problem is. We find out what's giving our people high stress. What is it in our environment that we can relate to these biomarkers? And that's going to show what it is exactly that is leading to high levels of cancers and depression, high levels of suicides and substance abuse. That's what this is about. We're going to do whatever we can by whatever means we can to stop that."
The research project is one of many ways that Montana tribes leverage resources and sovereignty to improve the health of their communities. Leaders say they can't wait for the U.S. Congress to reform the Indian Health Service or for federal officials to meet goals to enroll more Native Americans in subsidized insurance plans.
The cost of delays are too high. American Indians live 20 fewer years than other Montanans because of health disparities, according to a state analysis.
"We're losing generations," Confederated Salish and Kootenai Tribal Health Director Kevin Howlett said.
Tribes have created clinics of their own and launched hybrid health and social service programs. Tribal health directors have banded together to demand better access to state services. And a $20 million grant from the National Institutes of Health will soon fund first-of-its-kind medical research on best practices for treating Native Americans, a 5-year program that includes building upon emergent research facilities at state and tribal colleges.
Tribes have operated targeted health programs for decades, but interest has grown in recent years. The Indian Health Care Improvement Act, a rider on the Affordable Care Act, permanently authorized the IHS Tribal Self-Governance Program, in which tribes contract to take over IHS operations like diabetes management or ambulance service. The program was created in 1988 as an extension of a federal self-determination law that came out of the frustrations of the American Indian Movement in the 1970s. More tribes than ever now participate and self-governance has been the buzz of recent Native American health conferences.
In the past, tribes had been hesitant, in part, wondering whether Congress would maintain or scrap the program. Some waited for other tribes to develop clear models for success. Others have been bound by community uncertainties about whether tribal politics would interfere with smooth, fair operations.
"People talk about what's wrong with the health care system but don't want to do the work," said Howlett, who helped form the Confederated Salish and Kootenai health department in 1977 as its first director.
In 1993, the tribe in northwest Montana was one of the first in the nation to take over programs under the self-governance program. After serving on council and in other leadership roles, Howlett returned in 2002 as the tribe began to provide direct health services through clinics it managed itself, adding 70 new clinical positions.
"In 1977, I hoped we'd be able to, by political will, be able to make a difference," he said. "It's been enormous change and I think a lot of people take it for granted. We still have difficult decisions to make, but we're on the right track."
The challenges have been numerous, but in the end he said, "We have more control over our lives, more access, more facilities, more programs, more professional opportunities."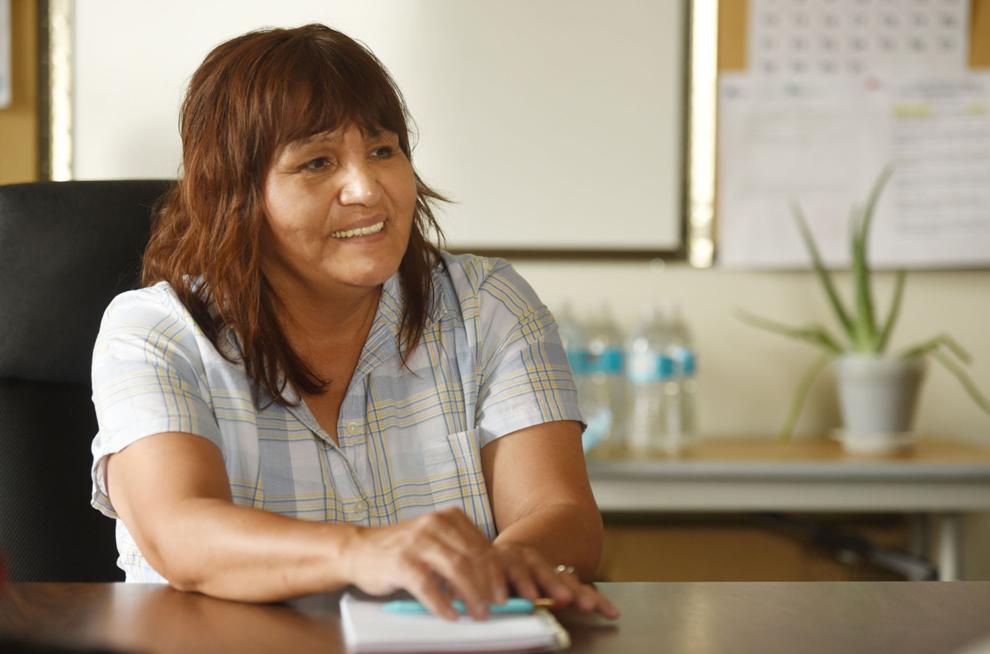 Similar optimism can be found on reservations across Montana even as tribes face entrenched poverty, health disparities and a meth epidemic.
In Browning last week, Blackfeet Tribal Health Director Rosemary Cree Medicine rattled off a list of nearly 20 health-related programs, including several expansions completed this summer.
The shelter now hosts a weekly needle exchange. The tribe is in the planning phases of renovating an old bingo hall into a gathering place. A new centralized billing system was launched to maximize insurance collections, in part, so the tribe can save up for construction of a multipurpose community center. The summer street dances saw hundreds turn out for fun, free of drugs or alcohol. The tribe is planning to convert buildings on an old ranch into the home of a youth substance abuse treatment program. And a recently approved self-governance contract has allowed the tribe to launch a school-based health program and a walk-in clinic.
"So we've been very, very busy," Cree Medicine said, chuckling.
Taking their cues from a similar effort on the Fort Peck Indian Reservation, the Blackfeet renovated a building near Napi Elementary that will serve as the base for a nurse practitioner and social worker who will provide health services in the schools. Children will receive a screening, and basic care will be provided on-site for the convenience of parents but also so students miss less school.
"We screened about 1,000 kids last year and we identified about 300 who likely have pre-diabetes, high blood pressure, obesity," said Nurse Practitioner Tony Underwood, who works at the tribe's new health center. "We'll also see them for primary care. A cold, a runny nose, whatever is going on."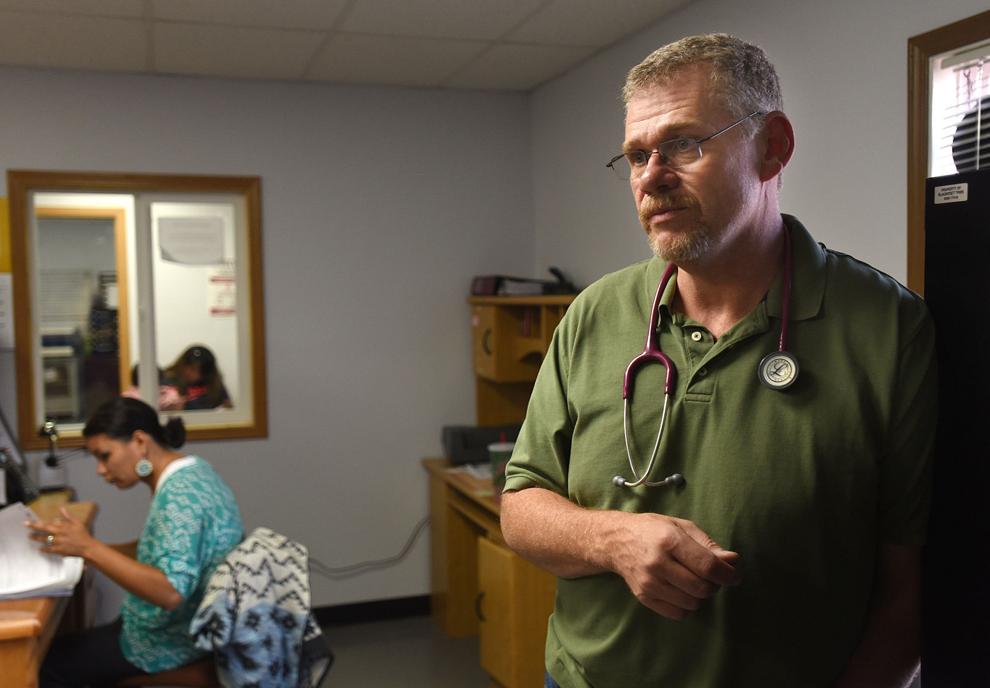 The staff also will teach programs at the schools on other topics, such as nutrition, exercise or depression. The social worker will work with kids who have turbulent home lives or recently experienced trauma, such as a death.
"We just finally got the building and now we're going to start hiring folks," Cree Medicine said. "They're going to work together with the health center."
Since that new clinic opened just down the hill from the IHS Blackfeet Community Hospital, Underwood said he and the nurses have seen about 35 patients a day, many of whom say they haven't seen a doctor in two or three years.
Nursing Coordinator Cathy Mountain Chief said the hospital just doesn't have the capacity to serve everyone who needs care in a timely manner.
"I lived in Heart Butte, so in order to get a same-day appointment, I had to come in at like five in the morning, and that's not even assured that you get one," she said. "It's not anybody's fault. That's just the way it is. We're not taking over, we're just giving people a second option. Just like most towns have more than one clinic."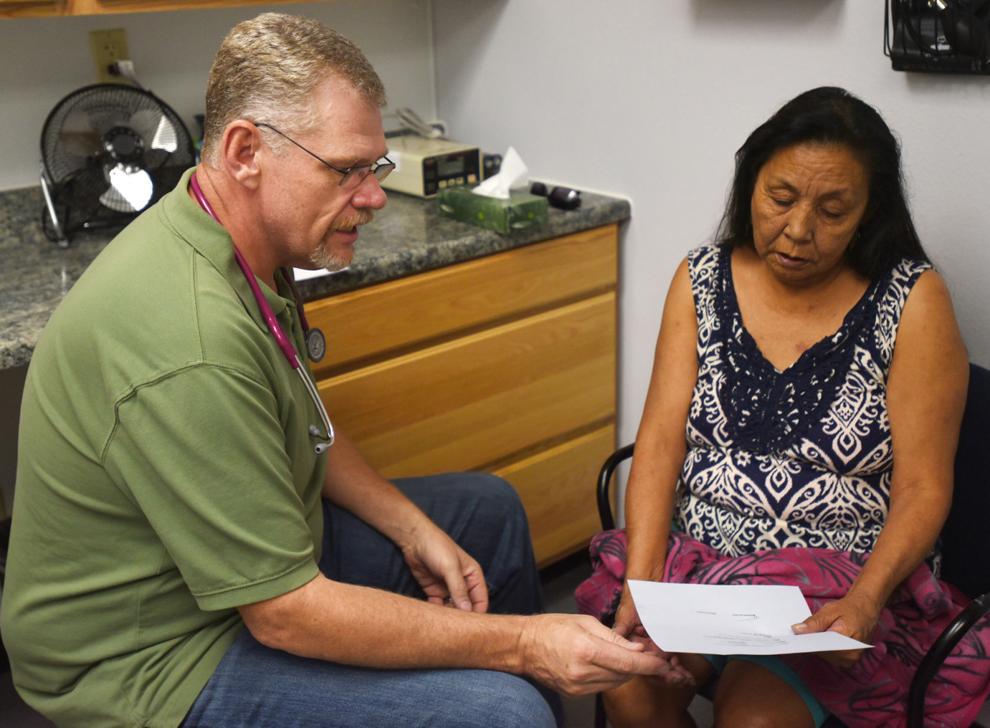 Tribal health directors also have increased their coordination.
Last month, the group met for the first time as a new organization, American Indian Health Leaders of Montana, an advocacy and technical advisory group supported by the Montana Healthcare Foundation. The effort grew out of a push for better collaboration with the state.
In 2014, a state health department report listed core strategies for targeting leading causes of death. The list was not tailored to serve Native Americans, on or off reservations, even though the report itself noted their "mortality rates are statistically significantly higher than white mortality rates." At the end of 2015, directors met with the governor and his staff, leading to the creation of the Office of American Indian Health this spring.
Mary Lynne Billy-Old Coyote, the former Rocky Boy health director, sees the focus of her new job as sparking collaborations that better bring state services to Native Americans and sharing tribal success stories with other rural Montana communities who sometimes face similar challenges accessing health care. Since starting in April, she said she has primarily been seeking input and ideas, but her first initiative is to try to build a program to provide training for the staffs of ambulance services.
"We have a complex problem. It's certainly not going to be solved easily," she said. "Certainly, clinical care is the core of it, health care and dental care, but social determinants are a piece of it, too."
"If we don't address violence, if we don't address sexual assault, if we don't address incarceration, if we don't address addiction, if we don't address education, if we don't address homelessness, our gains will be minimal," he said.
How exactly social, behavioral and historical factors influence health and the effectiveness of various treatment strategies will be a focus of research conducted over five years under a $20 million National Institutes of Health grant awarded last month to Dr. Allen Harmsen of Montana State University and Dr. Bert Boyer from the University of Alaska Fairbanks, along with partners at the University of Montana and Blackfeet Community College. Most of the funding will go to research projects. The first round of proposals will be reviewed later this year. The rest of the funding will provide training for the teams selected, most of whom likely will work in health or social services but not as doctors.
"We're really doing research that directly asks questions about how to improve the health of Native people," Harmsen said. "Many times an intervention, even though it might be evidence-based already, has been effective in other populations but hasn't shown to be effective in Native populations."
Treatments and drugs prescribed by doctors often have been studied and developed using populations that were largely white. That research sometimes misses genetic, environmental or cultural factors that limit the effectiveness of those treatments for other groups. The end result is that doctors sometimes just don't know how best to help their patients, nor do public health officials know the best ways to prevent diseases.
Doing medical research to find those answers can be a testy subject in many Native American communities.
In some cases, researchers have parachuted in to collect blood, saliva or hair then never returned to present their results, sometimes using the samples again and again for inquiries that participants say they did not know about. Other times, the results were presented without cultural context or actively sought to discredit oral histories. Or, as was the case at some IHS facilities decades ago, patients did not even know they were subjects. Sometimes for cultural reasons, but often just as a matter of basic respect, those incidents fueled distrust.
"That huge distrust of the outside, it really creates a barrier to a lot of progress," Kipp said. "That's holding us back."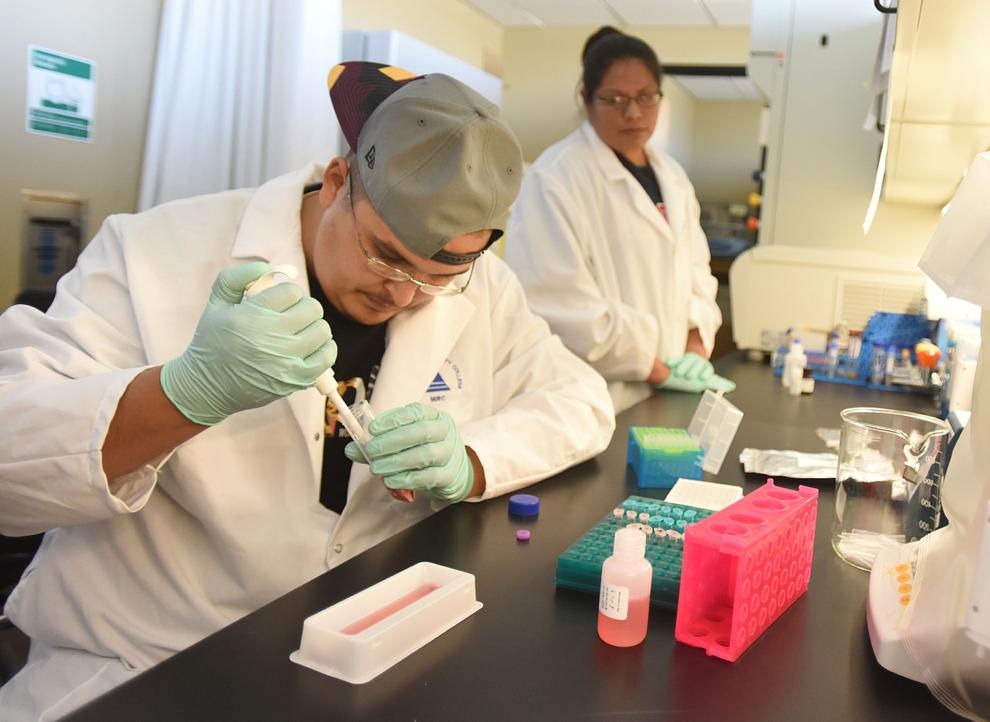 Today, most tribal governments run their own independent review board for researchers wanting to do studies on their land. Just like the panels at universities, the boards review and approve the methods of study on human subjects.
Having tribal partners can help give researchers a solid footing. Having them actively involved in the work itself is even better, Harmsen said.
Because of its status as an emerging research college – It's unusual for any two-year campus to do tests on human subjects – Blackfeet Community College will be a key partner in the NIH grant. As a tribal institution, Native communities might be more likely to trust its labs to handle sensitive samples.
"What we can do here, and not anybody else can do, is we, as Blackfeet students, can say, 'Look, we're the same. You can trust us. This is our data. Our study. Our saliva,'" said Kipp, who is Blackfeet. "The samples are here, on our land, and you can trust us. Because we're you."
Fellow student and junior researcher Dannette Spotted Horse said another unique advantage of researching in their own community is that they can start to understand how cultural practices work technically. She said it could empower the tribe to embrace traditions whose healing power the outside world sometimes discredits as hooey.
"They can't argue it once it's in black and white," said the 26-year-old member of Crow Nation who is adopted into a Blackfeet family.
"That's something we're actually working on today. This is the post test of the salivary cortisol of a sweat lodge right here," he said, gesturing to a clear plastic ELISA plate filled with vials from a pilot project looking at the effects of a sweat on people with post-traumatic stress disorder. "That can never be done anywhere else. There'd never be the trust for it. Never the right for it."
The biomarker research is only in its second year and the students are not sure what they'll find. Whatever causes of disease or successful treatments they do discover will not just give them pride because of the papers they'll publish or the presentations they'll make at research conferences. The stakes are personal.
In a three-week span this summer, Kipp said 27 people on the reservation attempted and 8 completed suicide. Of the eleven people who made up the first class of student researchers with Kipp last year, just two remain in the lab. Two of those people died from substance abuse.
"The reality is here," Kipp said. "We're a part of the community. We're doing the best we can."
"That's the opportunity we have," Spotted Horse said. "That little tiny seed of hope that we will find something that will lead to programs and infrastructure to help future generations."