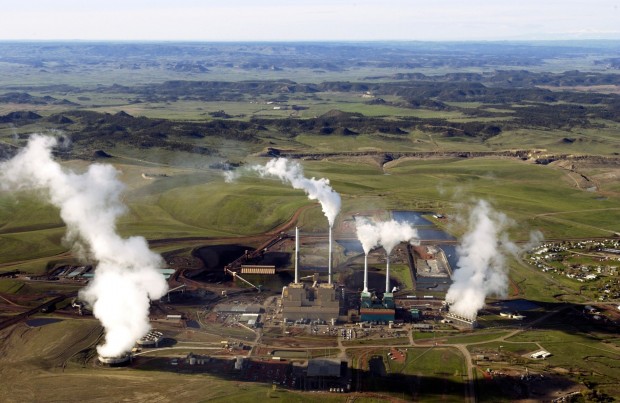 HELENA — The Obama administration's new draft rules to reduce carbon emissions evoked strong, divergent reactions Monday in Montana, with coal industry supporters condemning the proposed rules and others calling them a good first step toward addressing climate change and global warming.
Bud Clinch, executive director of the
Montana Coal Council, said the new rules are "nothing but bad news for the coal industry," because they'll reduce demand for Montana-mined coal burned in power plants.
A spokeswoman for one of the state's leading environmental groups, however, said the rules, while important, are a "modest proposal" because they give the states flexibility and time to design regulations reducing carbon emissions.
"This is not a giant step forward, (but) it's really important," said Anne Hedges, program director for the Montana Environmental Information Center in Helena. "It's going to take years to sort out how this is going to work for Montana."
Gov. Steve Bullock's administration, which would help craft Montana-specific regulations under the proposal, also weighed in Monday, saying it will work closely with industry and others to craft a "made-in-Montana solution."
"We're going to work with (the coal industry) and all of the energy industries and come up with something that is right for us, and right for (electric) ratepayers," said Tracy Stone-Manning, director of the state Department of Environmental Quality.
The Environmental Protection Agency released its 645-page draft rules Monday, to reduce carbon dioxide emissions by 30 percent by 2030, compared to 2005 levels. Carbon dioxide is the primary greenhouse gas, which causes global warming and climate change.
While the nationwide target is a 30 percent reduction, the percentage reduction varies by state, depending upon how much each state relies on coal for power generation.
In Montana, the target is a 21 percent reduction, from 2,245 pounds of CO2 produced per megawatt-hour of electricity to 1,771 pounds per megawatt-hour.
Each state gets to decide how it will reach the goal. Possible steps include more production of renewable power, using less coal-fired power through energy efficiency programs, or burning coal more cleanly.
The EPA plans to finalize the rule by next year, but states won't have to submit their plans for meeting the goal until 2017.
Coal-fired power plants are a major producer of CO2 and produce a sizable chunk of the electricity generated in Montana. Yet Montana also has considerable amounts of hydropower and wind power.
NorthWestern Energy, the state's largest private electric utility, said about 25 percent of its base-load power comes from coal, with the remainder from sources like hydroelectric dams, wind farms and natural gas.
Claudia Rapkoch, a NorthWestern spokeswoman in Butte, said Monday the new rules underscore the importance of NorthWestern's current proposal to buy 11 hydroelectric dams — whose power would not be subject to the costs of restricting carbon emissions.
"We've known all along that this is what's coming in the form of future carbon regulation," she said.
The cost of coal-fired power the company will continue to use should be "manageable" under the rules, if that power remains a smaller piece of the utility's electricity pie, Rapkoch added.
Coal industry advocates and the state's main business lobby, the Montana Chamber of Commerce, blasted the rules Monday as damaging for the state's economy and ratepayers, saying they would drive up the cost of power and cause job losses in the coal industry.
"The Montana Chamber of Commerce joins the U.S. Chamber and other business advocates throughout the nation to oppose these egregious regulations with real-world economic facts and figures, not apocalyptic climate-change rhetoric," said Glenn Oppel of the Montana Chamber.
Clinch said the rules likely will lead to the mothballing of coal plants across the nation, cutting into the demand for coal and harming Montana's six coal mines, which employ 1,200 people, support thousands of other jobs and pay millions of dollars in state and local taxes.
The operator and part owner of Montana's largest coal-fired power plants at Colstrip also said the rules will be a "challenge" for such plants, but the company will be watching closely how the state may develop those rules.
"The EPA is proposing to allow each state some flexibility with regard to coal," said David Hoffman of PPL Montana. "There's a factor that makes it premature to say 'Yes we can,' or 'no we can't.'"
The Colstrip power plants sell electricity to utilities in Montana, Oregon and Washington.
Hedges, of MEIC, said predictions of job losses and higher energy costs because of the rules simply don't square with the facts.
Renewable-energy production and energy efficiency programs already have been "ramping up" in states across the country, including Montana — and they're proving to be less expensive for consumers, she said.
The new rules should help continue and encourage that trend, she said, saving consumers money and helping parts of the economy that suffer because of climate change effects like drought and other severe weather.
Advocates of the rules said it's clear that climate change harms many parts of the Montana economy outside of coal production.
"Our climate is changing; it's not something far off into the future," said Steve Running, a University of Montana ecologist and climate-change expert. "It's happening now, and we can see it looking at our declining snowpack, our beetle-killed and burned-up trees and our dry streambeds."