Sunlight soaked hay fields reflected off the blacktop of Highway 2 as a short, white bus carried passengers in one of the most rural regions of America.
The scene between Havre and Fort Belknap Agency is at odds with the image many people have of public transit: a large bus stopping every few blocks as it crawls around urban streets with riders grabbing overhead bars for balance when seats are full. In truth, thousands of Montanans use public transit every month, an increasingly common way to get from place to place in a state where it could take hours and a hefty gas bill to drive to the nearest shopping center or major hospital.
Excluding the transit systems in Billings, Missoula and Great Falls, just nine rural operators offered in-town or intercity rides to the general public in 2004. Today, the state has at least 37 federally funded public transit systems scattered from Ekalaka to Libby.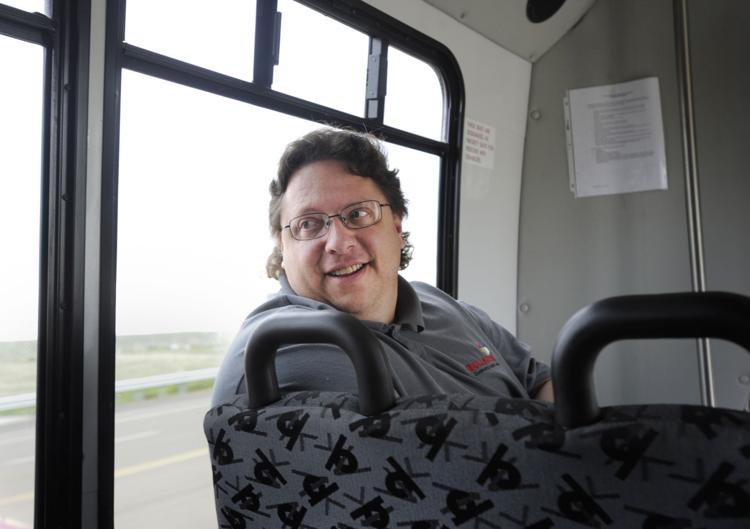 "I don't think a lot of people appreciate it until they use it, or until they need it," Bill Lanier said, sitting in the front seat of a Northcentral Montana Transit bus as it carried him 21 miles from a Havre grocery store parking lot to his job at Blaine County offices in Chinook. "I had thought it was mostly a convenience, but the more I use the bus the more I see it's a necessity for people."
Nationwide, transportation is the second-largest expense in family budgets behind housing. For most Montanans, getting from here to there is the costliest part of living in the state. Families with two working adults who earn the median household income — which ranges from $30,900 to $56,050 depending on region — spend more on transportation than housing costs in all but Missoula, Gallatin, and Lewis and Clark counties, according to an analysis of federal housing, transportation and Census data by the U.S. Department of Housing and Urban Development.
After the 2005 federal transportation bill nearly tripled the annual funding available to rural public transit operators in Montana, many systems that first offered rides to seniors and people with disabilities expanded to serve their whole communities, hoping to make education, employment and health care opportunities more affordable.
An essential ride
Some Montanans ride for convenience, finding fares cheaper than the gas to commute or preferring to let a professional drive in winter weather.
For others, public transit is essential. In addition to elderly residents — who make up a growing share of rural populations each year — some riders do not have a driver's license, a car, the money to buy gas or relatives who can provide rides.
"Without us providing that transportation," logging nearly 400 miles day on daily bus routes, Northcentral Montana Transit Director Jim Lyons said, "People don't come to jobs, don't go to hospitals, don't go to the services they need. They don't go shopping. They don't go to college.
"Life for them has just stopped," he said. "Put your keys on the table. How will you get to school? To work? To the doctor? To wherever you want to go? Most people don't get it until they think about it on a personal level."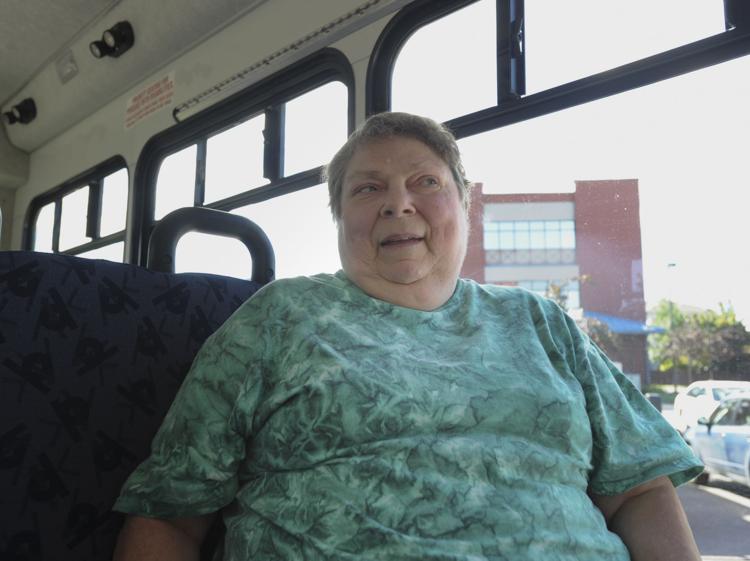 Martha Olson of Thompson Falls said she never thought about public transit until she needed it.
"I love to drive," she said. "It's simple until it's a necessity."
Shortly after her husband died, she fell and broke her hip, spending months at a Missoula rehab center. Even when she was released and cleared by the doctor to drive again, Olson was nervous, fearing that the lingering pain would slow her reactions or leave her unable to change a tire should she get a flat driving to faraway doctor appointments.
Sanders County Transportation gave her a worry-free way to go to the grocery store or the senior center for meals. Recently, feeling as good as she does these days, Olson still took the bus rather than drive to Missoula, where she received arthritis shots and visited the rehab center to sing hymns with old friends.
"I do it because I love to be amongst the people," she said. "My voice is pretty shot, but that's because I'm out of practice. If I take more trips, I'll get more practice."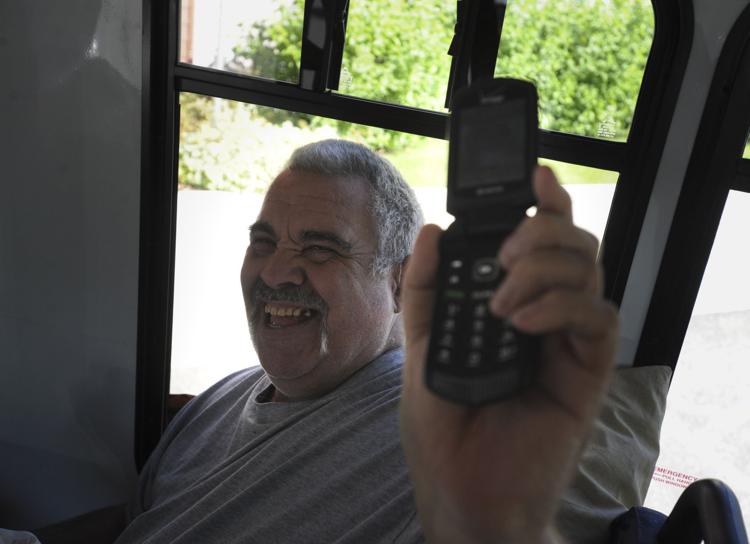 In the seat to Olson's right, Dan Herring reached into a Taco Bell bag for dinner. After a dialysis appointment that left him physically exhausted, he had to eat.
For 21 years, he has had blood filtered three times a week. When he first moved to Plains nine years ago to live closer to family, his brother drove him to Missoula, the nearest dialysis center.
"He works," Herring said, explaining why that didn't last long. "You know, I'm on a machine for five hours. It's a long time. He's got to take care of his family.
"I tried driving," he said. "I fell asleep and ran into the ditch. I almost ended up in the river."
Staff at the dialysis center told him about the bus and he's been riding ever since, becoming friends with the drivers, especially "Krazy Ernie" Franke.
Cost-effective ride
Even for those who can drive, public transit provides cost effective options for maintaining their quality of life or connecting with neighboring towns.
"If you can find work, you get minimum wage here," Sanders County Transportation Coordinator Ayla Blasius said. "You can't afford $30 in gas to go to Kalispell or Missoula."
Because of the distances to basic services and the need for longer commutes to find work in a place where the timber industry has collapsed, Sanders County residents spend a larger share of their income on transportation costs than anywhere else in the state, as much as 72 percent for people who live on less than $11,720 a year, the national poverty line. Even two-parent families who make nearly $70,000 a year reported spending about a third of it on transportation, according to the federal study.
The figures are similar in Hill and Blaine County where Northcentral Montana Transit operates. The service, launched by nonprofit social service organization Opportunity Link in 2009, has found that the bus makes it easier for residents to tap the collective resources of the Hi Line communities rather than being isolated in one.
"Now people are able to stay in their homes and not have to move to a bigger community," said Patrick Sanders, transportation coordinator for the Department of Public Health and Human Services.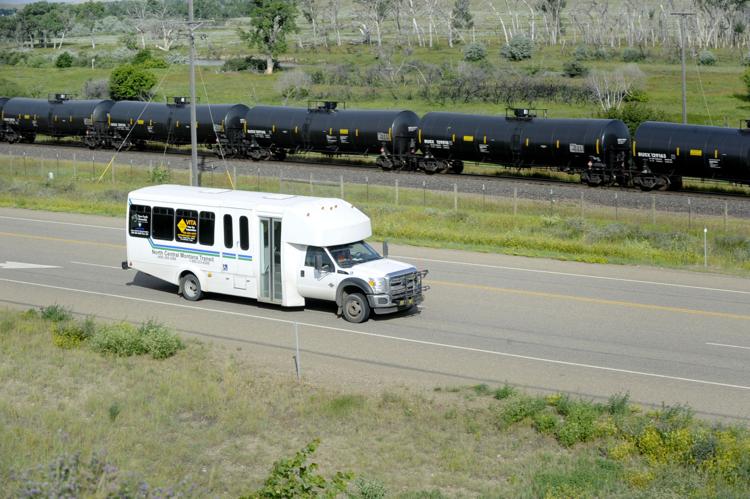 You have free articles remaining.
Keep reading for FREE!
Enjoy more articles by signing up or logging in. No credit card required.
Lyn Hellegaard of the Montana Transit Association agreed that mobility is too often overlooked when elected leaders develop policies and programs.
"For instance, the Legislature expanded Medicaid this last session," she said. "Well, you can expand it as much as you want but if the people who need it can't get there, what's the point?"
Operators also report that employers trying to recruit skilled workers to work at area colleges and clinics can offer more options for where to live. In Bozeman, Streamline transit runs a handful of commuter lines to neighboring towns where housing is cheaper for people who work in the city.
At the back of the Northcentral Montana bus, ecology professor Brian Grebliunas said the bus "is a selling point" for people moving to the area, including himself. The Illinois native aimed to find a teaching job in Montana or South Dakota because of his love for the outdoors. He was hired by Aaniiih Nakoda College in Fort Belknap Agency, but lives in nearby Chinook where he catches the bus.
"It's the best of both worlds and it saves a bunch of diesel fuel," he said. "I drive a bunch for hunting and fishing on the weekends."
Lanier said saving money and reducing vehicle wear-and-tear also are his primary reasons for using transit from Havre.
"To be honest, I probably wouldn't still work out here if it wasn't for the bus," Lanier said, also mentioning the stress of commuting during Hi-Line winters.
When he stepped off the bus in Chinook, nurse Joan Bell took his seat. She grew up in the area and returned about two years ago to work at the Indian Health Service clinic in Fort Belknap. The bus lets her live in Chinook with her family, she said, without having to forfeit big money for the commute or consider whether to move closer.
Despite a growing number of riders around the state, some communities still do not have public transit and challenges remain for existing operators.
Livingston, one of the largest towns without general public transportation, is considering whether to start a service and has formed an advisory committee. A decade ago, a similar group decided the town did not need one, noting a slew of small operators served seniors and people with disabilities.
"Last time we couldn't get anywhere. We just hit a dead end," said David Eaton, a member of the committee and director of Counterpoint, which provides disability services. "Maybe they were right that we weren't ready yet."
This time, Eaton says he's more hopeful. The formation of the committee was spurred, in part, by the construction of a new hospital building.
"It replaced the hospital that was right in a residential area of town," he said. "Now, it's across the bridge across the Yellowstone River. There's this thought that, 'Geez, with such a big entity not right in town, we have to make sure we have the infrastructure we need to make sure folks who need to get to the hospital can.'"
David Kack, mobility and public transportation manager for the Western Transportation Institute, said rural notions of public transit are changing, albeit more slowly in some places than others.
"What does it mean when you say mobility?" he said. "In the past it means you have a car and drive everywhere. In Montana and probably other rural areas, especially in the West, there's this thought of self-sufficiency that means we're all going to have our own car."
Attracting passengers
In Sanders County, Blasius hopes to increase the ridership of Sanders County buses, particularly among young adults. She says most residents assume the buses are only for seniors.
"The stickers on the side of the bus did say 'Senior Bus,'" she said, noting one has since been rebranded. "We don't have the money to advertise the way we'd like to."
It's often more expensive to operate a rural system than an urban one.
"The remoteness. You know, that's the big challenge," said Fort Belknap Transportation Director John Healy, who runs one of several tribal transit systems in the state and has worked on rural transit priorities with national organizations.
The math is simple: Fewer people need to go longer distances and hefty capital costs — like buses and maintenance barns — are split fewer ways. Operators end up having to balance quality and quantity of service, hopefully in a way that still makes transit useful enough for people to ride.
"With those distances and rather limited funding, you can only provide so many round trips a day," Kack said. "Do I serve a smaller service area more frequently or do I say I'll go further out to different communities but probably don't have the money to do that quite as frequently?"
Federal law requires public transit providers to coordinate schedules as much as possible so that riders can more easily string together rides across greater distances. Kack said the cost of making a connection to a neighboring service might sometimes be hard to make work in a financially responsible way that also is practical for riders' schedules.
Carrie Kissell from the National Association of Development Organizations also noted that federal rules which require services to report a tally of their riders, which factors into how much funding they receive, can actually discourage coordination.
"If everybody needs to also have riders then it's hard to give up your rider to another service," she said. "That, I think, is a policy barrier for doing it the most efficient way."
Although federal funding accounts for most of the operating revenue for most public transit programs in Montana, the grants require a local match to be released. Finding that money in the communities that need transit most can be difficult, Lyons said.
Hellegaard said the investment is worth it.
"Transit benefits more than just the person who rides," she said. "It benefits the family as a whole. It benefits businesses and the community as a whole."
"Without us providing that transportation, people don't come to jobs, don't go to hospitals, don't go to the services they need. They don't go shopping. They don't go to college." Jim Lyons, Northcentral Montana Transit Director