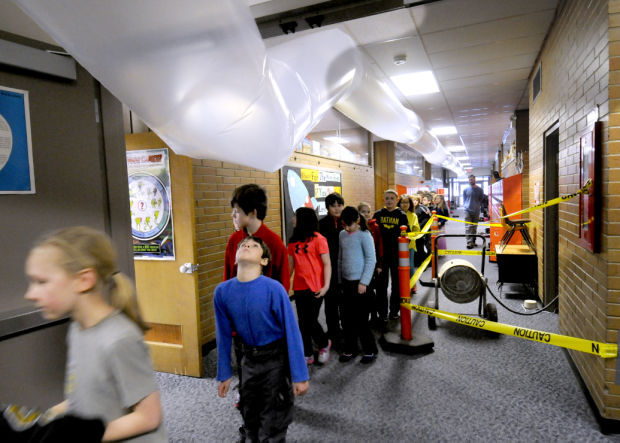 Missoula County Public Schools took an unusual step and closed schools Friday and Monday due to winter weather, but most schools won't have to make up the lost time.
As far as she knows, Friday marked the first time in five years that Missoula students got a snow day, said Hatton Littman, MCPS spokeswoman.
State requirements stipulate that students must receive 1,080 hours of instruction each year, Littman said.
Even with two days missed, students will receive the required amount, she said.
The exception is Rattlesnake Elementary School, whose students missed a day earlier in February when the building's boiler went caput. Conversations are ongoing with the Office of Public Instruction about how to make up the hours and no decision had been made by Monday afternoon, Littman said.
Each year, the school calendar has some flexibility built in, she said.
"In essence, there is a cushion but it's not an intentional snow day," she said, adding that days set aside for professional development can be changed to student days to make up for lost time.
District officials closely monitor information from the National Weather Service when deciding whether to cancel school, Littman said.
"In the case of this blizzard, we were actually tracking it a week before it happened Thursday," Littman said.
Ultimately, the decision to cancel school rests with Superintendent Alex Apostle, who takes into consideration recommendations from the district's transportation providers, forecasts, weather and road conditions, and consults with city and county road departments, she said.
On Thursday, the blizzard didn't move in until the afternoon, Littman said, when the NWS issued a warning indicating travel was not recommended. That factored heavily into the district's decision to cancel school.
Apostle made the decision to cancel classes and notified parents Thursday evening to give them time to plan for the sudden change in schedule, she said.
Both days, fewer kids attended Missoula Family YMCA child care programs, but more school-age children came to the Y to take advantage of the indoor opportunities to play basketball and pool and participate in other activities, said Jason Shearer, associate executive director for the organization.
Although child care centers closed early Friday, parents were especially thankful that the locations were open most of the day despite the weather, he said. On Monday, the programs ran as usual.
Whether the numbers of kids are normal or not, Shearer couldn't say. "It's not typical for school to be cancelled."
MCPS' decision to cancel again Monday left several people scratching their heads.
By then, the weather had considerably improved, but there was a chance of freezing rain and several side roads and roads in outlying areas of town were not in good condition, Littman said.
"And we have to take into account that we have students from all over the county coming into our schools," she said.
Building accessibility also is a factor. At Rattlesnake, snow drifts on the north side of the building have completely blocked windows, and operations and maintenance crews have been working to make sure that sidewalks, parking areas and entrances to all district buildings are cleared and safe, she said.
Also taken into consideration was the safety of students walking to school or waiting at bus stops. Some sidewalks have not been cleared and some students would have to wait for buses in unsafe areas, Littman said.
Some issues for students walking to school or waiting at bus stops are expected when school resumes, she said, suggesting students use the buddy system or parents accompany children until conditions improve.
Several sporting and other events were canceled Friday and Monday as well, and those will be rescheduled by each school accordingly, Littman added.
Feedback from parents has been overwhelmingly positive about the decision to close schools, she said. For the most part, they seem to be thankful to have been notified Thursday night and to have their kids home on a day when an avalanche struck in the Rattlesnake Valley.
A few high school students expressed concern about the decision to have school Thursday because they felt driving conditions were unsafe, Littman said, adding that students who are worried about road conditions can always ride buses manned by professional drivers.
The majority of people who weighed in on the Missoulian's Facebook page Monday favored MCPS' decision.
"Looks like the weather has not been as bad as originally predicted. But probably it's better to err on the side of safety," Meg Lavold Henderson wrote.
Lindsey Martin shared that she had to take an unplanned day off work, but that she didn't mind. Her kids spent the day building forts and digging holes in the snow.
"I personally think the schools' call was correct for what was predicted. … Better they'd be wrong this way compared to having been wrong sending them to school in freezing rain and dangerous roads," Martin wrote.
Several people commented that roads in their areas of town remained unplowed Monday.
"The bus route that goes by our house still has not been plowed and we are in the center of town. Between that and the roundabouts, it's a driving nightmare," Kim Clouse McGuire wrote.
This week's forecast calls for potential flooding as snow melts, but school is planned for the remainder of the week, Littman said Monday afternoon. "But again, we'll have to keep our eye on road conditions and safety."