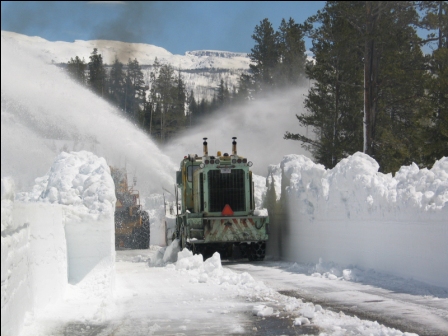 MISSOULA — National Park Service Director Jonathan B. Jarvis issued a memo Friday detailing the scope of a 5 percent across-the-board budget cut and the damaging effect it will have on the already beleaguered agency.
The automatic budget cuts will force delayed openings at Glacier and Yellowstone national parks, which must slash $682,000 and $1.8 million from their respective budgets, while gateway communities and the local economy will suffer.
To help meet the reductions, 900 permanent park service positions will not be filled. In an organization with 15,000 permanent employees, 900 vacant jobs will have a "profound effect," Jarvis said in the memo, which went out to all National Park Service employees.
"Every activity will be affected. Some impacts will be immediate, others will accumulate over time," he wrote.
Jarvis explained that fewer law enforcement rangers and U.S. Park Police officers will mean lower levels of protection and longer response times. Fewer maintenance personnel will mean that parks may have to close facilities when breakdowns occur – and that the $12 billion maintenance backlog will continue to grow. Fewer management and administrative personnel can translate into lower levels of accountability and oversight, he wrote.
"Our investments to control invasions by exotic plants and animals will be wasted as they regain toeholds in parks," he wrote. "Our community support programs will reduce grants and technical assistance to states. Uncertainty about access to everything from interpretive programs to facilities could send visitors elsewhere, with impacts to entrance fees, concession revenue, and the tourism economies in gateway communities."
The agency will hire more than 1,000 fewer seasonal employees for the 2013 fiscal year, including firefighters and search-and-rescue crews.
"Seasonal employees are our utility infielders, the 'bench' we turn to when fires break out, search and rescue operations are under way, and every other collateral duty," Jarvis wrote. "Many of these folks return year after year. They are the repositories of amazing institutional knowledge."
A freeze is in place for all hiring with the exception of summer seasonal hiring within the "95 percent plan" and a ban on all nonessential travel has been implemented, while permanent positions are subject to furloughs.
To accomplish the 5 percent cut, officials at Glacier National Park have proposed postponing the opening of Going-to-the-Sun Road by two weeks – a delay that Interior Secretary Ken Salazar estimated would cost the local economy $1 million per day in revenue.
At Yellowstone, snowplows won't open the 10-mile stretch of U.S. Highway 212 between Cooke City and the Chief Joseph Scenic Highway until May 24. The Beartooth Highway, a popular route that connects Cooke City and Yellowstone to Red Lodge, will likely open June 14 instead of on the Friday before Memorial Day.
Jarvis emphasized that national parks are powerful economic engines for adjacent communities. In 2011, visitors generated $30.1 billion in economic activity and supported 252,000 jobs nationwide, according to a peer-reviewed report released last month by the National Park Service.
The statistics for 2011 are based on the spending of nearly 279 million national park visitors. More than one third of that total spending, or $13 billion, went directly into communities within 60 miles of a park, Jarvis said. The numbers are on par with previous years.
The Park Service report is done on an annual basis and is prepared in conjunction with Michigan State University. It shows that 1,853,564 visitors passed through Glacier's gates in 2011 and supported 1,337 jobs. In 2010, Glacier Park's centennial, more than 2.2 million visitors spent almost $110 million in surrounding communities. Spending that year supported 1,695 jobs, the study shows.