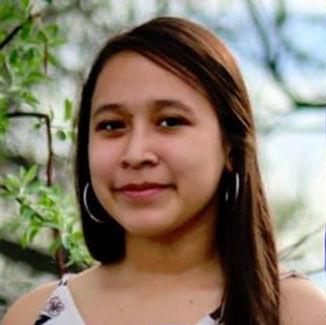 The Montana Department of Justice is asking for the public's help finding a 14-year-old girl last seen in Busby who may be in danger.
Henny Scott, 14, is described as a Native American girl with brown hair and brown eyes, according to a Wednesday press release from the DOJ. She is 5'1" tall and weighs about 115 pounds.
Scott was last seen in Busby on Dec. 13 at 8 a.m. and is described in the press release as a runaway. She was wearing a black Columbia jacket, a gray Nike hoodie and blue jeans when she was last seen, according to the DOJ.
She may be injured and was possibly heading to Hardin, the release states.
Those with information about Scott's whereabouts are asked to call 911 or Crow Bureau of Indian Affairs law enforcement at 406-638-2631.
The search continues for a 14-year-old Lame Deer girl last seen in Busby.
Volunteers gathered west of Lame Deer on Friday at Muddy Hall to the look for Henny Scott who was last seen in Busby at 8 a.m. on Dec. 13.
Scott is Native American, stands 5'1" tall and weighs about 115 pounds. She has brown hair, brown eyes and a mole on the bridge of her nose. She wore a black Columbia jacket, gray Nike hoodie and blue jeans when she was last seen.
At least initially, officials said they suspected Scott might be traveling to Hardin and was possibly injured, though the nature and cause of the injury weren't revealed.
Details about Scott's disappearance have been slow to surface. Montana's Department of Justice circulated a "missing or endangered person advisory" on Dec. 26, nearly two weeks after she went missing. The advisory ended Dec. 27.
Local, non-federal, law enforcement weren't familiar with the specifics of the report Friday. The Big Horn County Undersheriff said he wasn't aware that Scott was thought to be headed to Crow Indian Reservation, or Hardin.
The Bureau of Indian Affairs office in Crow Agency offered no new information on the disappearance and deferred all questions to the officer in charge, who did not respond.
The volunteer search party Friday was organized by Theresa Small of Northern Cheyenne Disaster and Emergency Services.
Acting Tribal President Conrad Fisher offered administrative leave to any tribal employee who joined the search, encouraging them to sign up.
Small reported on social media that search party numbered 20.
Native American women in Montana disappear at an alarming rate and are rarely found. At Congressional hearing Dec 12, Montana U.S. Sens Jon Tester and Steve Daines pointed out that two dozen Native American women in Montana have disappeared in 2018. Only one was found alive, another was found dead. Scott's disappearance, which occurred the day after the hearing, was not included in the discussion.
"We need to know what's happening and what exactly can happen to solve this problem. Because these are people, these are families, these are communities that our law enforcement agencies need to look out for," Tester said at the hearing.
"Where's the problem? Is it with BIA, is it with the FBI, is it with tribal law enforcement? Why are we not finding these people? We have got to find a solution to this. We have to."
The hearing included testimony from Kimberly Loring-Heavyrunner, whose sister, Ashley, went missing in 2017. Daines pointed out that Ashley was missing for two months before the Bureau of Indian Affairs started investigating.
"Does it seem like protocol is being followed when there was a two-month lag time between when Ashley went missing and when the case began as a missing person?" Daines asked the BIA.
Two days after Kimberly Loring-Heavyrunner testified, the FBI announced that human remains had been found on the Blackfeet Indian Reservation and would be tested for identification.