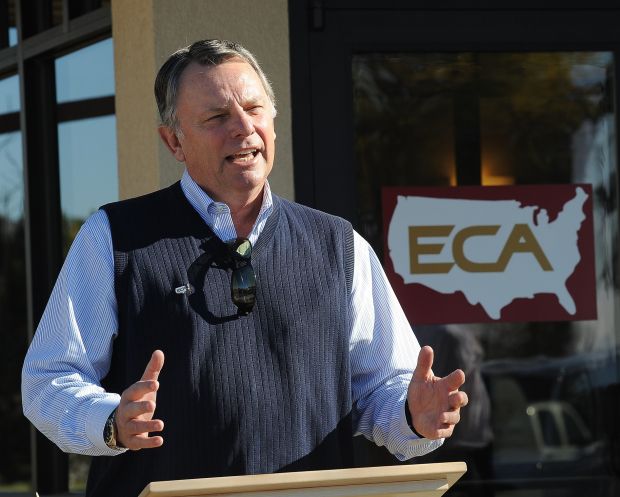 Energy Corp. of America, the West Virginia-based oil-and-gas company that's promised to bring the Bakken to the Beartooth front, has an environmental record that concerns area landowners.
In Pennsylvania, ECA has been fined more than $90,000 for violations ranging from fouling a trout run to discharging hazardous waste and not meeting administrative requirements.
The corporation has also faced two lawsuits, one from property owners for breach of contract and a class action suit filed by mineral rights holders over royalties.
"My major concern is the Beartooth Front area is very sensitive environmentally," said David Katz, a Stillwater County property owner who has been blogging about ECA. "We're talking about a pretty pristine place in terms of air quality and water quality, wildlife."
Members of the Carbon County and Northern Plains Resource Councils raised the issue of ECA's Pennsylvania violations on Thursday in Billings at Montana Board of Oil and Gas hearing.
The board took testimony before approving an ECA drill permit on Hunt Creek a few miles east of Belfry.
ECA didn't address the violations during the hearing, but in a letter to the Billings Gazette, the company was insistent that it had an "exceptional environmental record," a statement it has repeated since announcing last October that it could potentially drill 50 wells along the Beartooth Front, with additional wells in the Big Horn Basin, mostly in Wyoming.
CEO John Mork suggested his company could bring the Bakken to the Beartooths, which excited some, but raised concern among neighbors of potential drilling sites.
"It is also important to keep in mind oil-and-gas development is an industrial process. And as with any industrial process, there are risks," said Jennifer Vieweg, an ECA spokeswoman based in West Virginia. "However, these risks can be, and are, successfully managed. ECA goes to great lengths to avoid any releases to the environment and we employ the highest level of safety and environmental standards across our operations."
According the Pennsylvania Department of Environmental Protection, between January 2000 and July 2013, ECA paid $121,978 in fines, including $57,800 for health and safety violations and $64,178 for administrative violations.
Hank Lischer, who owns property near Nye, said that while the Pennsylvania violations are concerning, he's also worried about the state of Montana's ability to monitor oil-and-gas wells for environmental and safety violations.
The state has a small number of regulators who track wells, increasing the likelihood that violations would go unnoticed or under-reported.
You have free articles remaining.
What Lischer would like to see is a well-crafted "good neighbor" agreement between local property owners and ECA, something that would assure neighbors were kept up to speed on what was transpiring at drill sites, keeping local energy development as transparent as possible.
Nye-area neighbors have had such an agreement with the Stillwater Mine for roughly 15 years. The agreement has allowed parties to address everything from water quality to worker bus traffic to and from the mine.
"What I would like to see is responsible oil and gas activity and the very best management practices for oil-and-gas used along the Beartooth Front," Lischer said.
Vieweg said ECA is using best management practices and has rigorous monitoring standards for its wells.
"ECA goes to great lengths to avoid any releases to the environment and we employ the highest level of safety and environmental standards across our operations," Vieweg said.
"We monitor sites regularly throughout our operations and all producing sites are inspected at least weekly, and oftentimes more frequently, to ensure they are functioning properly. As an additional safeguard, our sites are outfitted with electronic monitoring equipment, which immediately notifies trained staff if a well requires specific attention. In the unlikely event of a potential release, all of our producing sites are outfitted with secondary containment, specially-designed to prevent releases to the environment."
Court records in Pennsylvania indicate there have been problems between ECA with landowners and with people owed royalty payments.
In 2011, Louis and Bessie Vecchio, of Dunkard Township, Pa., accused ECA of ignoring the terms of its contract with the Vecchio family. In their lawsuit, the Vecchios say they gave ECA permission to build one gas compressor on their property.
Used to pump gas into pipelines, compressors are a common part of the Pennsylvania gas boom, but they can also be extremely loud. The Vecchios' agreement with ECA allowed for a single compressor housed in a soundproof building. ECA installed five compressors, according to the lawsuit. Two were inside the soundproof building. The others were outside without soundproofing. ECA also used more land than the Vecchios agreed to, according to court documents.
As the lawsuit played out, ECA made plans to boost its compressor count on the Vecchios' land to eight.
Ultimately, ECA settled the lawsuit. In agreeing to the settlement, the Vecchios also agreed not to talk about their experience with ECA.
The second Pennsylvania lawsuit against ECA involves royalties allegedly owed to multiple plaintiffs, who have been granted class action status.
Owners of several oil and gas rights leased to ECA contend the company reduced royalty payments deducting marketing fees and pipeline service charges that shouldn't have cut into payments. The lawsuit is ongoing.
ECA wouldn't comment on the lawsuits, but Vieweg said, "The courts are an important component of our governmental structure and when two parties cannot agree, it is not unusual to seek relief through the court system."