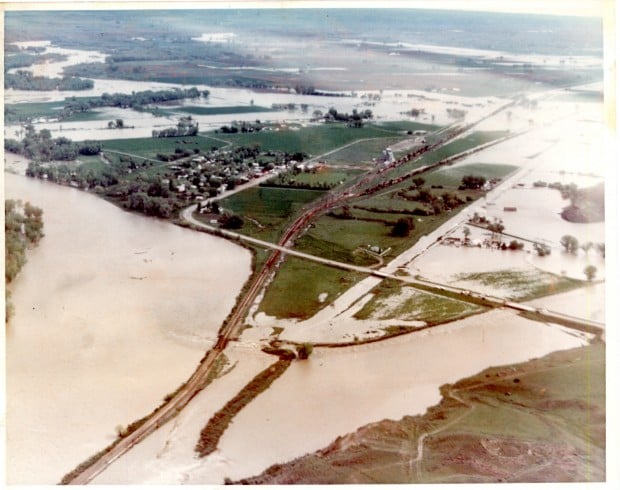 Thirty-three years ago, when Jim Kraft was new on the job as Yellowstone County's disaster and emergency coordinator, a flood of presidential disaster declaration proportions poured from Yellowstone River tributaries.
"1978 was the worst flood I remember and it's very similar to what's happening now," said Kraft, who retired last year after 35 years on the job. "After the first rain, then the second, I thought, 'Uh-oh, this is setting up just like 1978.' "
Like this year, the rain just kept coming. As of May 31 this year, 12.99 inches of rain had fallen in Billings. At the end of May in 1978, 15.07 inches had fallen — the wettest on record.
David Yarlott remembers that epic flood, too. He was living in Lodge Grass, watching the Little Bighorn River rise above the railroad tracks and flood through town. He couldn't drive out, so he walked 10 miles to his folks' home in the Benteen area before making his way into Crow Agency to pick up supplies.
"I would say that as far as floodwater, this one was higher," he said. "It's impacted more people this time."
Yarlott flew the area with Crow Tribal Chairman Cedric Black Eagle late last month, surveying the bloated rivers and creeks that thread through the reservation.
"It's spread out quite a bit further this time," he said.
In the wake of that huge flood three decades ago, changes made in infrastructure helped lessen the damage this time around, he said. Bridges, for instance, were rebuilt a little higher.
Jane Lix, who has lived in Lodge Grass most of her life, remembers the 14 inches of rain that drenched the town and flooded the creeks in 1978. Water levels this spring were comparable, she said.
"The thing about 1978 that was worse was that the sewer plugged up and it wasn't draining," she said. "Sewage backed up into the houses."
Statistically, the Little Bighorn flood of 1978 and that of 2011 are close. The Little Bighorn River gauge near Hardin, the nearest to Crow Agency, hit its highest reading ever at 12.32 feet on May 23. On March 21, 1978 — the previous record — the gauge read 11.78 feet. Flood stage is 8 feet.
Residents of Ryegate, depending on their age, remember other years in which the Musselshell River flowed right through the small community. Leonard Schladweiler, who on May 25 had a sump pump clearing water from the basement of his home three-quarters of a mile outside town, said this is the worst he has seen in his 84 years.
"In my lifetime, I've seen three floods of this magnitude," he said. "On the surface, this one looks like the daddy of them all."
Because of changes in land management and infrastructure over eight decades, the dynamic of the flood is probably different, with some areas getting more or less flooding than before, he said.
National Weather Service records show that flooding this year at nearby Harlowton is the worst on record. The Musselshell reached its highest recorded crest there May 25 at 10.22 feet. Next closest was a 10.01-foot crest on June 20, 1975.
At Roundup, the Musselshell ran as high as 2 feet above its previous record flood stage, inundating houses and swamping businesses on the south side of town. It flowed over Highway 87 a foot or two deep.
It crested at about 14.75 feet. The previous record was 12.89 feet set in 1975.
This year's flood may not have affected as many people because some of the homes flooded in 1967 were abandoned and remain unoccupied, said Sue Olson, a Musselshell County commissioner.
On the upper Yellowstone, 1996 and 1997 were epic flood years, especially in Livingston. Presidential disaster declarations were granted in both years, as in 1978.
Livingston's worst flooding on record was 1997, with a crest of 10.72 feet. It was preceded in 1996 by a crest of 9.97 feet, the second-highest flood level recorded there. Flood stage on the Yellowstone there is 9 feet.
Billings also experienced its worst recorded flood in 1997. Flood stage here is 13 feet. On June 12, 1997, it rose to 15 feet. The Yellowstone was at 13.92 feet here May 25, its third-highest crest.
The Yellowstone at Miles City and Forsyth also reached crests last week that ranked as third-highest on record for each city.
The roaring river dominates conversation in Glendive.
"Everyone I've talked to, young or old, said this is the most water they've ever seen," said Dawson County Disaster and Emergency Coordinator Mary Jo Gehnert.
The Yellowstone was about 3 feet above flood stage at Glendive on May 25, something the town has seen many times in its long history. But it is flowing at an unprecedented volume. On May 25, 110,000 cubic feet per second was flowing by the river gauge. The previous high was 59,700 cfs in 1904.