The number of U.S. power plants burning Montana coal is in steep decline as cheap natural gas and age lead to closures, according to a report published this week by state legislative analysts.
As many as 19 power plants that once burned Montana coal have closed since 2012, the Montana Legislative Services Division reports. Another 18 power plants have published plans to close, or partially close, by 2030.
Observers say the power plant shutdowns will profoundly change Montana's energy economy and require state leaders to consider what measures, if any, should be taken to keep Montana in the energy export business. Power plants burning Montana coal numbered 50 in 2012, but are expected to decline to 14 by 2030.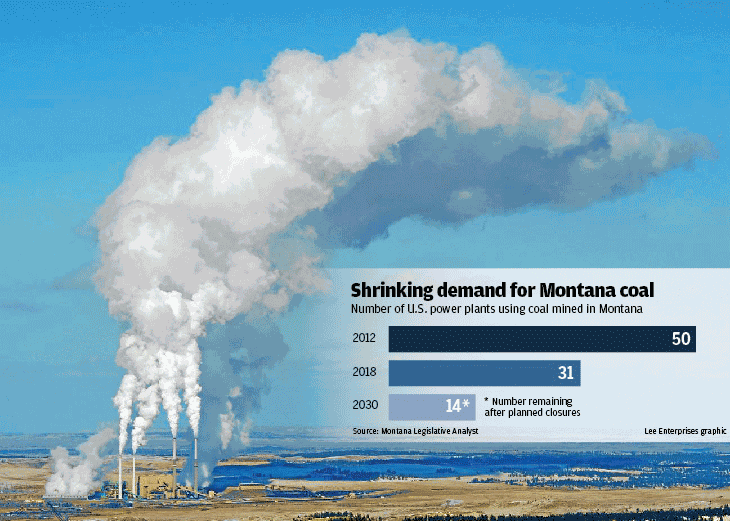 The state Legislature's Environmental Quality Council will take up the report at its meeting Wednesday. The report was authored by analyst Sonja Nowakowski.
There was planning at the state level and regionally as Montana became a coal energy exporter 40 years ago, said Mark Haggerty of Bozeman-located Headwaters Economics. Western governors collaborated on regional energy policies. State leaders established taxes that assured there were coal benefits to Montana communities, including money for local infrastructure projects.
The wind down of the coal energy economy has been less structured.
"I think the difference between then and now would be that we don't have a similar vision. We don't know what end of life looks like. We don't know what comes next," Haggerty said. "There's no regional coordination. If anything we have been divided among ourselves."
In Washington and Oregon, the two states where most of the energy from the four-unit Colstrip Power Plant is consumed, lawmakers under public pressure to force utilities to abandon coal energy began crafting legislation two years ago that adversely affect Montana's energy economy. Oregon's utilities with ownership shares in Colstrip are now expected to cut coal power from their supplies. They face deadlines in the 2030s for doing so.
In Washington, the state's largest utility, Puget Sound Energy, has agreed to be financially ready by December 2027 to shutter Colstrip Units 3 and 4. Puget, which is the largest Colstrip shareholder among the power plant's five utility owners has also agreed to close Units 1 and 2 within five years in order to settle an air pollution lawsuit. Power plant stakeholder Talen Energy, of Pennsylvania, is part of the settlement to shut down the two oldest units, which it owns equally with Puget.
The Montana Legislative Services report reveals several large power plants in circumstances similar to Colstrip. The Sherburne County Generation Station in Minnesota, fed by coal from Montana's Absaloka Mine, plans to retire one of its three coal-fired units in six years and a second in by 2026. In 2016, the Sherburne power plant received 3.8 million tons of Montana coal, about 70 percent of the coal mined at Absaloka that year, according to Legislative Services. Sherburne is the nation's 16th largest generator of coal power.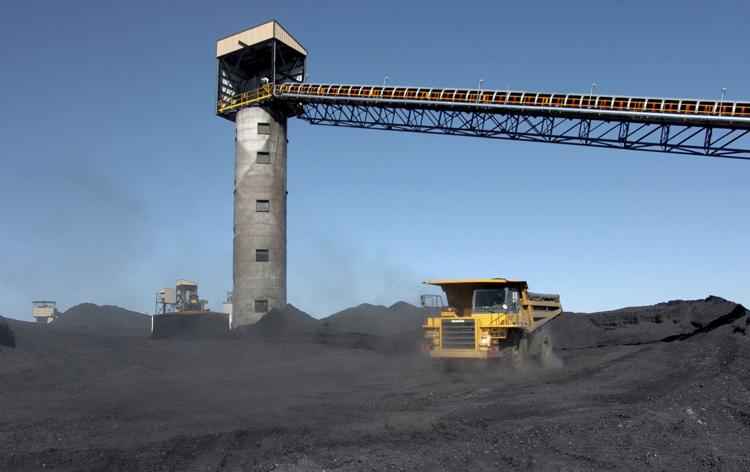 The TransAlta Power Plant in Centralia, Washington, which in 2016 received 2.5 million tons of Montana coal from Spring Creek Mine, will shutter one of its two coal-burning units in two years. The second unit will stop burning coal in 2025. In the future TransAlta will burn natural gas.
Despite declines in coal demand, the fossil fuel is expected to be important for U.S. power generation in the future, said Rick Curtsinger, spokesman for Cloud Peak Energy, which owns Spring Creek Mine. Curtsinger responded to The Gazette's questions by email.
"According to all reasonable projections, PRB (Powder River Basin) coal will remain critical to utilities meeting U.S. electricity demand for decades to come, but reductions in PRB coal demand are of concern to all producers," Curtsinger said. "Cloud Peak Energy has a diversified PRB mix of 8,400 to 9,300 Btu coal and a low cost of production, which will keep us competitive. We have also been encouraged by outreach from coal-fueled plants we have not historically supplied that are now interested in diversifying their supply base."
The Montana Coal Council, which represents the interests by all state coal mines, did not return phone calls made to its office over two days.
Power plants that burn Montana coal in other states are critical to Montana's energy economy. Three quarters of the coal mined in Montana in 2015 was shipped by train to utilities out of state, according the legislative report. Colstrip burned 90 percent of the coal that remained in Montana.
The tons of Montana coal mined annually has declined over the past decade, from 43.2 million tons in 2007 to 32.4 in 2016, the lowest point in the past 20 years. Southeast Montana is coal country and home to the Northern Cheyenne and Crow Indian reservations — communities that count on coal dollars.
Export sales to power plants in the Asian Pacific have created a new market for Montana coal in this decade. However at times Montana coal has been priced out of the markets of South Korea and Japan as cheaper coal from Indonesia and Australia fired power plants in the region.
"What this report should result in is the Montana Legislature recognizing that coal is in a long-term, structural decline. There's no changing that," said Derf Johnson, of the Montana Environmental Information Center. "If we are going to continue as an energy exporter, we need to have viable alternatives in place."
MEIC is one of several groups advocating the development of renewable energy projects in Montana, both for export and in-state sale.
The Montana Legislative Council report was requested by state Sen. Mike Phillips, D-Bozeman. Phillips did not return calls over two days.
Be the first to know
Get local news delivered to your inbox!