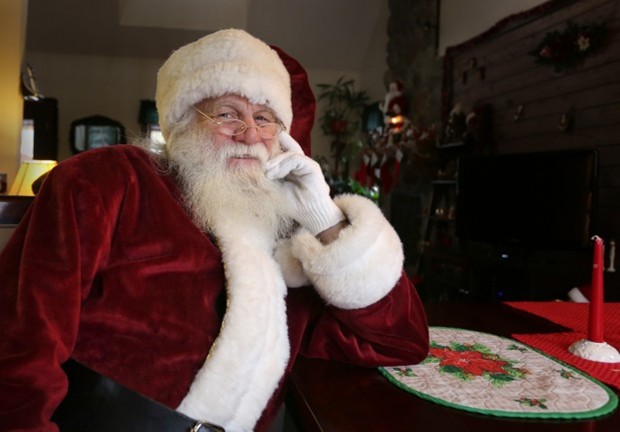 FLORENCE – It was a little more than 10 years ago when something magical happened in Charlie Jerke's life.
Just before Christmas, the husband of a Florence school music booster fell sick and couldn't play the part of Santa Claus at a nearby school.
Someone convinced Jerke that he'd do just fine as a fill-in for St. Nick.
So he slipped into the cheaply made suit and pulled on the fake wig and beard. He had no idea just how much that one act was about to change his life.
He'd retired from a career in public relations in the hospitality business where he'd been expected to wear a suit and tie every day. He'd settled into a quiet life in the Florence area.
Jerke was always blessed with the gift of gab. He loved being around both young and old.
"Back then, I never really had a vision that Santa Claus might be part of my future," he said, while sitting at his kitchen table.
All around his house were dancing Santa Clauses and Santas aglow with lights. A sign just above his garage proclaims: Santa's workshop.
His eyes almost twinkled as he remembered that first time when children filed into the room and saw him sitting there in that big red suit and pants with the fake black boots stitched on them.
"Meeting all those little people was just really something special," he said. "It made you feel good to know that you were playing an important part in making such an important memory."
So, when the next person asked if he could do it again, he said yes.
"Over time, I got tired of wearing that fake wig and beard," he said. "I actually hated it."
That may have stemmed from one chance encounter with a boy who let him know that he thought Santa was a fake. The boy pointed out the wig and beard and even the fake boots stitched on his pant legs.
"I told him to come closer, and I looked all around to make sure no one was looking," Jerke said again with a twinkle in his eye. "And then I pulled up my fake beard and showed him my real one underneath."
Jerke's hair had gone white overnight at the age of 35, and he'd always worn a short cropped beard.
"I told him that my beard had been caught in a tool when I was making toys," he said. "And that little boy ran over behind his mother's dress. He looked up at her, with eyes so wide, and said: 'He's real!' "
It wasn't long after that when he began to let his hair and beard grow long.
"Things began to escalate," Jerke said.
With the blessing of his wife, Candi, he had a Santa suit tailor made and entered the small world of the professional Santa Claus.
Did you know that there is a national Santa Claus Association? Every summer, members hold conventions in California and Tennessee.
There's even a Santa Claus school where rookies can learn proper etiquette and other fine points of being St. Nick.
Years ago, when Jerke was getting started on his professional Santa Claus journey, a longtime jolly old elf from Florida stopped by for a visit.
"He told me back then: 'Charlie, there's nothing that school could teach you. You have all the right stuff,' " Jerke said. "I knew what people needed and what they wanted to hear. I knew how to make them feel good."
For the last decade, that's exactly what he's done during the five weeks leading up to Christmas. He's the Santa Claus who greets families when Southgate Mall opens its season.
Every year, he finds himself in people's homes for special events and at schools and bazaars where children gather.
In the evening, he and his wife spend long hours handwriting letters of reply to children who sent notes to the North Pole.
"Sometimes those can be heartbreaking," he said.
He remembered reading one from a little girl who wanted a new dress and new shoes to wear for the school's Christmas program. She hoped too for a newer house for her parents.
He'd handed the letter to his wife, who pointed out the P.S. written at the bottom.
"It was written in crayon, and it blended in on the page," he said. "She had written: 'P.S. I would like for my daddy to love me.' "
The holidays can be hard on people.
The appearance of Santa Claus can make people forget their troubles for at least a short while. Jerke has seen that happen over and over again.
It's part of that magic that happens around Christmas.
"When I put on my suit, my wife tells me that I become a different person," he said, with a smile. "My eyes sparkle, and I feel good inside. I feel like I can make a difference, even if it's only for a little while."
"I don't know what it is about it," he said. "Everything else just seems to go away."
Even when the Christmas season fades and summer's sun returns, people can't help but smile when Jerke walks into the room with his long white beard and flowing white hair.
"I still get recognized," he said. "People are always stopping to ask me if I'm Santa Claus."
Sometimes he wears a T-shirt with the words: Santa is on vacation.
"I'm blessed to be him," he said, with a grin. "I'm glad that I am him. I'm glad that I can portray him. I'm glad that people see him in me."
"As long as my mind and body allow, I'll keep doing this," Jerke said. "It makes me feel like a rock star. It's a total blast for me."