MINNEAPOLIS — As Tom Therrien and Todd Green half-ran recently through the rugged Beartooth Mountains that divide Wyoming and Montana, they prayed for help. Their friend Brad Johnson had been attacked by grizzly bears, and Therrien and Green fretted he might be dead.
Another friend, Justin Reid, had stayed with Johnson, salving his many puncture wounds, while Therrien and Green backtracked for help through seven miles of wilderness.
This was the third hiking trip the Minnesota men had taken into the Beartooths. Friends through their churches, they came west for the exercise, the fresh air, the mountain vistas, the camaraderie and, perhaps, particularly for the fishing.
Rainbow trout were plentiful in the mountain lakes, where the men also caught cutthroat and brown trout, using flies and spinners.
Therrien, 48, of Corcoran, a business owner, and Green, 49, of Buffalo, a tech company executive, had good reason to pray for help. Along with Johnson, 48, of Plymouth, and Reid, 45, of Medina, they had driven nonstop from the Twin Cities, reaching the Clay Butte Lookout Trailhead about 9 a.m. Sunday, Sept. 9.
Stuffed with sleeping bags, tents, clothes and cooking gear, the men's packs weighed a hefty 60 pounds apiece. Yet with palpable anticipation for the five adventurous days that lay ahead, the men swung the provisions onto their backs energetically and began the long, mostly uphill hike toward Granite Lake.
Four hours later, Johnson, an ear, nose and throat physician, was about 100 yards ahead of his companions and out of sight when he was attacked. The elevation was about 9,500 feet and the air was thin. Catching their wind, the men had stopped from time to time to rest, and it was during one of these breaks that Reid, Therrien and Green heard a commotion.
"It was a unique sound," Reid said. "At first we thought it was an eagle or perhaps a hawk. Then we heard a human voice, and we said to one another, 'Did you hear that? Did you hear that?' Whatever it was, it didn't sound good."
Armed with canisters of bear spray, the men rushed up the trail, calling to Johnson, who didn't answer.
"Then we came upon Brad," Reid said. "It was brutal. The bears were 15 feet from him at full charge when he first saw them. He never had time to use his bear spray."
A Minneapolis Fire Department captain trained in emergency medicine, Reid, along with Therrien and Green, tried to get a handle on what needed to be done. Were the bears still nearby? Would they attack again? Punctured, torn, bleeding and in pain, Johnson was in shock, or soon would be. Without a cell signal, help was at least seven miles away, by foot, at the trailhead.
Options were discussed, none of them good. Ultimately, Reid said he would stay with Johnson, while Therrien and Green high-tailed it for the trailhead. Shorn of their packs and carrying only water bottles, bear spray and a whistle, the two men headed down the trail, their legs occasionally cramping from the rigors of what had already been a strenuous daylong hike.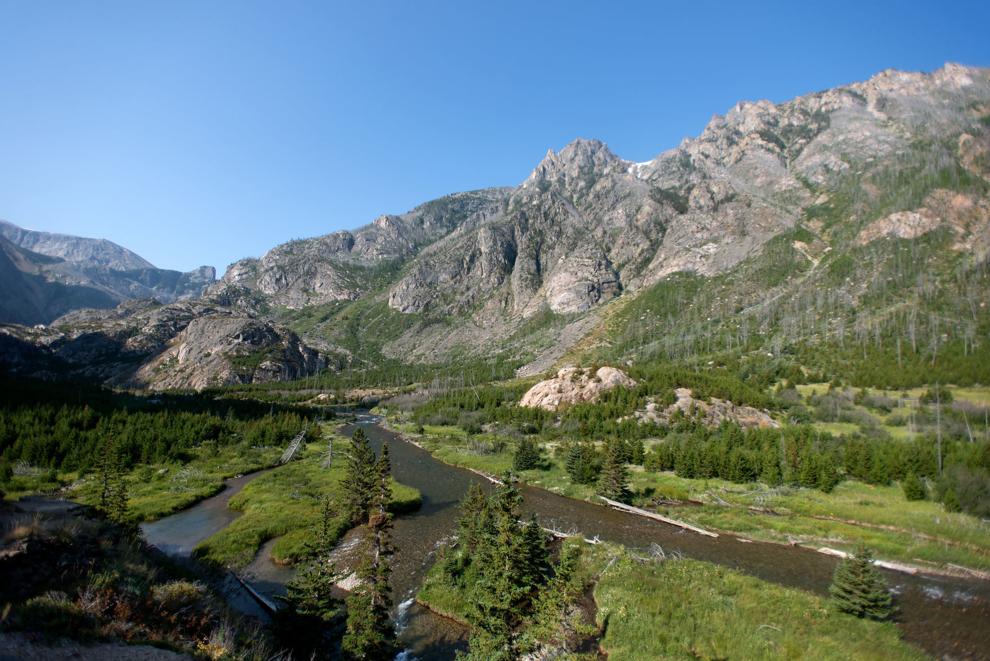 During previous trips to the Beartooths, only rarely had the four Minnesotans encountered other people. So there was little chance Therrien and Green would meet other wilderness travelers along the trail who could help.
Still, while rushing ahead, Green blew his whistle, hoping to alert someone.
Reid, meanwhile, having packed gauze into Johnson's wounds, worried the bears might return. "We have to move," Reid said, and while holding Johnson upright, he shuffled to what he considered to be a safer location about a quarter-mile away.
Making five return trips to the attack site to retrieve sleeping bags and other gear, Reid then spread a large white tarp to make their revised location visible from the air. He also laid a signal fire to light if an aircraft neared their position.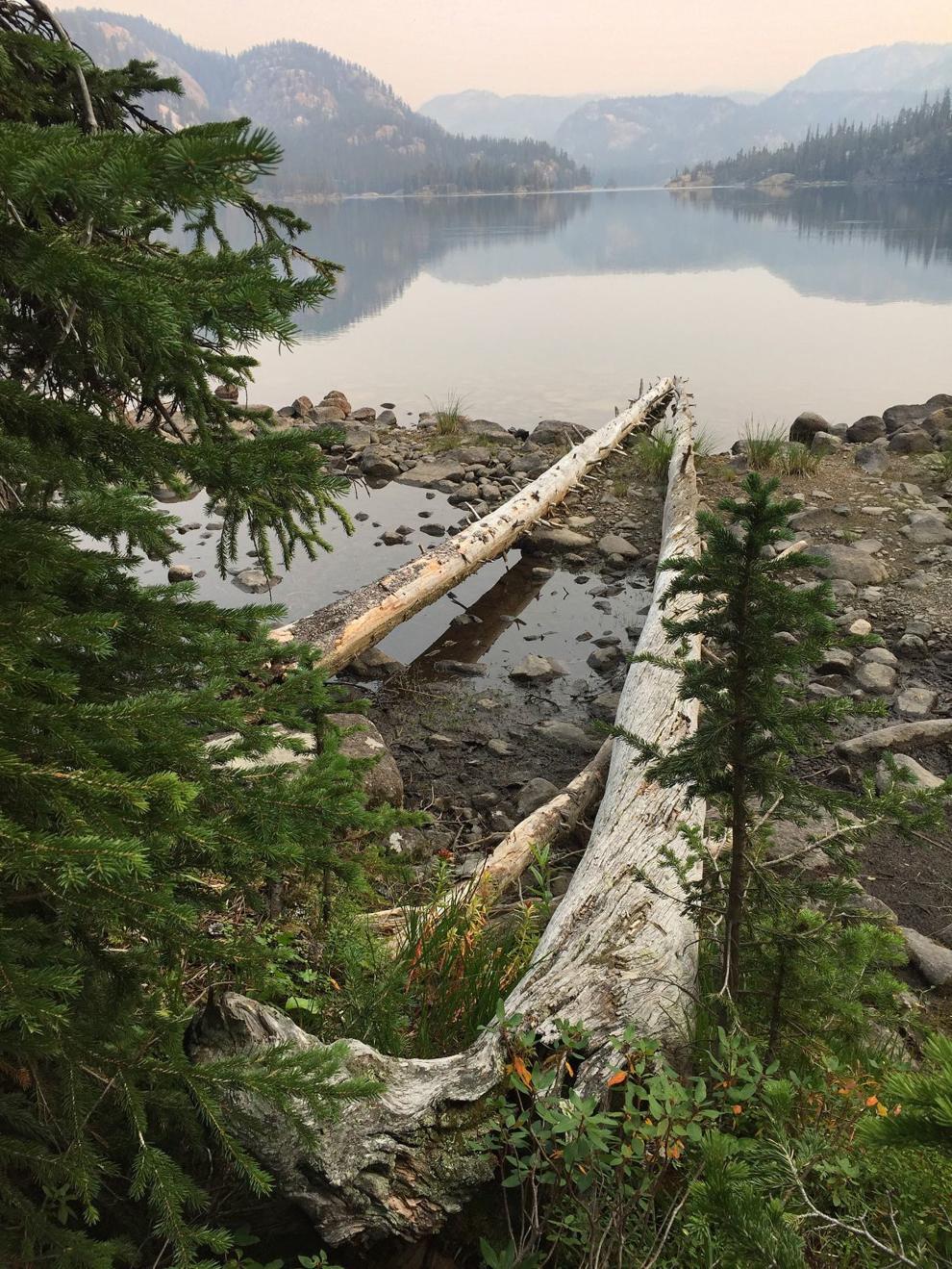 Conscious but wavering in shock's torpor, Johnson worried the odds weren't in his favor.
"He was in a death spiral," Reid said. "He said, 'I'm done. It's over.' I tried to keep him positive. I talked about how he and I had raised our families together. About his kids and his wife. About our kids' graduations and weddings we had to go to in the future.
"Then, about two hours into it, we started praying out loud. That's when something miraculous happened. A calm and peace came over us."
On the trail, Therrien and Green were still hours from reaching help — or so they thought.
"Tom was praying, too," Green said. "As we walked, he prayed, 'Please give us someone who can get help faster than we can.' "
A half-hour later, they encountered a husband and wife on the trail, with two dogs.
"We told them about the attack," Green said, "The woman literally said, 'I can get out of here for help faster than you can.' And she took off."
Green and Therrien would learn later the couple had almost raced to the trailhead, arriving there about 3:45 Sunday afternoon. They drove to the nearest phone and dialed 911.
"We got to the trailhead about 6:25 and a Wyoming game warden was waiting to help us," Therrien said. "He built a fire, and we stayed there listening to his (two-way) radio to keep track of what was happening."
Dispatched immediately upon receiving the 911 call, pilots of a search-and-rescue airplane and helicopter had no trouble locating Reid and Johnson. But the nearest spot the helicopter could land was a mile away.
"The country between where the helicopter landed and where Brad and I were was extremely rugged," Reid said. "But the air medics got to us and treated him. Then we carried him to the helicopter, and they took off with Brad for St. Vincent Hospital in Billings about 7:30 Sunday night. The helicopter was too small to take me."
Rolling out a sleeping bag and starting a fire, Reid slept in 10-minute intervals. Three hours later, a Wyoming Game and Fish Department rescue team arrived on foot. Turning back quickly, the rescuers and Reid exited the wilderness at 2:15 the next morning, covering a total of 12 mountainous miles, most of it in the dark.
"They put me up in a cabin, and the next morning we went in on horseback with pack mules to get our gear," Reid said. "Two bears were on the attack site when we arrived. But they left when we approached. One person stood guard while the rest of us gathered up the gear."
Johnson underwent emergency surgery when he arrived in Billings, and had a second surgery that Tuesday.
Rendezvousing in Red Lodge, Green, Therrien and Reid drove to Billings to be with their friend, who a hospital spokeswoman said was in good condition that Thursday afternoon. More surgery was scheduled last Friday for Johnson, according to his CaringBridge site online.
"The bear attack is still fresh in his mind," Reid said. "But his spirits are good. He's doing well."