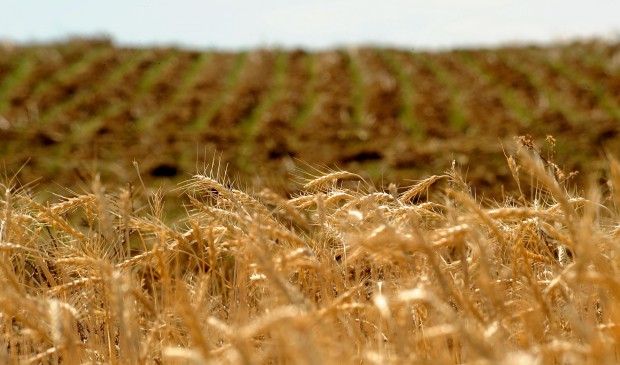 Farmers in Montana and North Dakota say neither the government nor agri-giant Monsanto have done enough to safeguard wheat fields from genetically modified crop contamination.
The comments come one week after federal officials announced that an Oregon farmer had discovered unauthorized, genetically modified white wheat in a fallow field, which he had sprayed with glyphosate, a Monsanto-created herbicide marketed as Roundup. The herbicide should have killed the wheat, but didn't.
Tests revealed the rogue wheat had the genetic trait for Roundup resistance. Monsanto, in partnership with universities in several states, including Montana, developed genetically engineered Roundup Ready wheat more than a decade ago. The test plots, which numbered 100, were staged in secret locations across 16 states. The grain was supposed to be destroyed, and was never approved for commercial planting. Foreign buyers of U.S. grain forbid purchases of genetically modified wheat. 
Now farmers in states where Roundup Ready wheat experiments were conducted are worried about contamination.
"We want to have these spots identified where the growing has been done," said Daryl Lassila, Montana Organic Association chairman.
Montana farmers have never known whether they were on the other side of a wire fence from Roundup Ready test plots, which were ended a decade ago. In 2003, Monsanto offered journalists a tour of its Montana fields on the condition that the exact location remain a secret. The Billings Gazette reported the test plot's location as Gallatin County, which was as specific as details provided under the Freedom of Information Act.
Tests in neighboring North Dakota were just as vague, said Todd Leake, who farms 1,000 acres of wheat near Emerado, N.D. Monsanto is now conducting new tests on genetically modified wheat in North Dakota under the same cloak of secrecy, Leake said. Inquirers are told the locations must remain a secret to prevent terrorism. Monsanto, which owns a Bozeman-based wheat development company, didn't respond to a request for comment last week.
"Yeah, I'm concerned," Leake said. "Obviously Monsanto has demonstrated their genetically modified material can be released into the environment and if it can happen in Oregon, it can happen in North Dakota."
Leake is a non-organic-wheat farmer, but his purity issues are the same as Lassila's because conventional wheat with unauthorized genetically modified traits is worthless.
When the U.S. Animal Plant Health Inspection Service revealed the Oregon genetically modified wheat discovery, Japan immediately canceled plans to buy 25,000 tons of white wheat from the Pacific Northwest. South Korea did the same, as major wheat states like Montana and North Dakota watched nervously. 
Montana wheat sales totaled $1.7 billion in 2012 and 80 percent of that wheat sold to foreign buyers. Japan and South Korea were Montana's biggest customers, according to the state Wheat and Barley Committee.
However, the backlash to Oregon's corrupted wheat discovery was limited to white wheat and specifically white wheat raised in the Pacific Northwest. Montana's exports, which are hard red wheat varieties, were unaffected, a stroke of luck not only for the Treasure State, but also for the United States, economist Vince Smith told The Gazette shortly after the Oregon announcement.
"The U.S. actually exports very little soft white wheat in the first place and in the second place, we raise very little soft white wheat in Montana," Smith said.
White wheat accounted for 21 percent of U.S. wheat exports in 2012, according to the U.S. Department of Agriculture. Most U.S. white wheat is used in American baked goods, where there's been no noticeable sales backlash to Oregon's genetically modified wheat discovery. 
There has been demand for federal government action. Leake is a member of the multistate Western Organization of Resource Councils, which is based in Billings.
WORC urged the U.S. Senate to add genetically modified food-labeling requirements to the 2013 farm bill last week before cloture came Thursday. The group also supported an amendment by Sen. Jon Tester, D-Mont., to support classical plant-breeding research, which also didn't make the cut. Tester, an organic-wheat farmer from Big Sandy, said Oregon's unauthorized Roundup Ready wheat discovery proves that more research safeguards are needed over genetically modified organisms.
"This release of GMO wheat is a perfect example of why we must develop a better system of controls as companies look to commercialize new, man-made crops," Tester said in a statement to The Gazette. He ended the week encouraging supporters to petition for GMO food labels. "We need stronger safety standards to protect traditional farmers from being hurt by the release of unapproved GMO crops."
Leake testified before Congress in 2007 about the need for tighter regulations of GMO crops. He said the controls for which he lobbied were added to the 2008 farm bill but have never been put to use by the U.S. Department of Agriculture.
That the unauthorized Oregon wheat was discovered accidentally by a farmer, not by regulators, illustrates the problem with controlling genetically engineered research, said Kristina Hubbard, of the Organic Seed Alliance.
"This chance incident reinforces the inability to contain GE crops and the inadequacy of current U.S. policy," said Hubbard, who works out of Missoula. "Every state that has had GE wheat trials should be demanding a rigorous and transparent investigation into how this occurred and how prevalent contamination might be, especially at the seed level."
The unidentified Oregon farmer who discovered the unauthorized wheat turned it over to Oregon State University officials April 30. OSU forwarded the sample along with its test results to the U.S. Animal Plant Health Inspection Service on May 3. More than a month later, the public doesn't know how the wheat turned up in a field never used for GMO research.
The farmer's attorney, Tim Bernasek, confirmed Wednesday that one of the soft white winter wheat varieties planted by the farmer came from Bozeman-based Westbred, which Monsanto purchased in 2009 for $45 million. The variety was identified as WB 528. The other white winter wheat variety, Rod, was developed by Washington State University. It isn't known whether either variety somehow acquired the Roundup Ready trait.
Monsanto has said the Oregon discovery was probably an isolated incident. APHIS has repeatedly assured buyers and consumers that the Roundup Ready products pose no health risks. Roundup Ready traits have been declared safe by the federal government in corn, soybeans and sugar beet crops, to name a few. But without federal approval and acceptance by foreign buyers, Roundup Ready wheat is a liability.
"USDA has approved more than 70 experimental trials of GE wheat in Montana," Hubbard said. "These trials included not just the Roundup Ready trait found in Oregon, but other traits as well -- many of which are identified as trade secrets, so the agriculture community wouldn't even know what to look for. We know that if any of these traits escaped and currently exist in Montana's wheat seed, crops, and the environment, they are unapproved traits that are rejected by export customers, and therefore a threat to Montana's agricultural economy."